Publié le par Bernard Duyck
In Vanuatu, the volcano of Lake Voui on Ambae Island still has high ash emissions. Under the southeasterly winds, ash falls are expected on a north and west sector.
The danger zone remains fixed at 2 km around the vent, and the volcanic alert at level 2.
Source: VGO
In Sierra Negra / Galapagos, a group of IGEPN scientists conducted a field visit in late June; the results have just been released mid-July.
Lava fields are particularly unstable with many collapsed tunnels; the eruptive products consist of pahoehoe and a'a lavas, strewn with bombs on the northern flank and in the caldera, spatters around cracks, basaltic slags and Pelé's hair.
The temperatures measured on the lava fields can reach high values ​​in some places, up to 975 ° C.
In conclusion, it is not recommended to approach the lava fields, because of the presence of gases, high temperatures and the danger of collapse of the lava tunnels.

Sierra Negra - IGEPN taking the temperature on the lava field - photo left: Francisco Vásconez; right thermal imagen: Silvia Vallejo / IGEPN) - one click to enlarge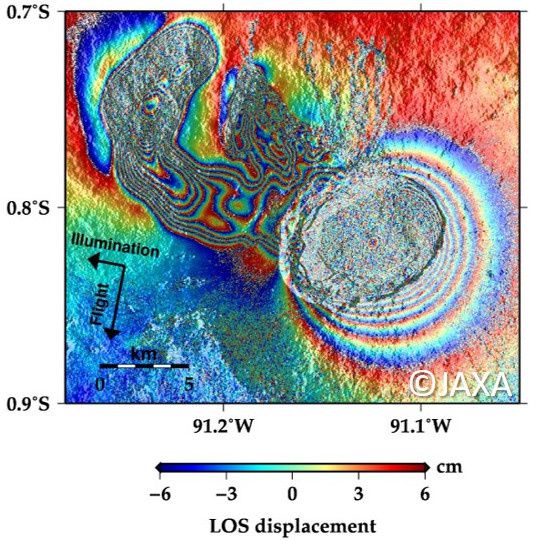 Sierra Negra - Differential interference image using the ScanSAR mode observation data on June 29 and 18, 2018 - Doc. JAXA
The eruptive activity of Sierra Negra has been continuously observed since June 26, 2018 by the Daichi-2 and Jaxa Alos-2 satellites equipped with a Palsar-2 synthetic aperture radar.
Interferometric readings are provided by Jaxa, following this link : http: //www.eorc.jaxa.jp/ALOS-2/img_up/jdis_pal2_eruption_galapagos_20180713.htm
Sources:
- IGEPN / Jueves, 12 Julio 2018 09:42 Information from Campo del Volcán Sierra Negra, 27-28 June 2018
- Jaxa / Amos-2 via Shérine France
In Chile, the Copahue volcano is the seat of an episode of energetic degassing since July 18, 2018, in connection with the activity of its hydrothermal system.
Sernageomin reports that the thickness of the plume doubled during the last quarter of the first hour on July 19th.
Source: Sernageomin
Etna, is currently showing a small revival of activity, after the period of calm that followed the eruptions of February-April 2017.
The characteristics are ash emissions from the northeast crater, strombolian activity from the Bocca Nuova crater, and a seismic swarm on the southwestern highland.
Normal activity for one of the most active European volcanoes, said Boris Behncke.
Sources: Boris Benhcke, Gio Giusa and Josph Nasi.