Publié le par Bernard Duyck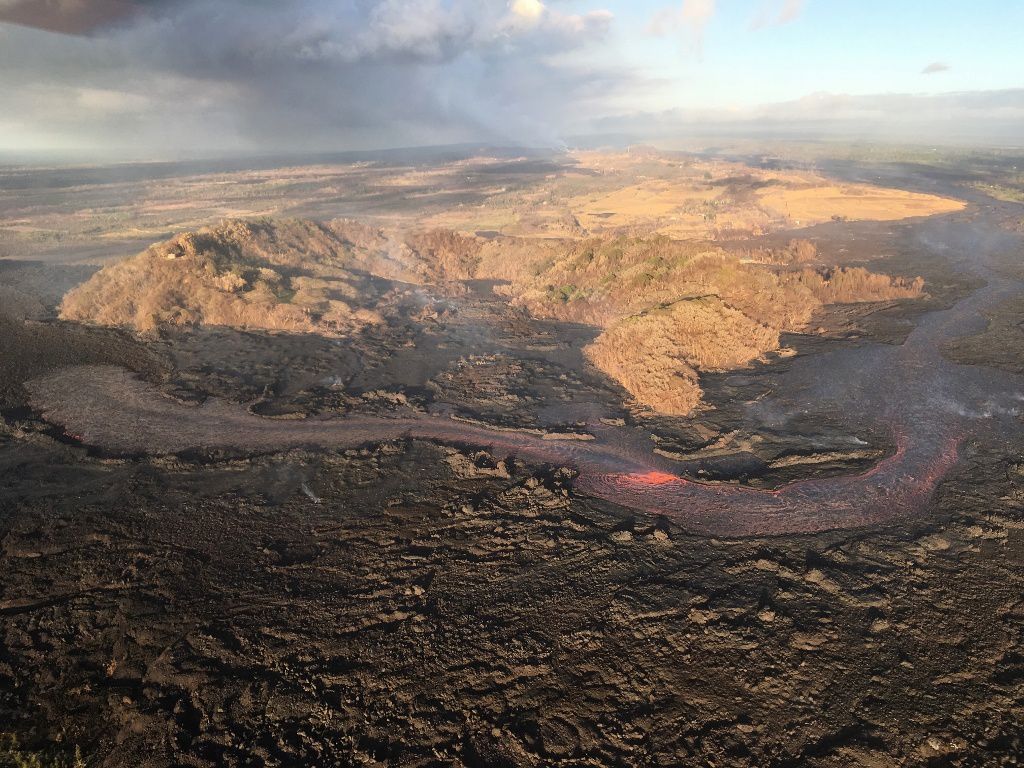 Kilauea East rift zone - the lava flows of fissure 8 dives under the a'a flows, south of the Kapoho crater (on the left of the photo) - HVO-USGS photo
In the East rift zone of Kilauea, the production of lava from the fountains on fissure 8 remains constant, although in a slight slowdown.
The casting is channeled in a open channel, with few overflows, but it stops south of the crater Kapoho to enter and move within the molten heart of thick lava flows a'a, over a wide area on both sides.
The lava threatens this July 8 area of ​​Ahalanui Beach Park / Hot Pond and Kua O Ka La Charter School nearby. It crossed in the morning the old flow of 1955 and passed from 400 meters to 200 meters about Hot Pond.
For the rest, not much evolution.
Sources: HVO-USGS, Bruce Omori and Mick Kalber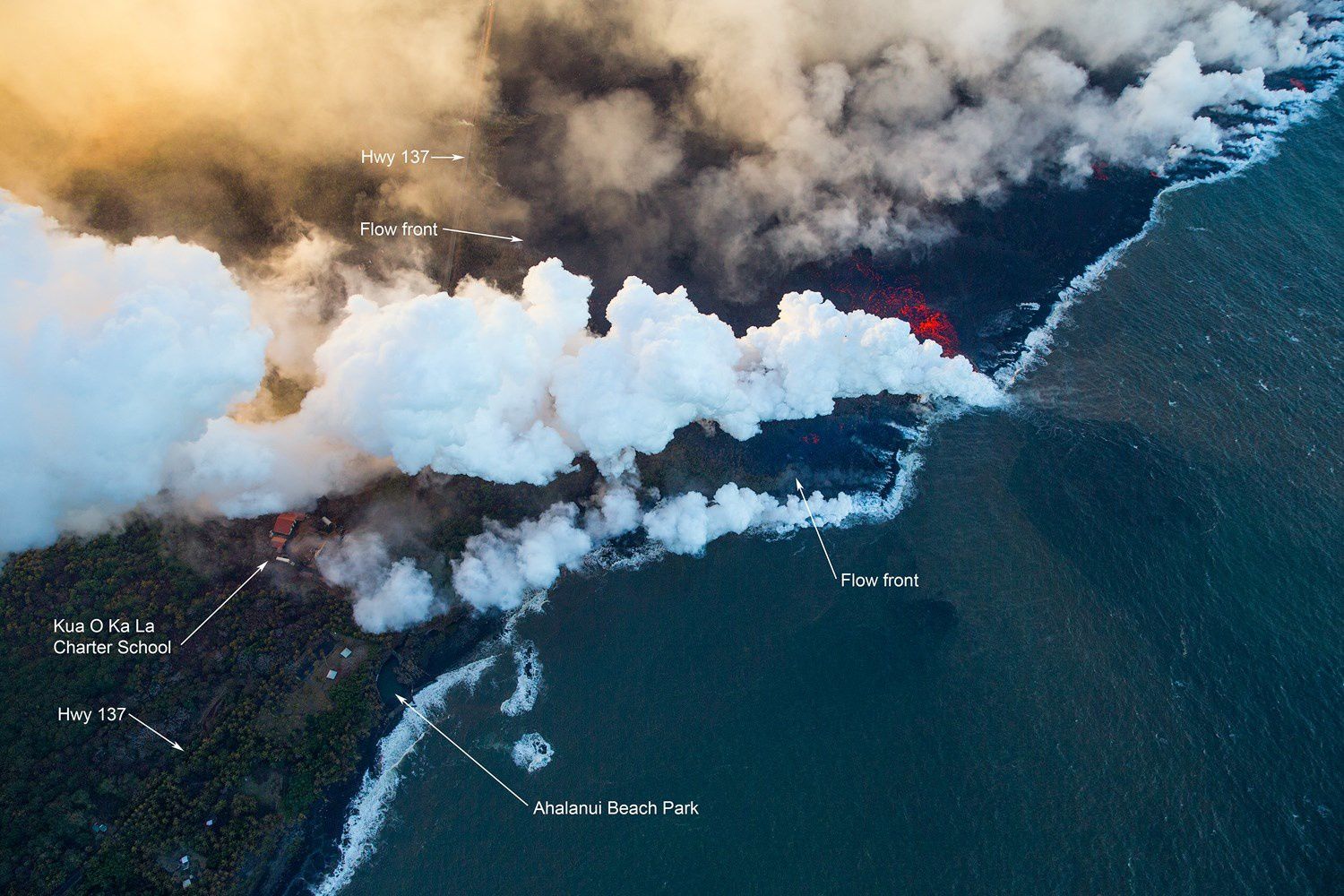 Kilauea's east rift zone overflight: Lava was approximately 150 yards from Ahalanui Beach Park, also known as the Warm Ponds, and the Kua O Ka La Charter School. - photo extreme exposure
At Agung, after yesterday's eruptions and ash emissions, a new eruption occurred on July 9 at 11:20 local time, lasting 2 minutes and 42 seconds, accompanied by a rising white-gray plume. at 2,000 meters above the summit, dispersed to the west ... without damage to the Balinese airport.
The comparison between Sentinel 2 images on July 2 and July 7 shows the incandescence centered in the crater before the Strombolian eruption of 02.07, and the scattering of the incandescent dots after it. There is also a trace of forest fires generated by fallout.
Sources: PVMBG, Magma Indonesia and Sentinel 2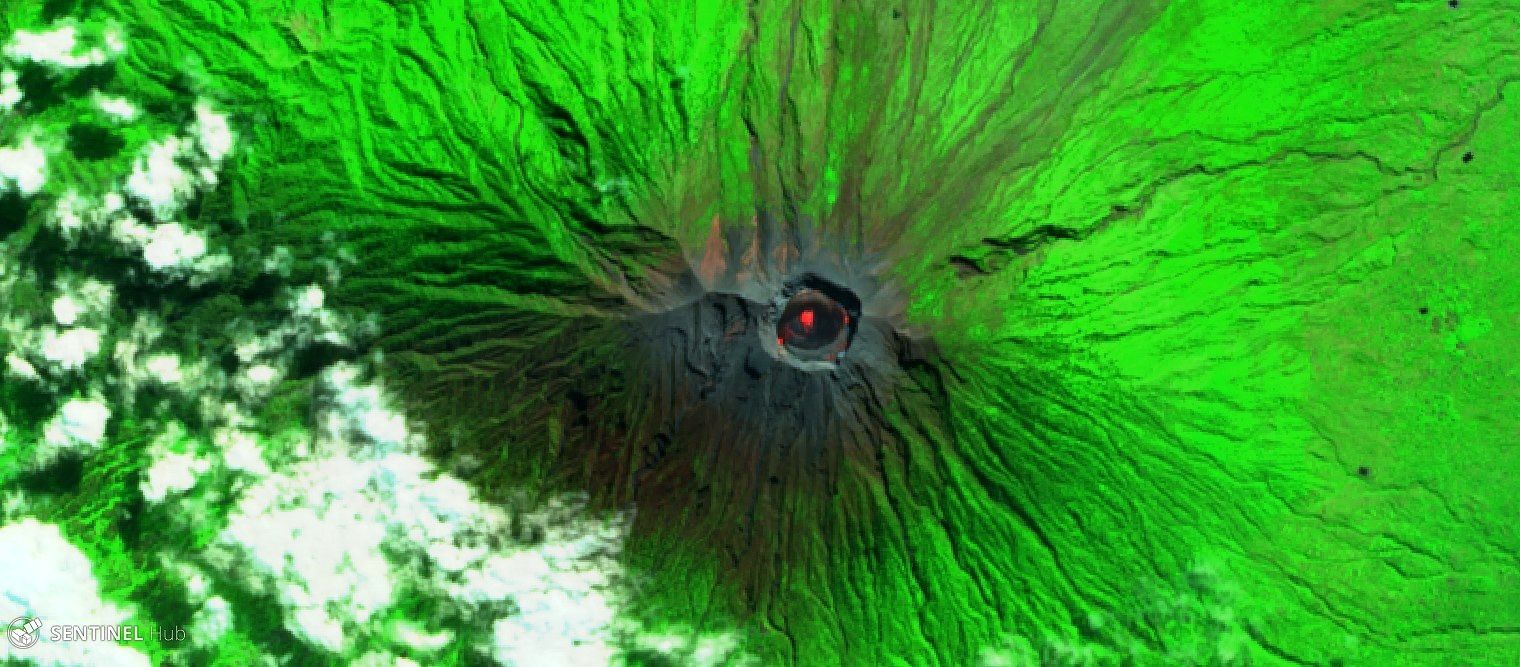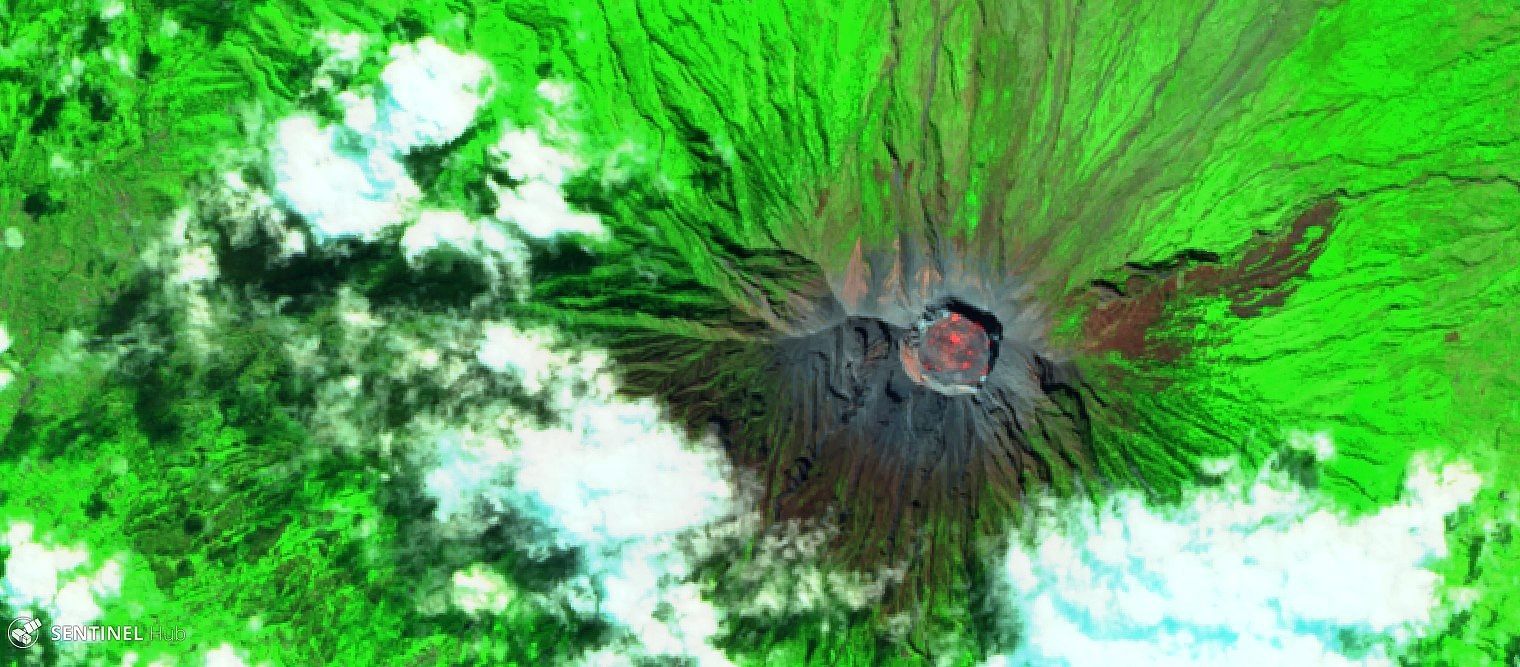 Agung - Sentinel 2 SWIR image of the summit crater, respectively 02.07 (top) and 07.07.2018 (bottom) highlighting the differences in incandescence - one click to enlarge
In the Kuril archipelago, a new explosion on July 9, in Ebeko was accompanied by a plume of ashes of more than 2,000 meters asl., Before drifting to the north.
A moderate emission of gas and steam, with some ash, then continued.
This activity has been sporadic at Ebeko since October 2016, and the aviation code remains orange.
Source: KVERT
In Chile, Sernageomin currently monitors no less than 45 volcanoes.
Among volcanoes in volcanic alert:
- the Nevados complex of Chillan is on alert Naranja
- the Lascar in the northern zone, the Planchón-Peteroa complex, the Puyehue-Cordon caulle complex, the Osorno and the Copahue in the southern zone, are on Amarilla alert.
There will be nocturnal glow in Copahue and Villarica when the vision is clear.
At Villarica, the lava remains deep in the pit crater from mid-December 2017, and the low heat allows the accumulation of snow and ice at the summit, in this winter in the southern hemisphere.
Sources: Sernageomin & POVI