Publié le par Bernard Duyck
According to data from the Himawari-8 satellite, a moderate explosive activity continues at the Ebeko volcano on August 21, 2018; it is characterized by an ash plume rising to 1,500-2,000 meters asl., then drifting over 235 km (KVERT data 6:05 Z).
An emission of gas and steam, mixed with a little ash then continued.
The level of the aviation code remains orange.
Source: KVERT & VAAC Tokyo

The activity of Etna is present at three summit craters: the crater northeast, the new crater southeast and the Bocca Nuova.
On August 21 at night, a strong incandescence is visible to the naked eye from the foothills.
Source: Boris Behncke
The seismic and tectonic activity makes the news of the moment, more than the volcanic activity.
Yesterday, August 21, two strong earthquakes marked Venezuela and the Caribbean on the one hand, and on the other hand, the archipelago of Vanuatu.
In Venezuela, an earthquake of magnitude 7.3 and a depth of 123 km occurred at 20 km at the NNO of Yaguaraparo; it is due to a slide on a border between the Caribbean plate and the South American plate. At the site of the earthquake, the South American plate moves westward from the Caribbean plate at a rate of about 20 mm / year. The South American plate begins its subduction under the Caribbean plate about 550 km east of today's earthquake and reaches depths close to 150 km near this event. This earthquake occurred near the southern end of the Caribbean subduction zone. At shallow depth, the plate boundary in this region is transforming to transform the faults along the San Sebastian - El Pilar fault system.
It was felt on the north coast of South America, in Colombia, and in the Caribbean arc up to Fort de France.
Sources: USGS Earthquake report, EMSC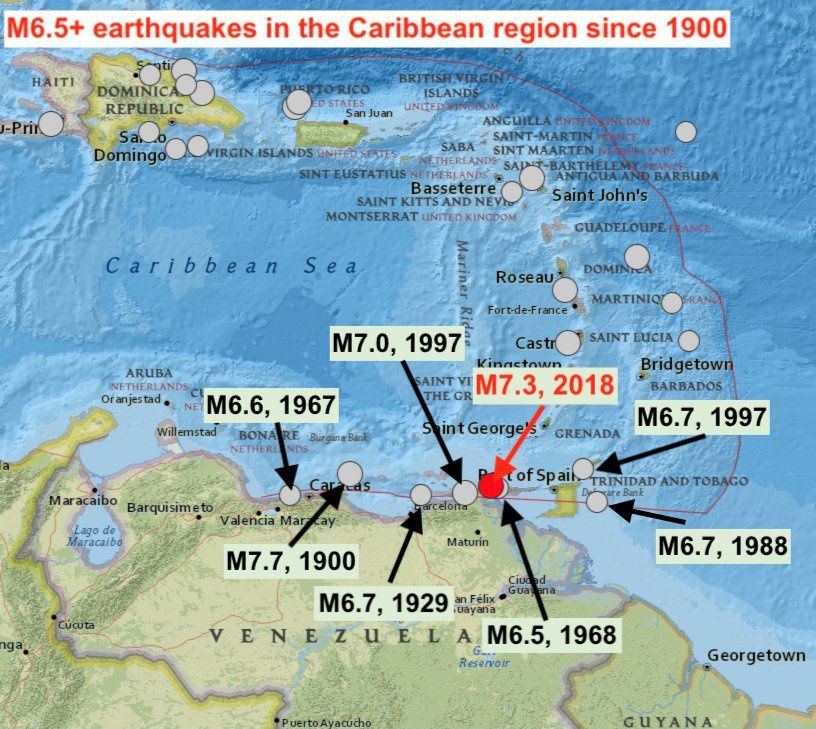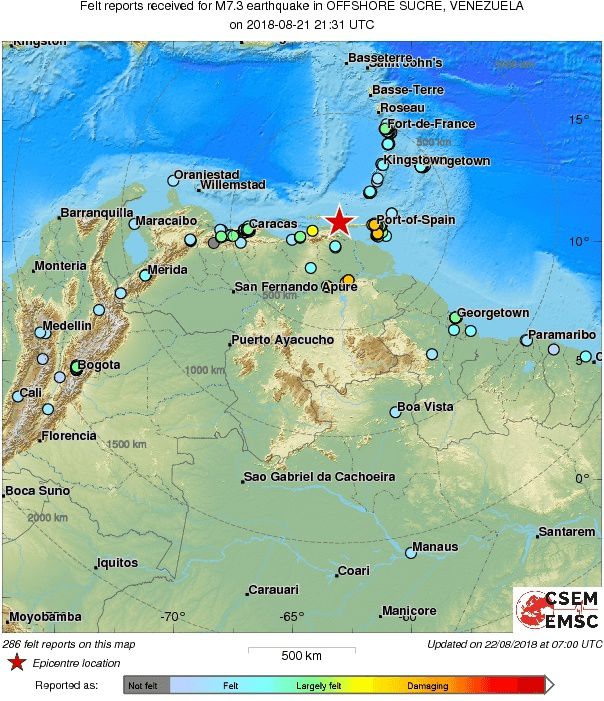 Venezuela - Location of earthquakes of magnitude greater than M6,5 and earthquake felt map of 21.08.2018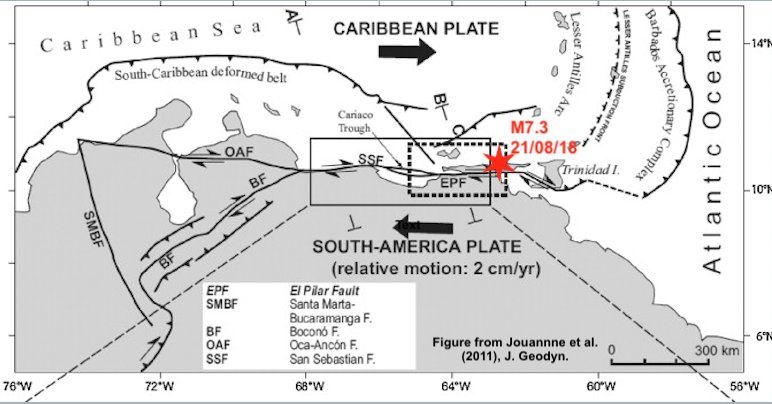 Regional tectonics - earthquake of 21.08.2018 / M7.3 off Venezuela on the El Pilar fault - Doc. via E.Fielding
In Vanuatu, a 6.6 magnitude earthquake and a depth of 10 km occurred 195 km north of Port Vila, near Penama Island, east of the New Hebrides North Trench.
It involves a seismically active zone following the convergence of the Australian and Pacific plates.
Sources: USGS Earthquake report, EMSC