Publié le par Bernard Duyck
On Isabela in the Galapagos, the eruption of Sierra Negra continues: despite a cloud cover during the night, an incandescence was visible on August 7 at 19h local. On August 9, at 17:45 GMT, the tremor increased in amplitude, in relation with a new surge of activity on the northern flank.
Seismicity is further characterized by 52 volcano-tectonic earthquakes, and 6 LP earthquakes.
The largest earthquake occurred at 10:55 am M3,1 TG and a depth of 2 km.
Source: IGEPN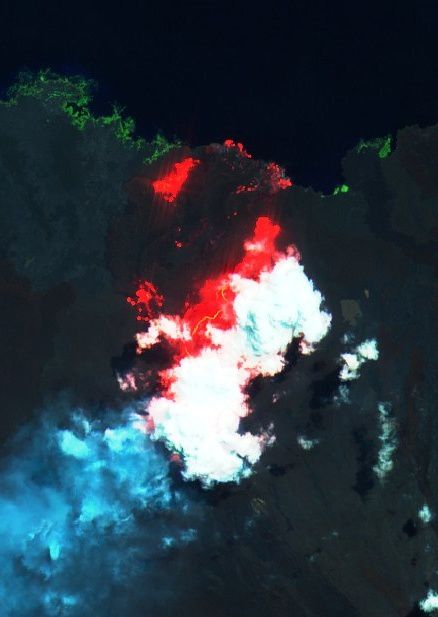 Sierra Negra - zoom / B.Duyck on a Sentinel 2 image of 02.08.2018, at the last "discovered" passage of the satellite
At Kilauea, no signs of reactivation or re-intrusion on the East Rift Zone.
The cone on the fissure 8 presents a small encrusted lava lake, and degasses strongly. The channeled flow is covered with a crust
The other fissures also degassed on August 9: on the upper course, fissures 8, 9, 10 and 24; on the lower course, fissures 13, 23, 3, 21 and 7.
The lava entries at sea remain active and numerous, and create small plumes of laze
Pohoiki is "still standing", but surrounded by lava. The casting approaches the parking area, and by the sea, the black sand covered the tip to the end of the pier ... the boat ramp remains usable at the time of the morning flyover. For how much longer ?
The summit area remains calm ... and the deformation measured by GPS and tiltmeters has stopped.
The monitoring of Kilauea continues, pending changes in activity.
Sources: HVO-USGS, Bruce Omori and Micl Kalber.
In Lombok, the phenomenon of soil liquefaction has been noted on Rinjani, in connection with the M7.0 earthquake.
It is due to a loss of structure due to seismic vibrations which results in a resurfacing, in the form of fine-grained sandy mud emerging from cracks in the ground.
The provisional earthquake record is on the rise, with the latest news being 259 killed, 1,033 hospitalized, and 270,168 displaced. The most affected districts are located northwest and west of the island.
Sources: Magma Indonesia, PVMBG, BMKG & BNPB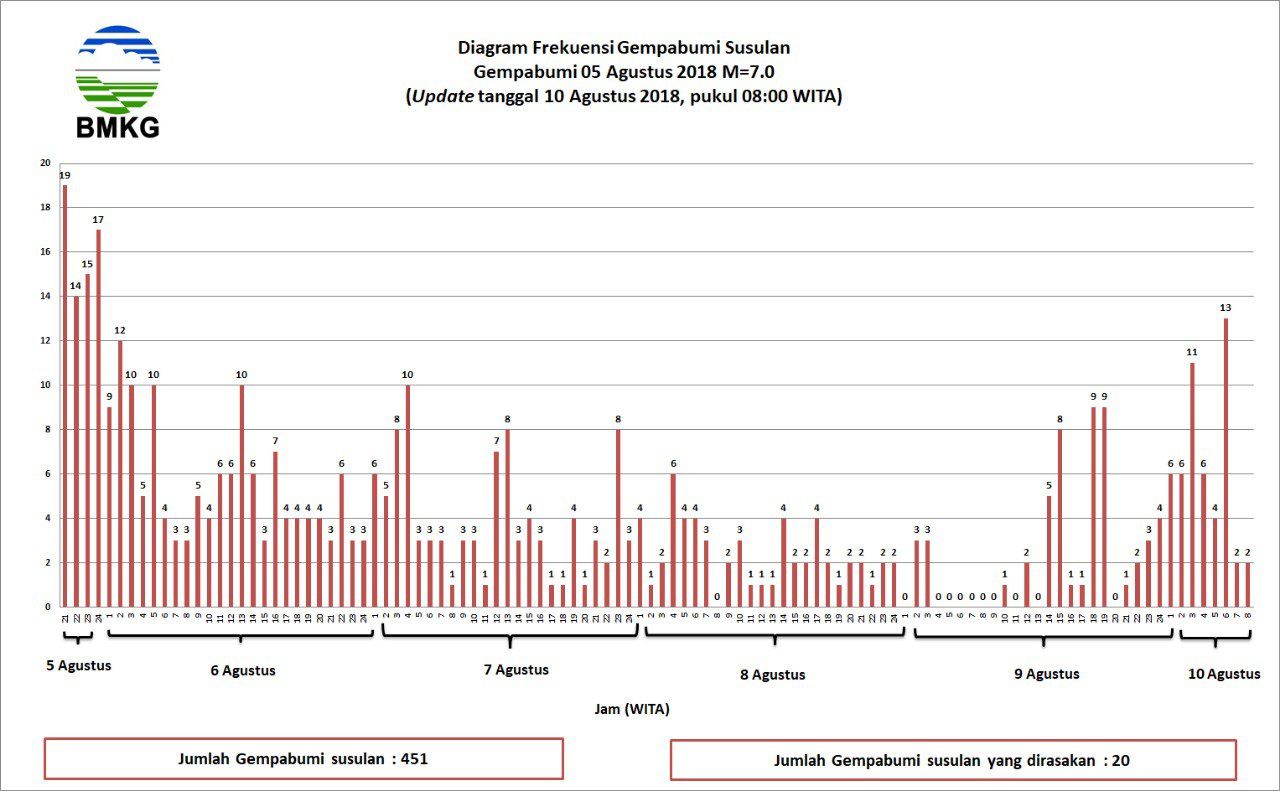 Lombok - number of earthquakes (main and replicas 451) between 5 and 10 August 2018 / 08h loc. - Doc. BMKG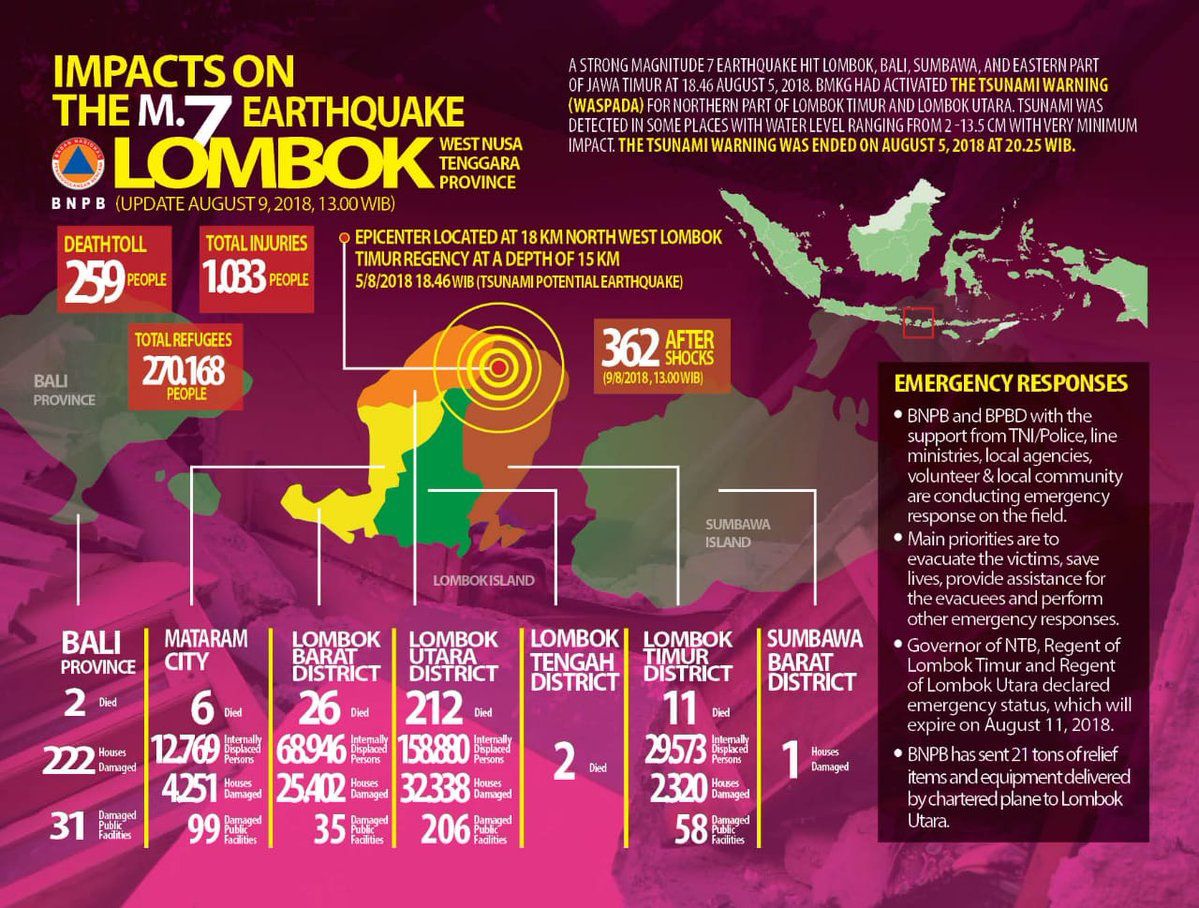 Lombok - Provisional assessment of earthquakes at 9 August / 1 pm WIB, likely to be revised upwards - Doc BNPB
During the last ten days, two major outbreaks of the number of earthquakes are noted under Katla, covered by the ice cap of Myrdalsjökull. The strongest earthquakes are located at shallow depths.
The activity of Katla does not show anything particular.
Source: IMO / Vedurstofan