Publié le par Bernard Duyck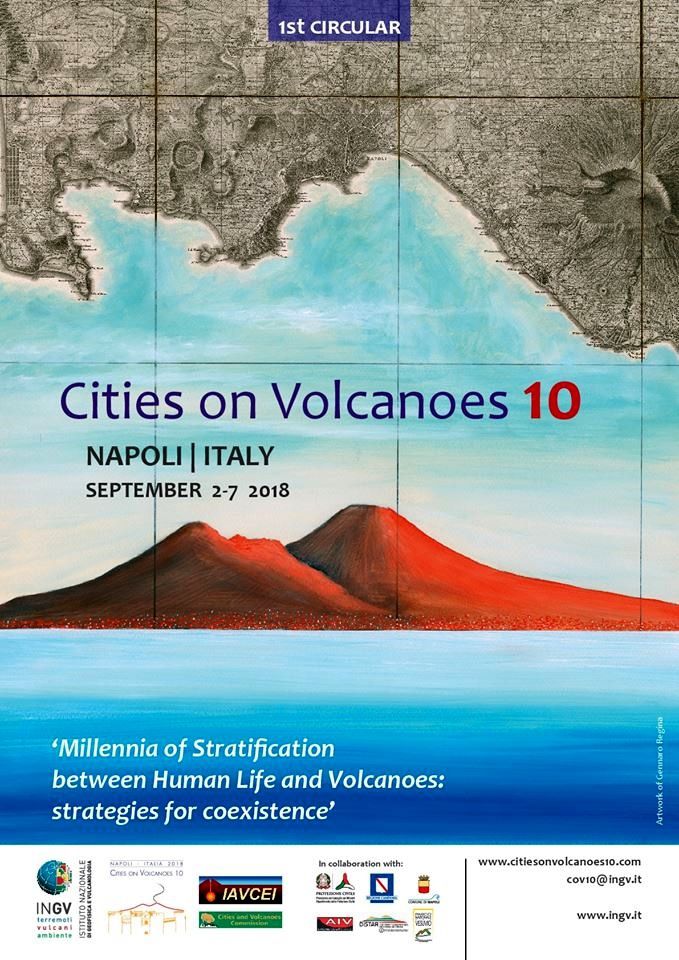 The tenth edition of the Cities on Volcanoes International Congress will be held from 2 to 7 September in Naples.
This scientific congress is sponsored by the IAVCEI / International Association of Volcanology and Chemistry of the Interiors of the Earth, and its theme is "Millennia of stratification between human life and volcanoes: strategies for coexistence" ... a reference to the millennial relationship between volcanoes and those living nearby, in Italy, but also near recent eruptions at Kilauea and Fuego.

Il Somma Vesuvio - Work of Gennaro Regina for Cities on Volcanoes 10) Naples from 1 to 7 September 2018
It will discuss the complex relationship between the volcano and the communities living on its slopes, decision-making processes and emergency planning in the event of an eruption.
The subject of volcanoes in the rest phase and how silent periods affect community awareness and vulnerability will be addressed. Scientific communication related to volcanic risk and the role of scientists, urban planners, territorial authorities and the media will also be discussed.
The illustration of the posters and documents has been entrusted to the Italian artist Gennaro Regina, whose favorite theme is Vesuvius.
Born in 1965, in a family of publishers and booksellers of art books, he mixes painting and photography since the 80s.
He was influenced by the works of Andy Warhol and the pop-art, meeting of graphic art, and advertising and artistic techniques, by Vesuvius and Neapolitan traditions ... does not it bear the first name of a bishop famous for his interaction with the volcano ?
His favorite themes are Eruptions of Vesuvius, in all its colors, The landscapes of Napoli, Ischia, or Capri, and Homo Ludens, very personal.

A word about his pictorial performance on Vesuvius:
"Suriezione".
Facing a huge canvas, on the crater of the volcano, and surrounded by his paintings and brushes, he lets his emotions explode, puntuated by the music of Roberto Furnaro.
As he says: " When I touch the image, I feel the sand of Vesuvius, brought by the wind, which mixes with the paint, and take part in the work."
Works to discover in the attached videos and on its website: "An incredible artistic vision in the spirit and heart of Vesuvius."
Sources:
- Monitorenapoletano - presentato il docucorto suriezione dell (artista Gennaro Regina - and photos on Instagram - link
- Cities on volcanoes 10 - General information
- INGV Vulcani - The città sui Vulcani. A great international congress for the report fra uomo e vulcani. - link