Publié le par Bernard Duyck
Etna presents a rising summit activity for the past few days, with Bocca Nuova's nighttime glow and Strombolian explosions at the NSEC.
In the crater Bocca Nuova, strombolian activity of the mouth BN-1 is increasingly important. In addition, in the south-eastern part of Nuova Bocca, on August 16, the mouth BN-2 opened, after being inactive since December 2015; it produces intense degassing with high temperatures alternating with strombolian activity which remains confined for the moment inside the crater.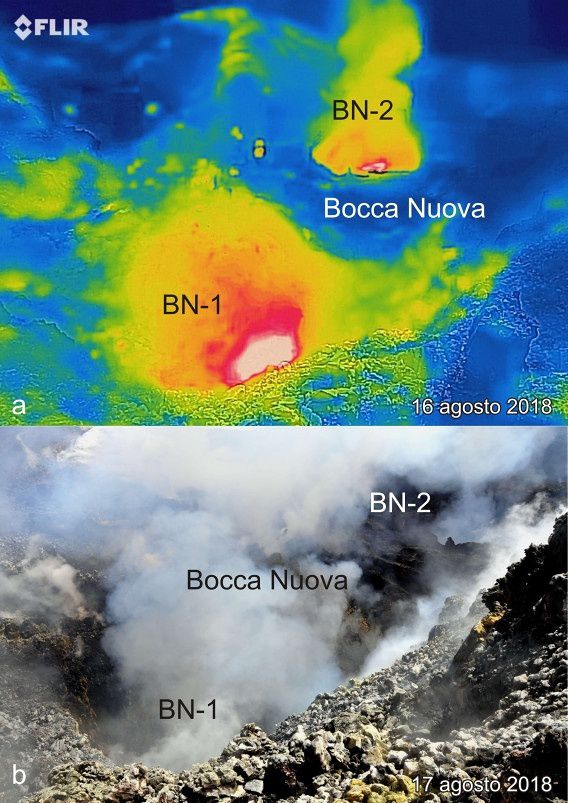 Etna Bocca Nuova - the two active mouths on August 16 and 17, 2018 - photos Marco Neri / INGV Vulcani Blog
On 22 August, the glow at Bocca Nuova and the NSEC sombolian activity were observed.
On August 23 / 22:30, Strombolian activity continues at the NSEC saddle vent; it generates two small lava flows to the east and north.
On August 24 at dawn, Strombolian explosions are observed at the NSEC saddle vent, with ballistic fallout on its flanks.
The explosive activity of the northeast crater has also been increasing in recent weeks, with ejections of lava flaps several tens of meters away.
Sources: Boris Behncke and Marco Neri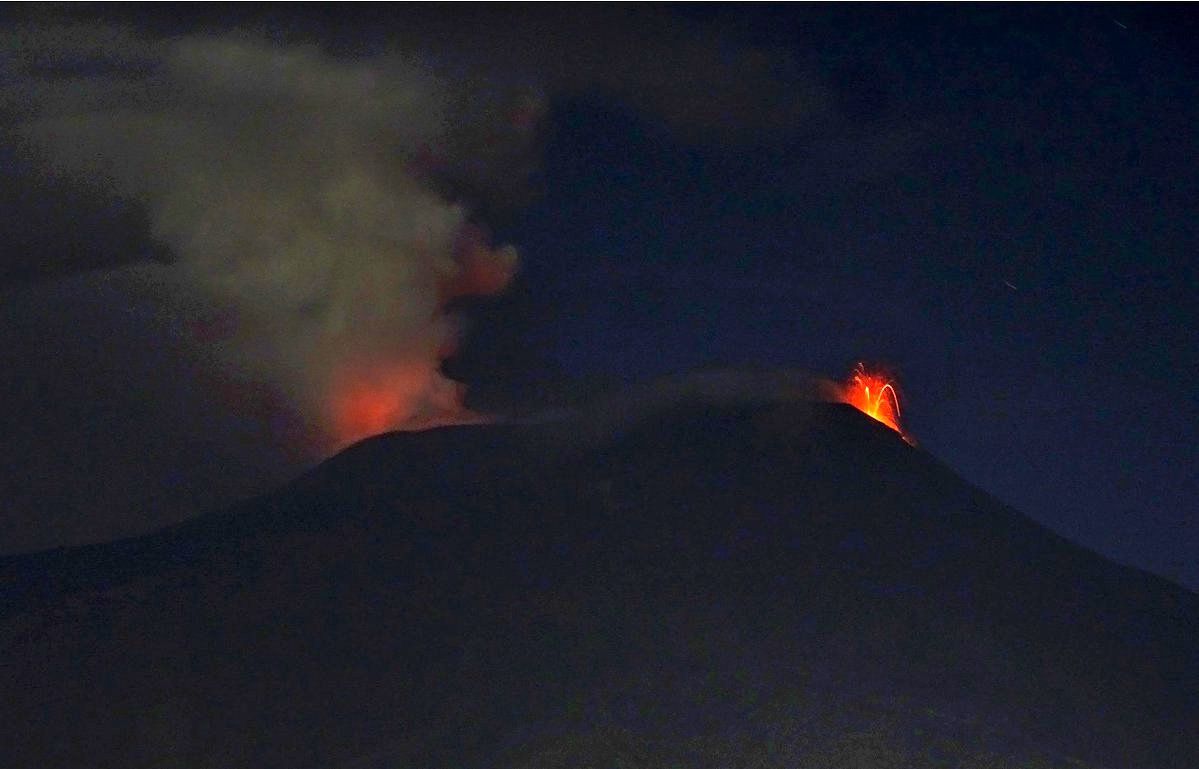 Etna - 22.08.2048 - Bocca Nuova glow (left) and Strombolian activity at the new south-east crater (right) - photo Boris Behncke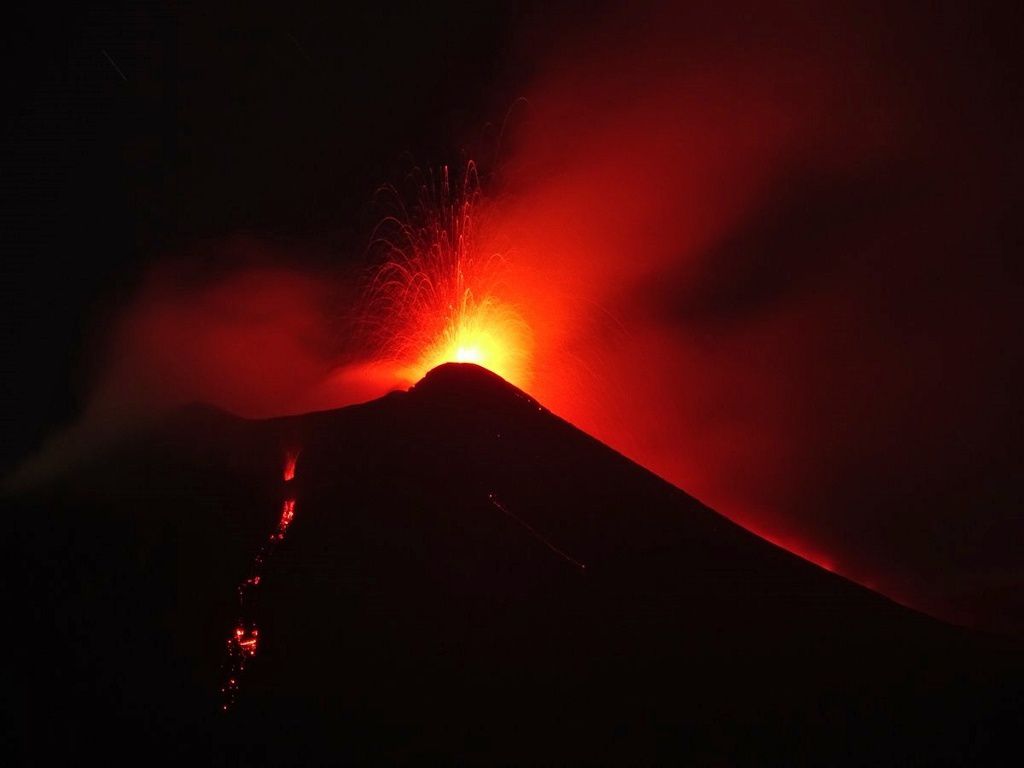 Etna - 23.08.2018 / 22h30 - two lava flows are fed by Strombolian NSEC activity, to the north (right) and east (left) - photo Boris Behncke
An eruption occurred at Anak Krakatau on August 23, 2018 at 18:07 WIB. It is characterized by a black ash plume 700 meters high above the crater (1.005 m asl.), a duration of 31 seconds and a maximum amplitude of 27 mm on the seismogram.
The alert level remains at 2, with a forbidden area of ​​2 km radius around the crater.
Source: PVMBG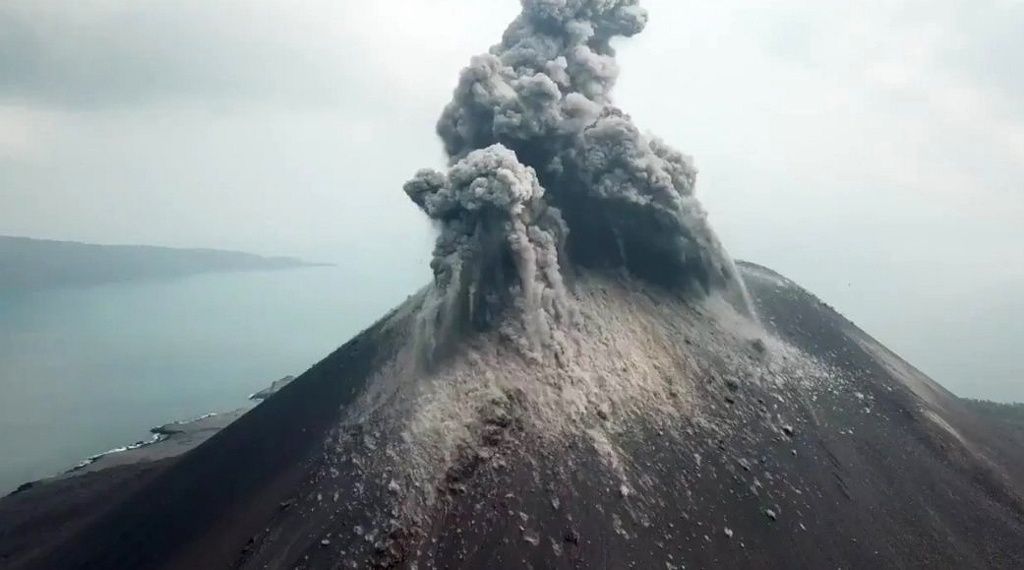 Anak Krakatau - in absence of photo of the last eruption, an observation of the activity on 18.08.2018 - photo BNPB
IG Peru reports intense ash emissions on August 23 at Sabancaya; they disperse to the northeast and east over 80 km, and are accompanied by a plume rising to 4,000 meters in height.
Source: IG Peru / Twitter
The Devil's Woodyard mud volcano erupted on August 21 shortly after the M 6.9 earthquake that rocked Trinidad & Tobago.
Residents close to the site heard muffled sounds coming from it. At least eight active cones ejected mud near the vents and the gas outlet was observed, especially constant from the central vent.
A new step fracture has been noted.
According to Professor R. Robert Stevenson, director of the UWI seismic research center, there is a possible connection between seismic activity and that of mud volcanoes, to be verified before affirming it.
Sources: Loops news and AAPG Young professionals Trinidad & Tobago Chapters