Publié le par Bernard Duyck
An explosion marked the Nevados de Chillan on August 8 at 12:12 local / 16:12 GMT, accompanied by a gray ash plume high about 1,500 meters, and ballistic projections visible on the thermal camera.
An earthquake of a superficial hypocentre, estimated at 200 meters marked the explosive episode and testifies to the instability of the volcanic system, and the evolution of the dacitic dome.
A video from the slopes of the ski resort is available on Facebook / https://www.facebook.com/quillonaldia/videos/1090806864401814/
The technical alert remains nevertheless to Naranjo.
Source: Sernageomin

In the Ryuku volcanic arc, south of Japan, volcanic earthquakes have been increasing in Kuchinoerabujima since 6 August, as well as sulfur dioxide emissions. To follow.
Source: Fukuoka District Meteorological Observatory Kagoshima Regional Meteorological Observatory / JMA / info via Shérine France
A change of eruptive behavior in Fuego is reported by Insivumeh.


A strong explosion, accompanied by avalanches around the crater, fallout and shockwaves, occurred on August 8 at 21:20 local. Incandescent materials were ejected at 4,800 m Asl., Evening about 1,100 meters above the summit; the ash plume moved 12 km to the west.
This is the first strong explosion recorded in the last six weeks.
Source: Insivumeh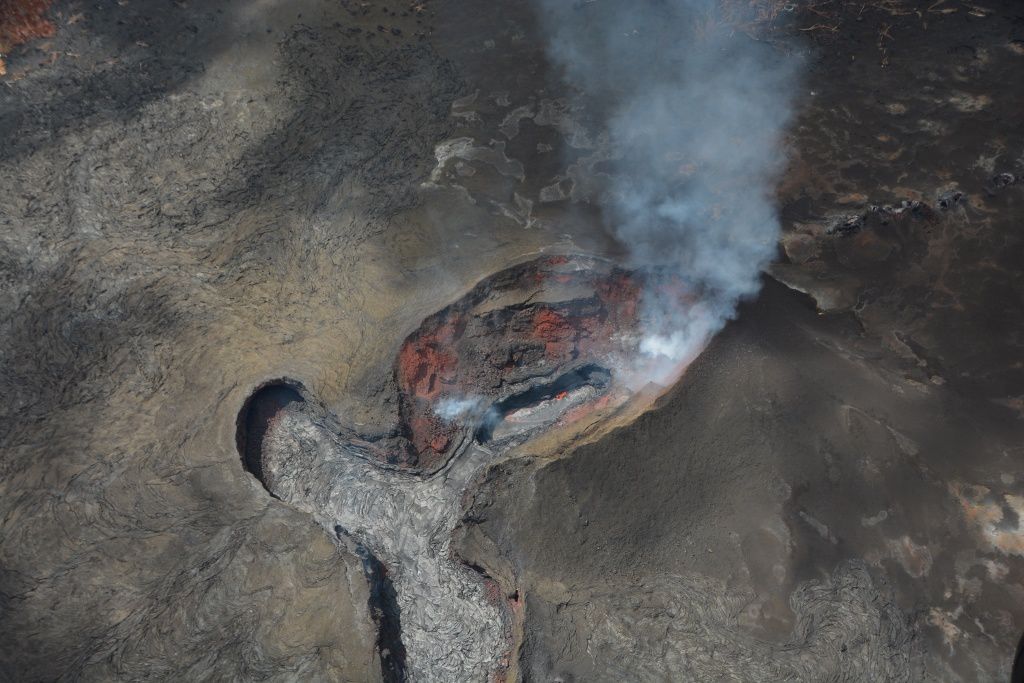 Kilauea East rift zone - the cone on crack 8 has only a weak incandescence and a low level of lava - photo USGS 07.08.2018
In the eastern rift zone of Kilauea, the situation seems frozen ... for now.
Only a weak incandescence remains visible in the cone on the fissure 8. The thermal images of the lava field reflect a drop in activity level, compared to the previous 3 days; the lava, however, is present under the crust at various points.
Hurricane Hector's approach is already manifested by strong winds and larger waves ... observations and images will be scarce over the lava field in the next few hours.
Source: Hawaii Tracker 08.08.2018
The north-west of Lombok Island was shaken by a strong aftershock on August 9, 2018 at 5:25 UTC; the hypocentre is located 31 km deep, and the magnitude of 5.9.
The inhabitants are still traumatized by the deadly and destructive earthquake of August 5; its balance sheet at 08,08,2018 / 13h was 227 dead, 1,477 injured, 156,000 displaced. At the level of destruction, there are 42,239 houses and 458 damaged schools.
Sources: BNPB, EMSC and media