Publié le par Bernard Duyck
The activity continues on Etna, where Boris Behncke reports two active craters this August 10 evening. The Bocca Nuova and the northeast crater are the seat of moderate but noisy Strombolian activity.
At two days intervals, the summits have changing faces, recalling that Etna is not only a very active volcano, but also a high mountain with a climate that is subject to rapid changes.
On August 9, the summits are bleached by hail brought by a storm which lasted about twenty minutes.
On August 10th, the flight shows a clear summit, with three weakly degassing craters.
Sources: Boris Behncke, Gio Giusa, and Joseph Nasi
In Kilauea, the activity is marginal, with a small lava pond covered with a crust deep in the cone on fissure 8, about 40 meters below the highest point of the cone.
On channeled casting, no sign of reactivation is noticed.
The fissures mentioned yesterday continue to degas, without showing incandescence.
At the entrance to the sea, the lava oozes at various points between Kapoho Bay and Ahalanui, generating small plumes of laze.
Sulfur dioxide emissions remain at a low level, considered the lowest of the decade. These emissions remain detectable by the populations of the south-east of the island, under the emanations of SO2 and H2S.
At the top, deflation is negligible, and the last collapse dates back to August 2nd.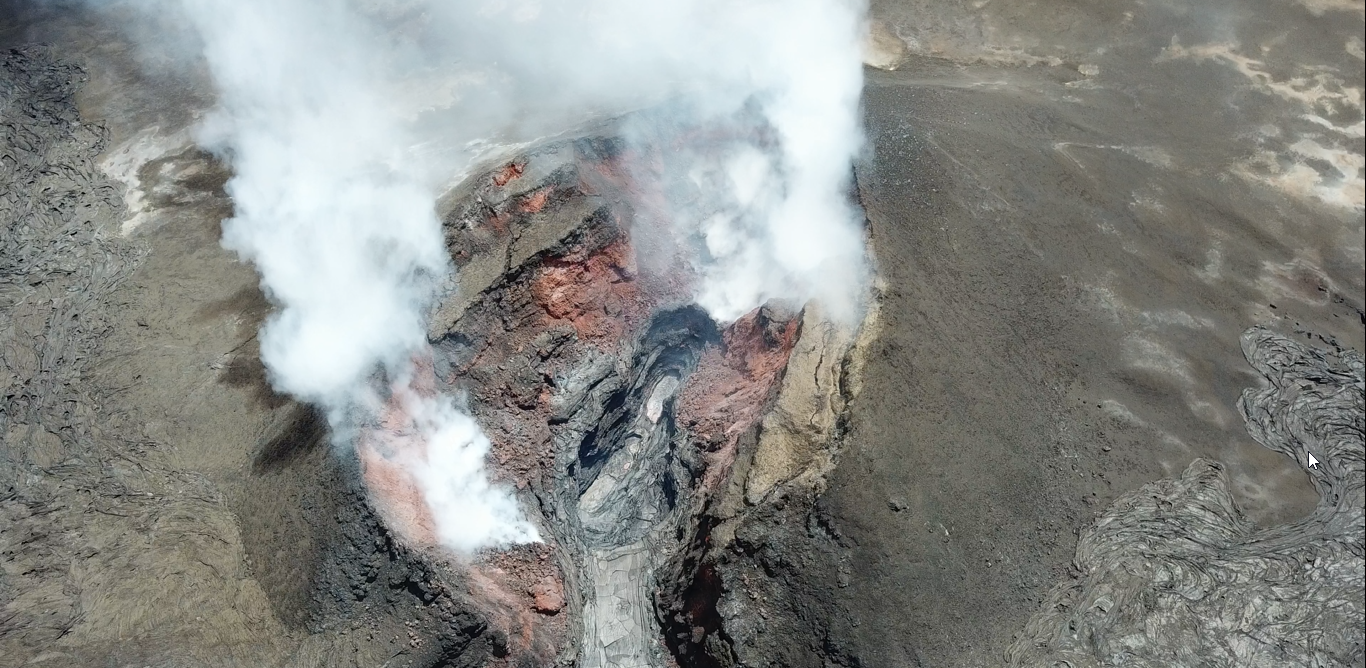 Kilauea East rift zone - cone on fissure 8 with lava at 40 m under the highest point of the cone - USGS photo
Several images of the cone and the upper part of the casting of the fissure 8 were made this Tuesday by a camera VIRB mounted on wingtip; Then, a data processing allowed to create a model of elevation 3D (DEM), realized by a team of Civil Air Patrol, composed of Jason Dzurisin, Jason Ozbolt, Paul Hirst and Carol Murray.
Sources: HVO-USGS, and the DEM team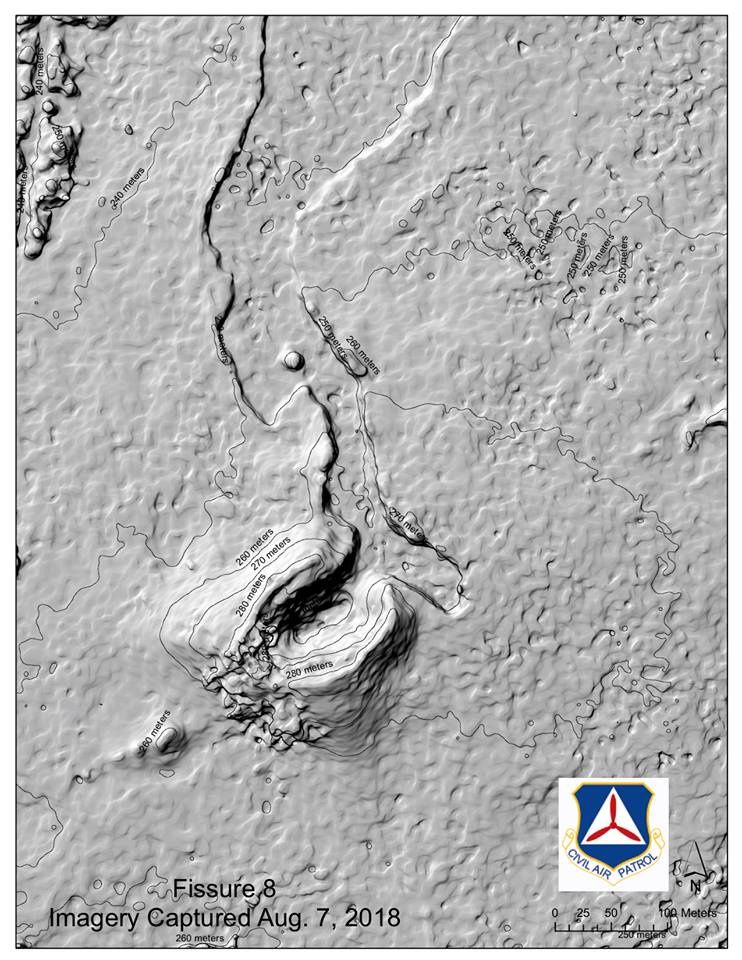 Kilauea East rift zone - 3D elevation model of the cone and the casting on the crack 8 - Doc .Civil Air Patrol
Ebeko volcano, in the northern Kuriles, is pursuing an explosive activity, marked by moderate explosions this August 10, and a cloud of ash, of 11 by 14 km, drifting at 2,000-2,500 meters over 26 km towards ESE.
Sources: KVERT & VAAC Tokyo
In Kamchatka, Karymsky has continued its emissions of gas and ashes for a few weeks.
The aviation code remains orange.
Source: VAAC Tokyo