Publié le par Bernard Duyck
The activity of Sabancaya between August 13th and 19th is described as moderate; it is characterized by an average of 27 daily explosions and plumes of ash and gas rising to a maximum of 3,700 meters above the crater, spreading over 50 km to a large sector East.
The flow of sulfur dioxide remains high, however, with a maximum of 3,100 tonnes per day, measured on August 19th.
During the period, Mirova recorded 9 thermal anomalies with values ​​between 1 and 17 MW.
The alert level remains in Naranja.
Source: IG Peru / OVI / Ingemmet
At Merapi, the BPPTKG confirms the transition from the magmatic eruption phase to a more effusive phase.
Measurements carried out between 18 and 21 August give a volume of the lava dome of 14,000 m³, with an average daily growth of 1,500 m³.
Source: BPPTKG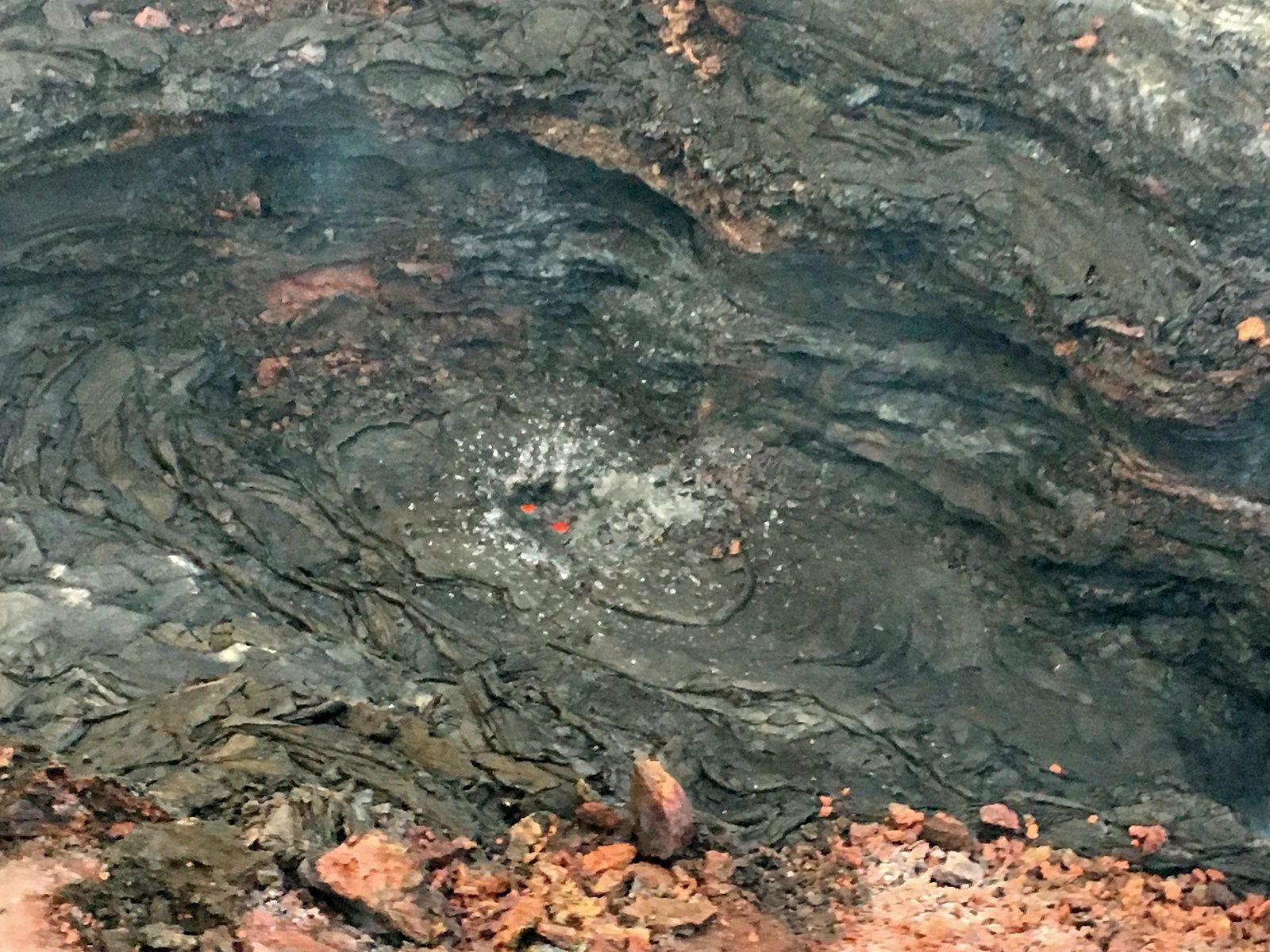 Kilauea East rift zone - cone on the fissure 8 / 20.08.2018 - gas jets spewing glassy lava (pale gray deposits) from small incandescent areas deep into the cone. - sign of pause and not  to end of eruption - USGS photo
In Kilauea, the decline in activity is confirmed: seismicity and deformation of the soil remain negligible at the top, and at the level of lava entries at sea, only a few seeps remain observed, with minimal laze plumes. Sulfur dioxide emissions have also been drastically reduced.
The ongoing eruption in the East Rift Zone produced more than 9 million cubic meters of lava, most of which was deposited on Earth; a significant portion was deposited as a lava delta under the surface of the ocean, creating a section of new land of 3.2 km² (about 600 football pitch).
A seabed mapping expedition aboard the E / V Nautilus has just analyzed a large area off the seashores at sea to fix the topography and reflectivity of the new seafloor. It includes as well the lava fragmented in ash during the explosive encounter with the waters, as well as the flows formed in an underwater environment, with the formation of pillow lava.
This study will reveal more precisely the amount of lava deposited at sea, the share of sedimentation and volcanic structures of the new delta, and the frequency and magnitude of the collapses of the latter.
This exploration will be followed by other observations to follow the evolution over time of this new submarine delta.
The expedition will continue from August 23rd to September 11th by studying the Lō`ihi seamount and its hydrothermal system. The aim here is to test and develop new protocols applicable to space exploration ... The type of hydrothermal venting of this submarine volcano is a good representation of the conditions that, according to scientists, exist on certain moons of the solar system, including on Encelade. The team will also examine whether this site has been affected by Kīlauea's recent volcanic activity.
Sources:
- HVO-USGS
- Nautilus Live - Where Lava Meets the Sea: Mapping Kīlauea's Ocean Entry - link
- Nautilus Live - Exploring Lō'ihi Seamount with SUBSEA - link