Publié le par Bernard Duyck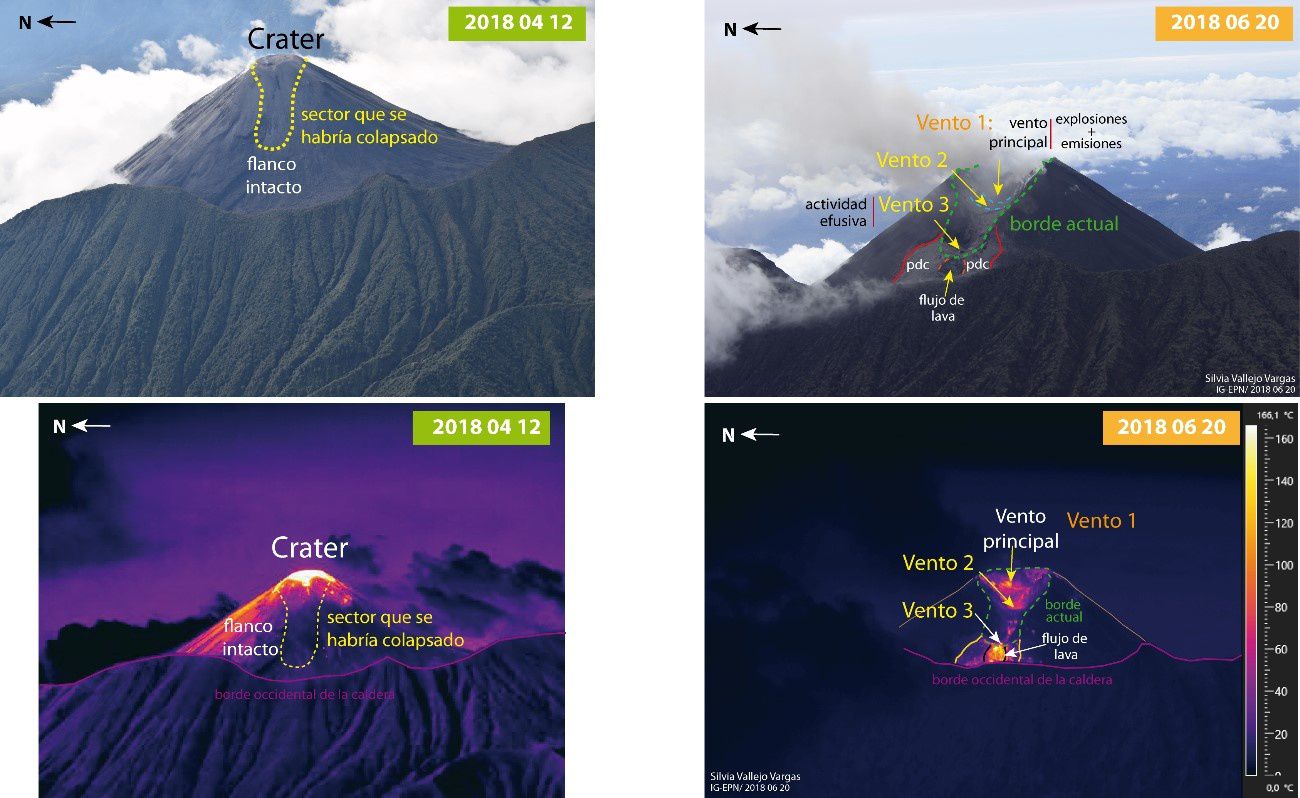 Reventador summit: on the left, situation on 10,04,2018 - on the right, situation on 20,06,2018, showing the escarpment and the presence of 3 vents - a click to enlarge - Photos and thermal images IGEPN
A report from the IGEPN of August 1st mentions significant morphological changes to the Reventador / Ecuador, following its high activity in recent months.
During a surveillance flight on June 20 of this year, an escarpment was identified on the west flank of the volcano next to a new lava flow, as well as the presence of three vents that have explosive activity, and a effusive activity at the lower vent; however, data obtained from the monitoring network, overflights and satellite information analyzed suggest that the main change would have occurred between April 15 and 27 of this year. This escarpment is the result of successive explosive events that could have produced emission columns with high ash content. This activity could have resulted in ash falling in the provinces of Napo and Pichincha between May and July.
Recent deposits of pyroclastic flows presumably generated by vent # 3 have been observed.
The Reventador remains under constant surveillance of the observatory
Source: IGEPN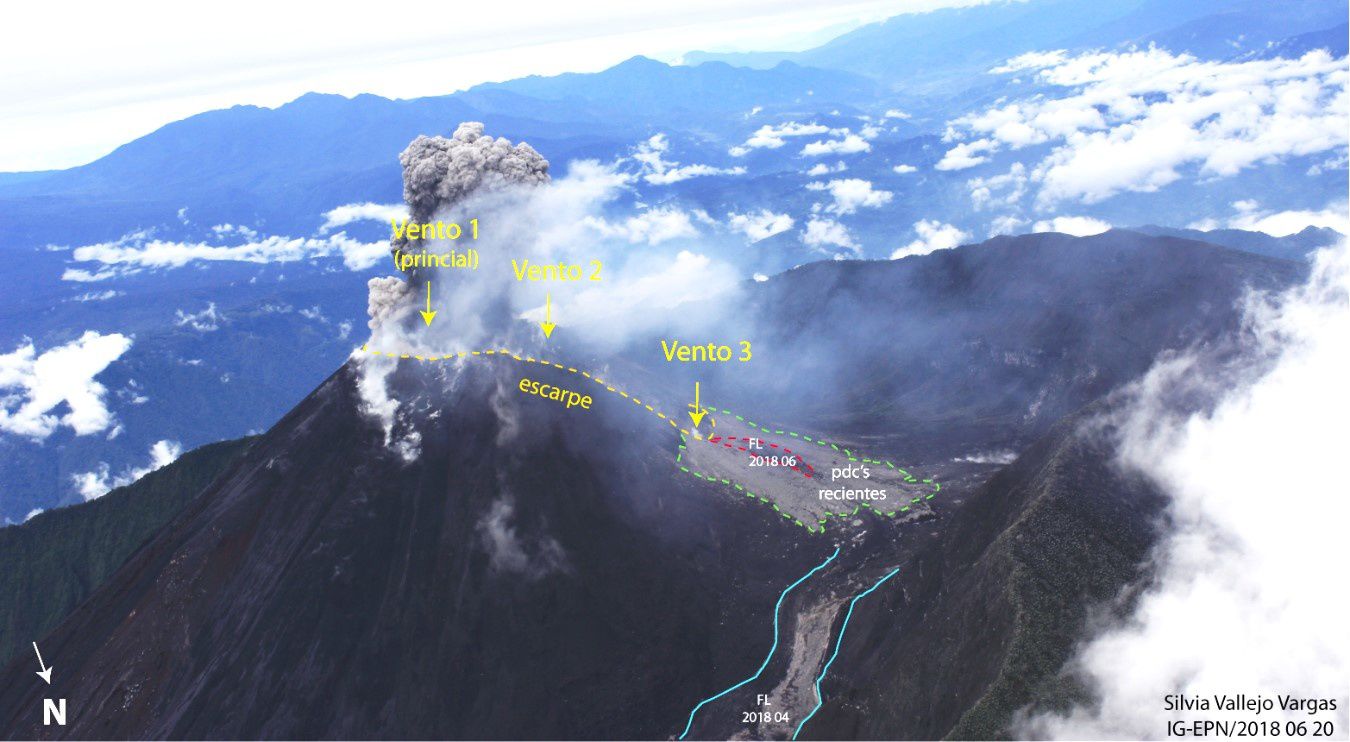 Reventador - morphological changes observed during the flight on 20.06.2018 - a click to enlarge - photo S. Vallejo Vargas, IGEPN
In Guatemala, the Pacaya has white and bluish fumaroles rising 600 meters above the crater.
Strombolian explosions are observed at night.
A lava flow, about 500 meters long, is emitted by the central cone towards Cerro Chino, where lava accumulates.
Source: Insivumeh 01,08,2018
The ash eruptions of last week at Turrialba have repercussions on the Toro Amarillo Rio, fed by quebradas from the west flank of the volcano.
A change of color, and the release of a strong smell of sulfur are reported by a passing agent. A possible sudden difference in the level of Rio Toro Amarillo is possible, as well as the death of fish in the stream .
Source: Ovsicori and Volcanes sin fronteras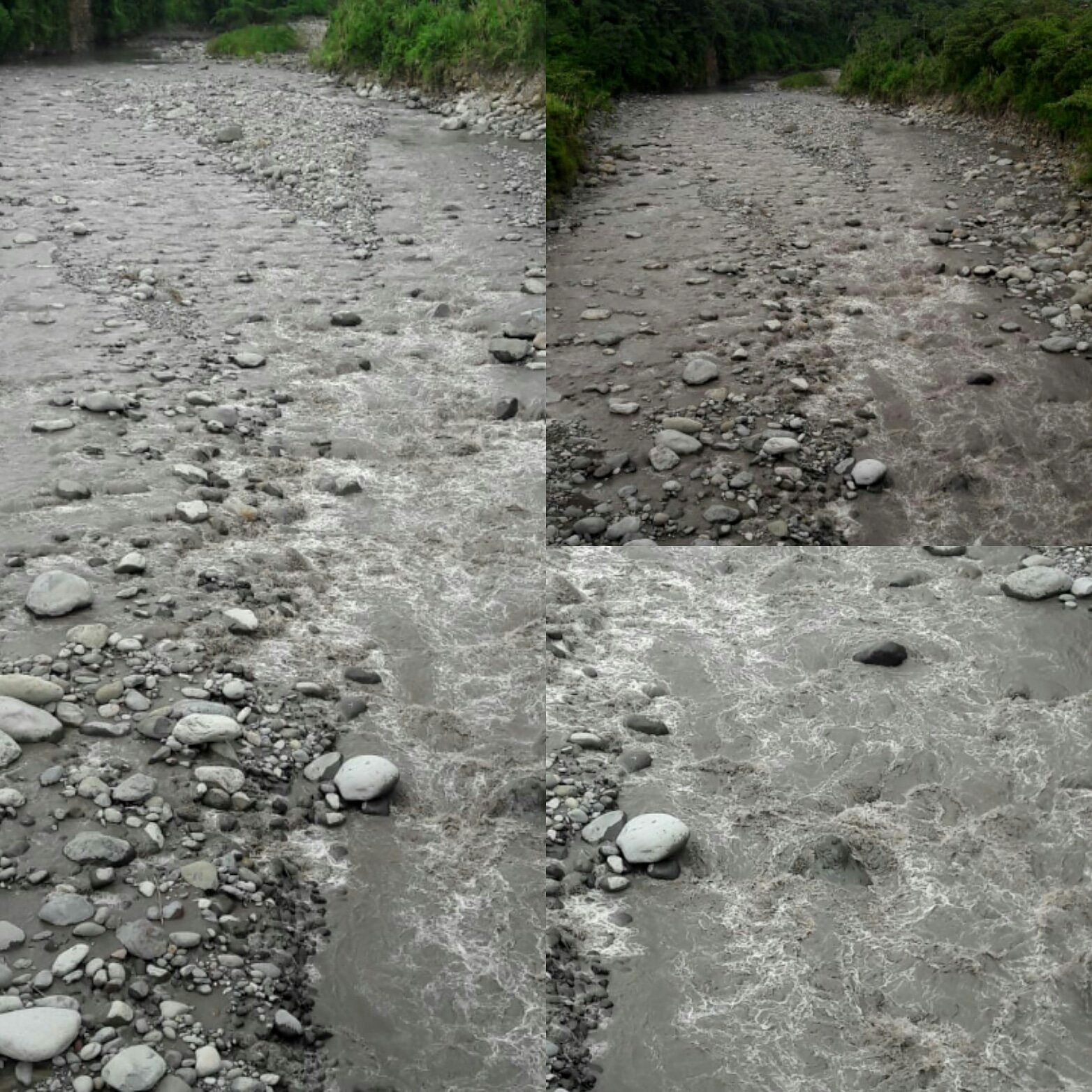 Rio Toro Amarillo / Turrialba - A color change, and the release of a strong smell of sulfur are reported on 01.08.2018 - photo VSF
In the eastern rift zone of Kilauea, the situation remains the same as in previous days. The lava flow emitted by the fissure 8 did not show any overflows and the level of the lava in the distal portion appears low.
On July 31, a brush fire began near the Geothermal Access Road, which burned vegetation around the road and on the west side of Pu'u Honua'ula. He damaged a telemetry station and the webcam.
Source: HVO-USGS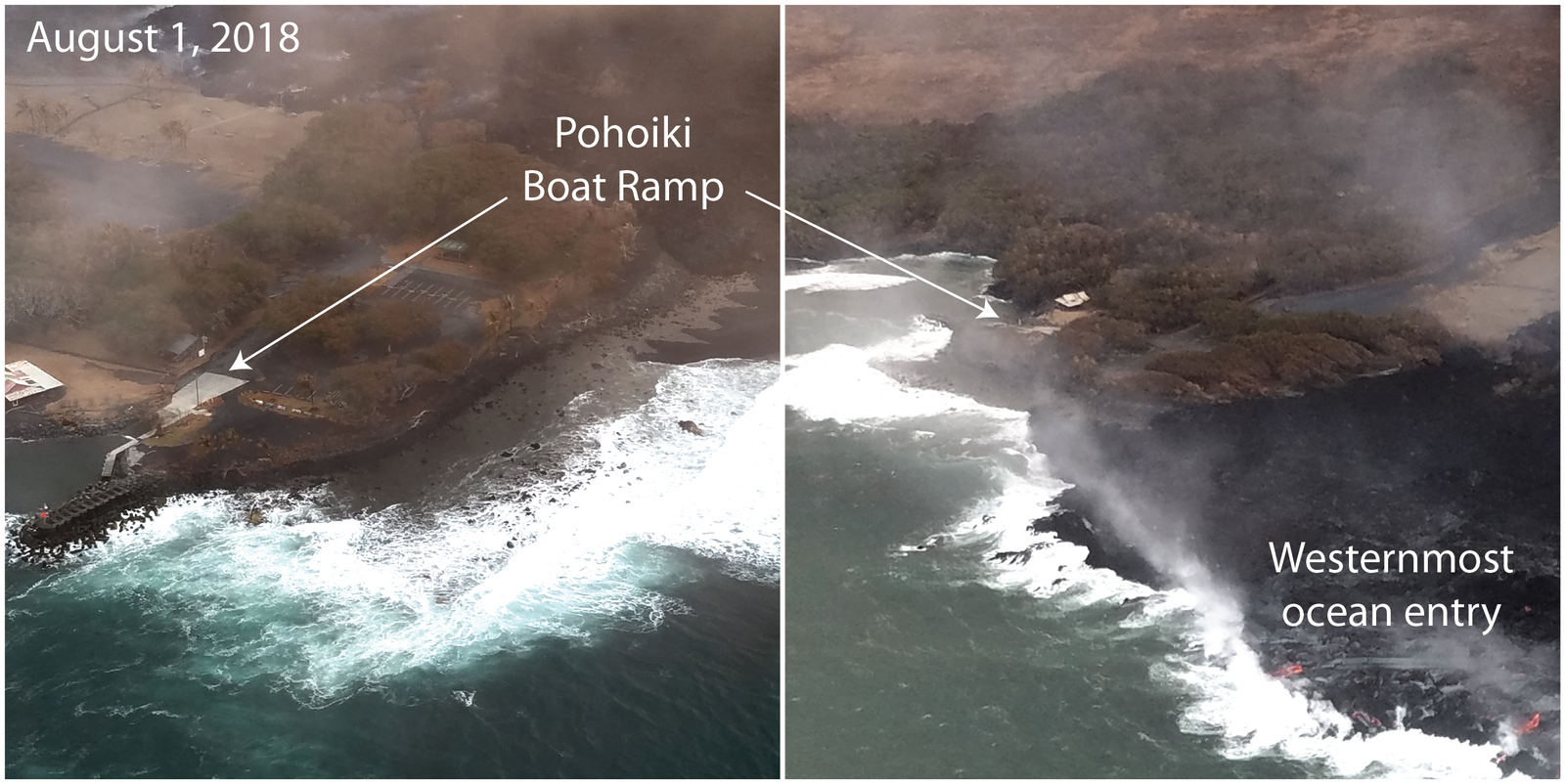 Kilauea East Rift Zone - the most westerly lava front remains within 175 m of the Pohoiki boat ramp - USGS photo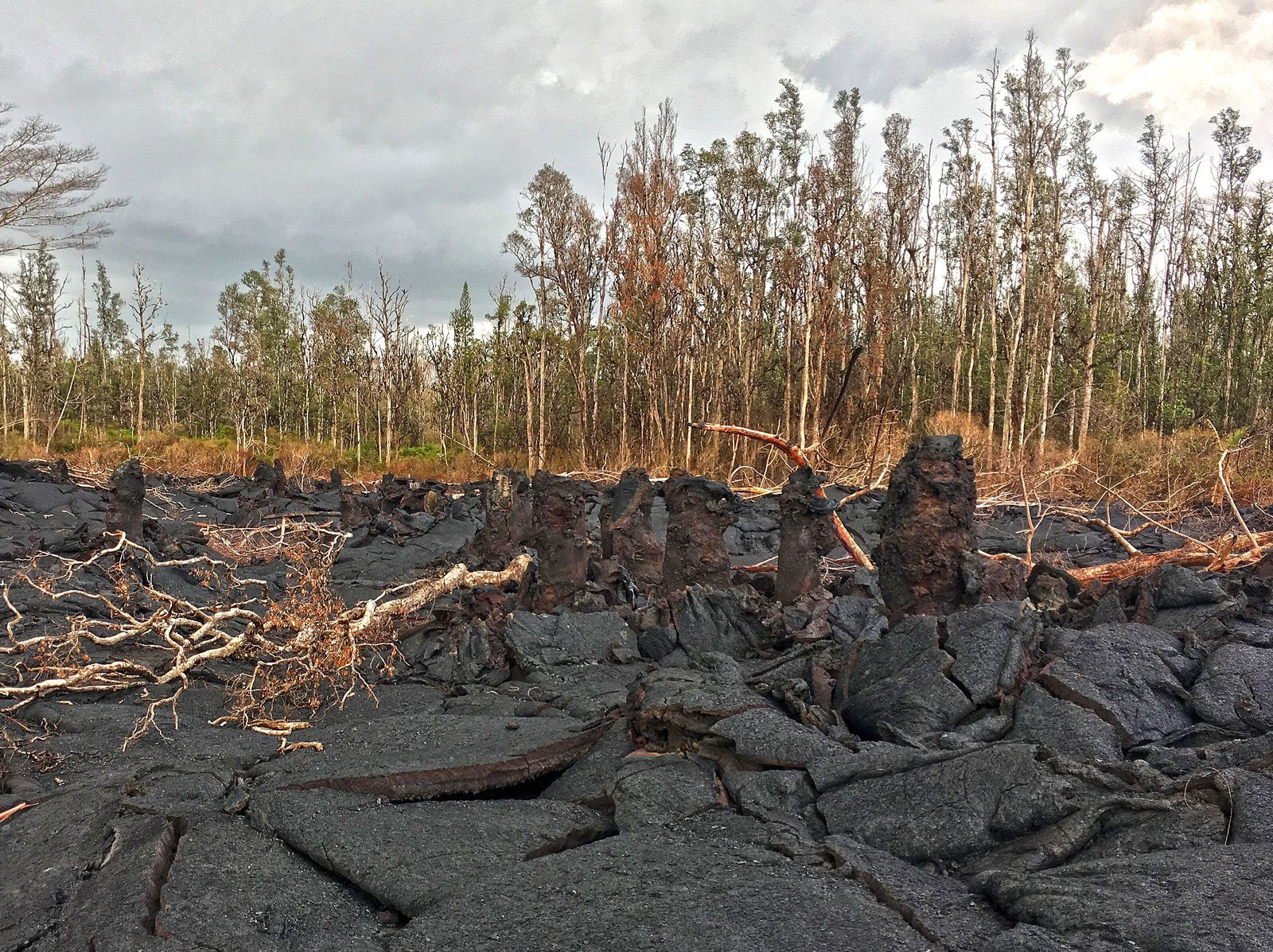 Kilauea East Rift Zone - Lava trees, shown here in a fissure 8 flow, are formed when lava inundates a forested area and surrounds the tree trunks. Lava cools against the trunk, forming a column of rock and eventually burning the tree. As the lava flow deflates, the rock surrounding the trunk is left standing above the flow surface, forming a "lava tree" and showing the high-stand of lava that flowed through the area.