Publié le par Bernard Duyck
The JMA reports, following an aerial observation of 12 September 2018, that an underwater eruption is underway near the Ioto / Iwo-jima coasts in the Ogasawara Islands (Izu-Bonin arc); the eruption, located in the south of the island, propelled seawater to about ten meters high.
This activity follows an increase in seismicity since early September (see note 09.09.2018)

Sources: JMA & NHK news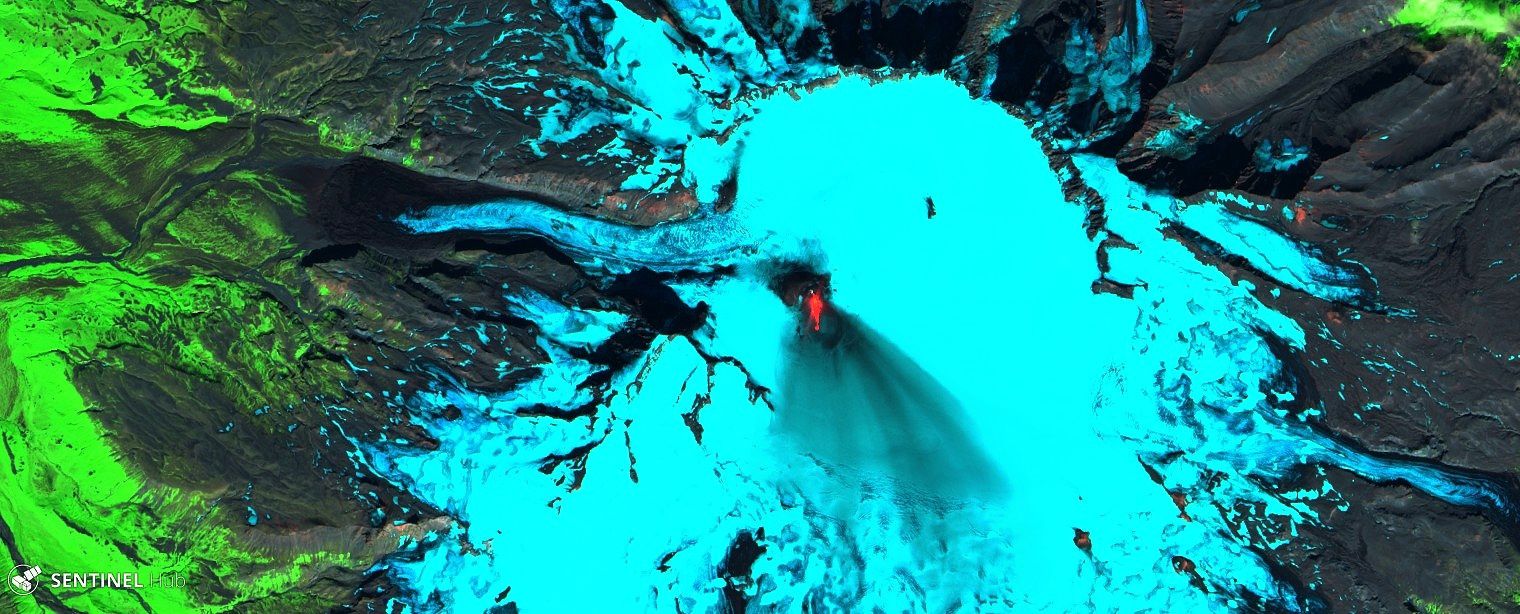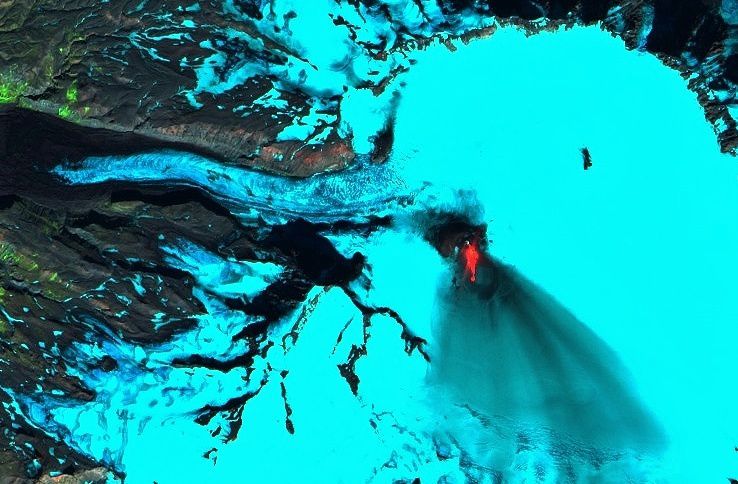 Veniaminof - Site of the eruption, lava flows and ash deposit in the caldera - image Sentinel 2 SWIR 11.09.2018 - one click to enlarge
The eruption of Veniaminof, begun on September 4, 2018, continues.
On a video made by J.Timmreck (link), there is a light fountaining near the top of the active cone, and three lava outlets on the slopes; the lava emitted remains confined to the summit caldera filled with ice.
No observation of significant emissions of ash, only the traces in triangle are observable on the cone. Nighttime glow is observed, and high seismicity and thermal anomalies continue to be recorded.
Sources: AVO, Sentinel 2 & Mirova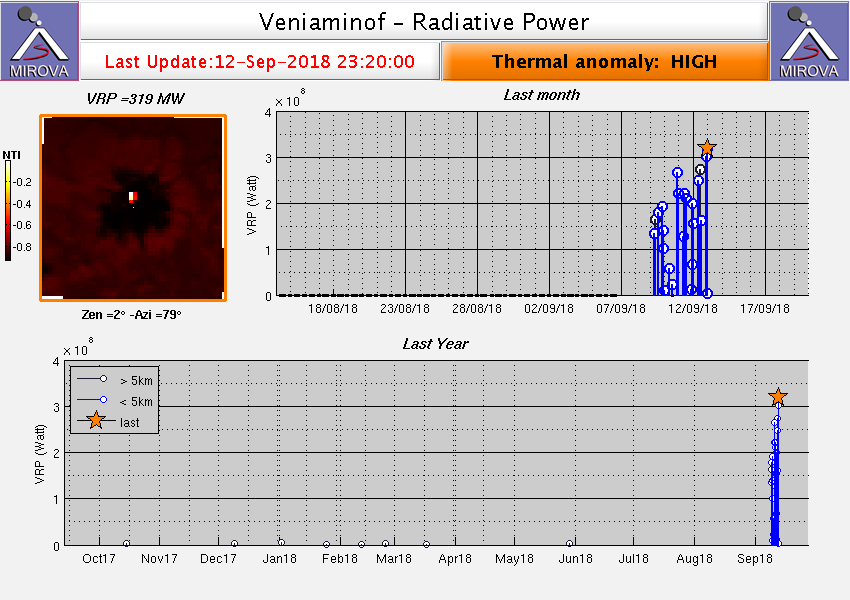 Veniaminof - thermal anomalies since the beginning of the eruption - 12.09.2018 / 23:20 - Doc.Mirova MODiS
At Merapi, the new lava dome reached a volume of 101,000 m³ on September 12; a PVMBG analysis provides a more or less constant lava feed ratio.
Yesterday's seismic recordings include 43 earthquakes, 25 earthquakes, and 5 hybrid earthquakes. The alert level remains at 2 / waspada, with a prohibited area of ​​3 km radius around the summit.
Sources: PVMBG, BNPB and Magma Indonesia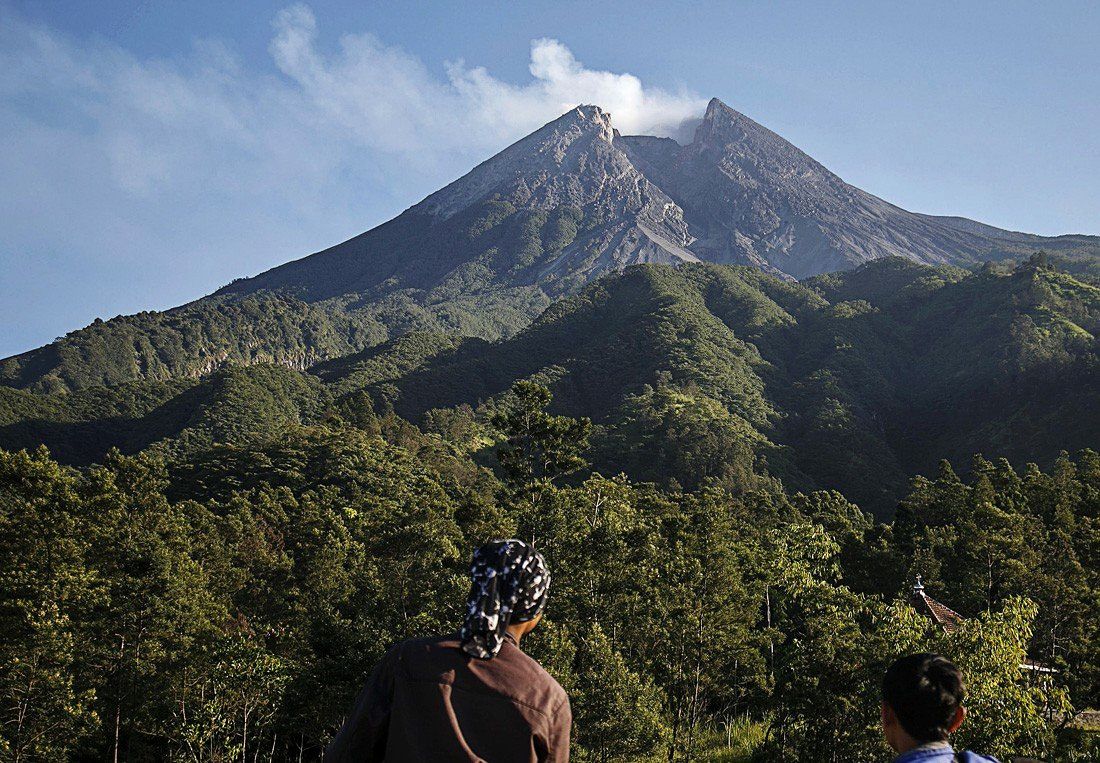 Merapi - the dome visible in the indentation from the foot of the volcano ... anxiety grow - photo BNPB
In Guatemala, the Fuego maintains a white fumarolic activity, with a plume rising 500 meters above the crater, and a few weak to moderate explosions at a rate of 6-8 per hour, with low fallout.
The current heavy rainfall in the area continues to cause floods, landslides, mudslides and lahars. In total, over the last 24 hours, 184 people have been affected, according to Conred.
Sources: Insivumeh and Conred