Publié le par Bernard Duyck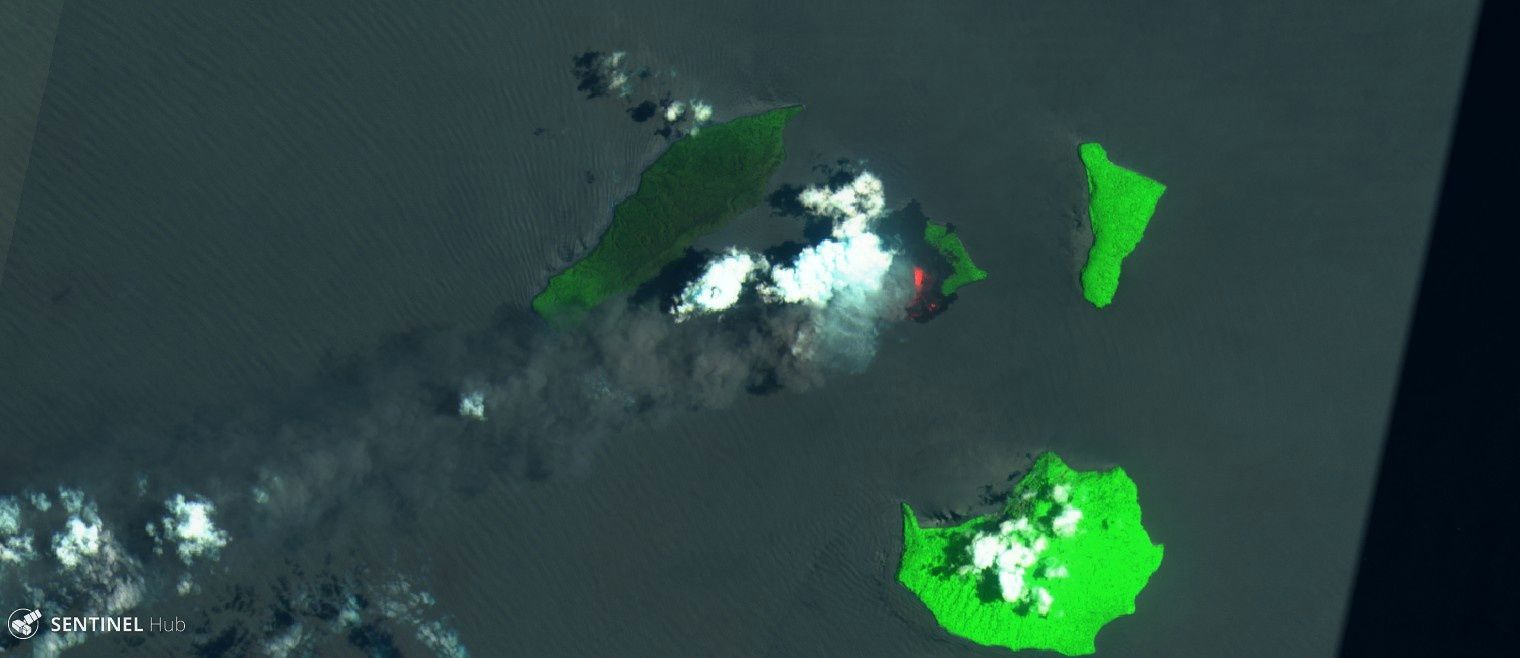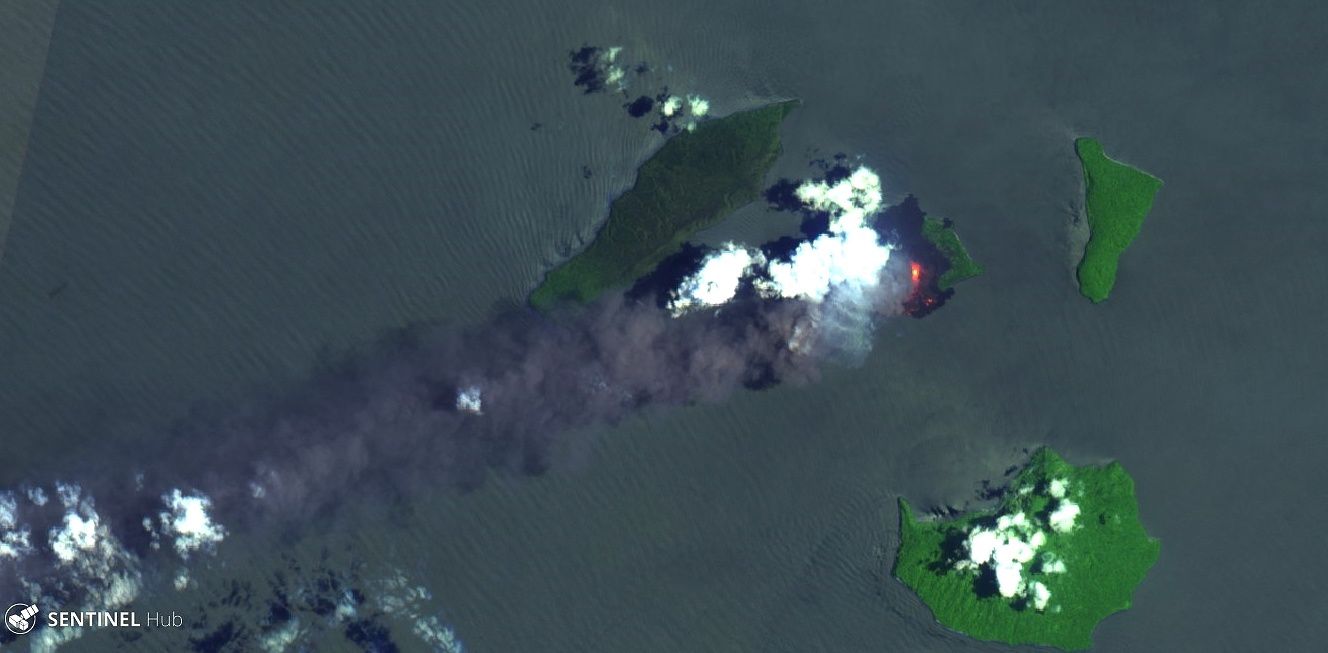 Anak Krakatau - Sentinel 2 images from 25.09.2018 : top, SWIR, bottom, Bands 12,11,4 - one click to enlarge
The activity of Krakatau remains important, with 440 eruptive earthquakes recorded on 25 September, and a continuous tremor of dominant amplitude at 40 mm.
Ash emissions to the Southwest have clouded Verlaten Island, on Sentinel 2 imagery.
The level of activity remains at 2 / Waspada, with a 2 km forbidden zone and an orange VONA.
Sources: PVMBG, Magma Indonesia and Sentinel 2.
At Veniaminof, the lava emission at the top of the volcano continues, accompanied by a high seismicity and a continuous tremor; nocturnal glow is observed.
On the morning of September 25, a plume of gas containing some ashes overcomes the summit, before being pushed to the northeast. Thermal anomalies are always reported by satellites.
Alerts remain to Watch / Orange.
Sources: AVO & Mirova
At Piton de La Fournaise, the eruption started on September 15th at 4:25 am local time continues.
After a slight increase observed at the beginning of the day, the intensity of the volcanic tremor (indicator of the eruptive intensity at the surface) has returned to a relatively stable level despite some subtle fluctuations
The surface flows were estimated from the satellite data, via the MIROVA platform (University of Turin) and HOTVOLC (OPGC - University Clermont Auvergne), and between 0.5 and 5.3 m3 / s on September 24th. .
The cone continues its edification and remains still south, leaving behind a main channel much channeled towards the south, then heading south-east.
An outline of the flow could be determined by the platform OI2 (OPGC - university Clermont Auvergne) from the data of the Sentinel satellites acquired around 06:00 this morning (local time). These observations show that since the observations of September 18th, the various pouring arms have progressed slightly towards the south (direction of the rampart).
Source: OVPF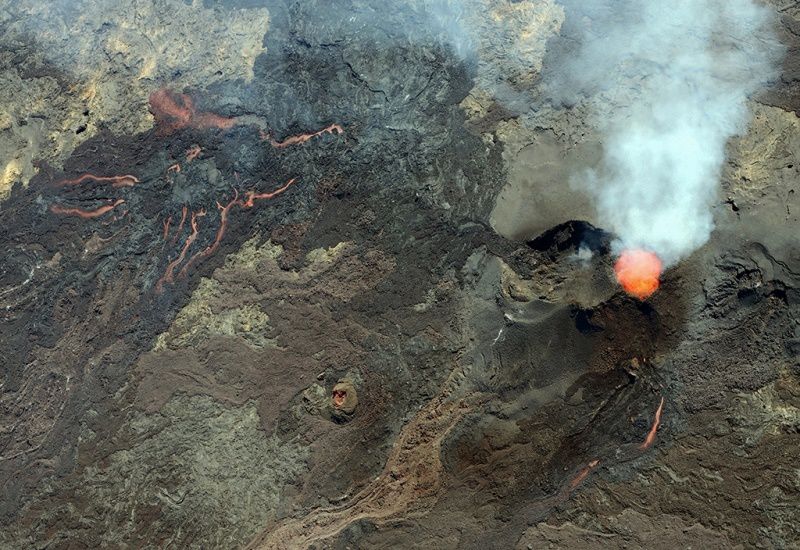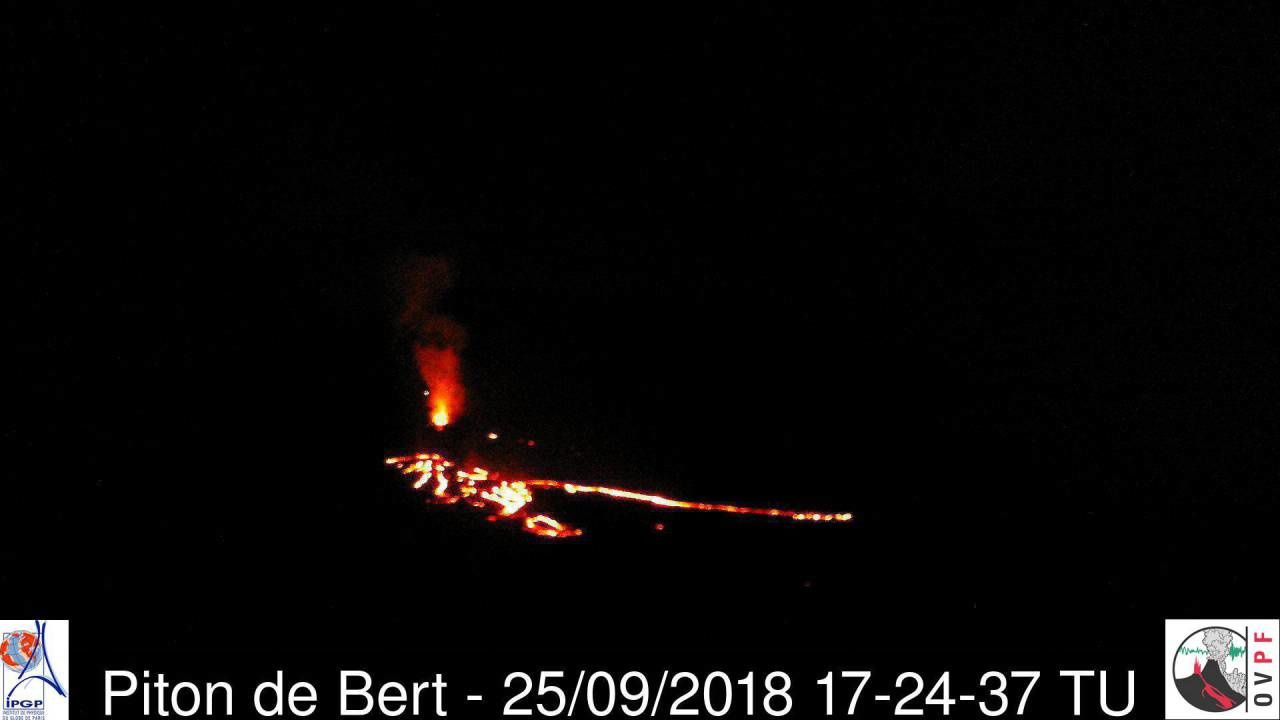 Piton de La Fournaise - the cone continues its construction and the beginning of the casting is visualy separated - photos from 25.09.2018: by day, via MonAmi / Imazpress and in the evening, the OVPF / webcam Bert at 17:24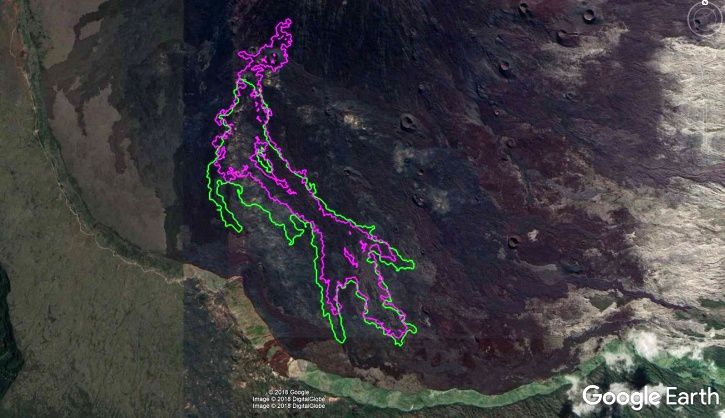 Piton de La Fournaise - Contours of the flows determined from the Sentinel satellite data, for the days of 18 September (red) and 25 September (green), carried out by the OI2 / UCA / OPGC service.
The Cenapred has reported 64 exhalations for the last 24 hours at Popocatépetl, accompanied by plumes of steam, gas and a little ash, and 11 explosions, the largest of which produced a plume of 2,000 meters above the summit, and incandescent projections.
At the seismicity level, there are 2 volcano-tectonic earthquakes and harmonic tremor, with a total duration of 484 minutes.
At the time of the report, Popocatépetl emitted gas and steam, dispersing to the SSE.
Source: Cenapred