Publié le par Bernard Duyck
At the Piton de La Fournaise, the volcanic tremor (indicator of eruptive intensity on the surface) has slightly increased since 8:00 am local time (04:00 UTC time) and thus doubled in intensity during the day
No volcano-tectonic earthquakes have been recorded during the current day.
No significant deformation are noticeable since the onset of the eruption.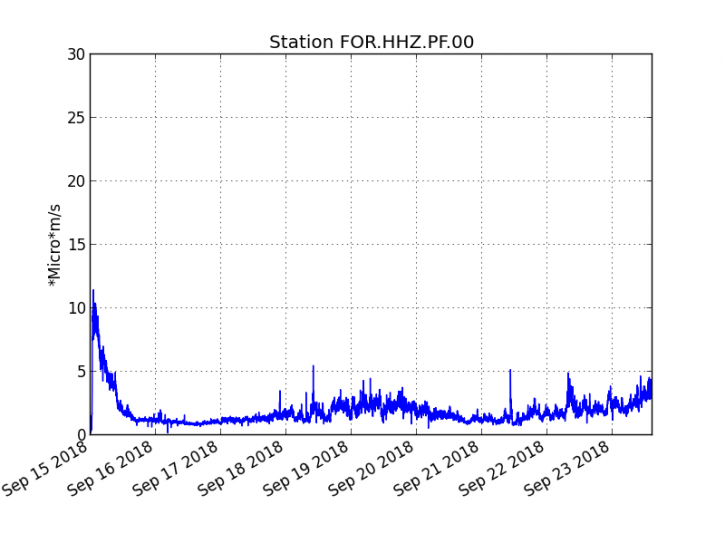 Piton de la Fournaise - Evolution of the RSAM (indicator of the volcanic tremor and the intensity of the eruption) between 04h00 (00h UTC) on September 15th and 14h00 (18h00 UTC) on September 23rd on the seismic station FOR, located nearby Castle Fort crater (2000 m altitude on the southeast flank of the terminal cone). (© OVPF / IPGP)
The surface flows estimated from the satellite data, via the HOTVOLC platform (OPGC - Clermont Auvergne University) are maintained and are always between 1 m3 / s and 3 m3 / s over the last 24 hours.
The decrease in SO2 flux by a factor of about 6 compared to the beginning of the eruption is maintained and is confirmed by the sharp decrease in SO2 pollution at the summit of Piton de la Fournaise; the plume is now smaller and almost confined in the Enclos Fouqué with a dispersion to the south and west.
The cone continues its edification and is still riddled to the south letting out a main flow southwards, then heading south-east. The set of flows does not seem to progress much.
Side prohibitions, besides that to access the Enclos, is added that of the bus traffic on the "Forest Road", which blocks school buses and does not allow the young people of Reunion to see their first eruption.
Sources: OVPF & Fournaise info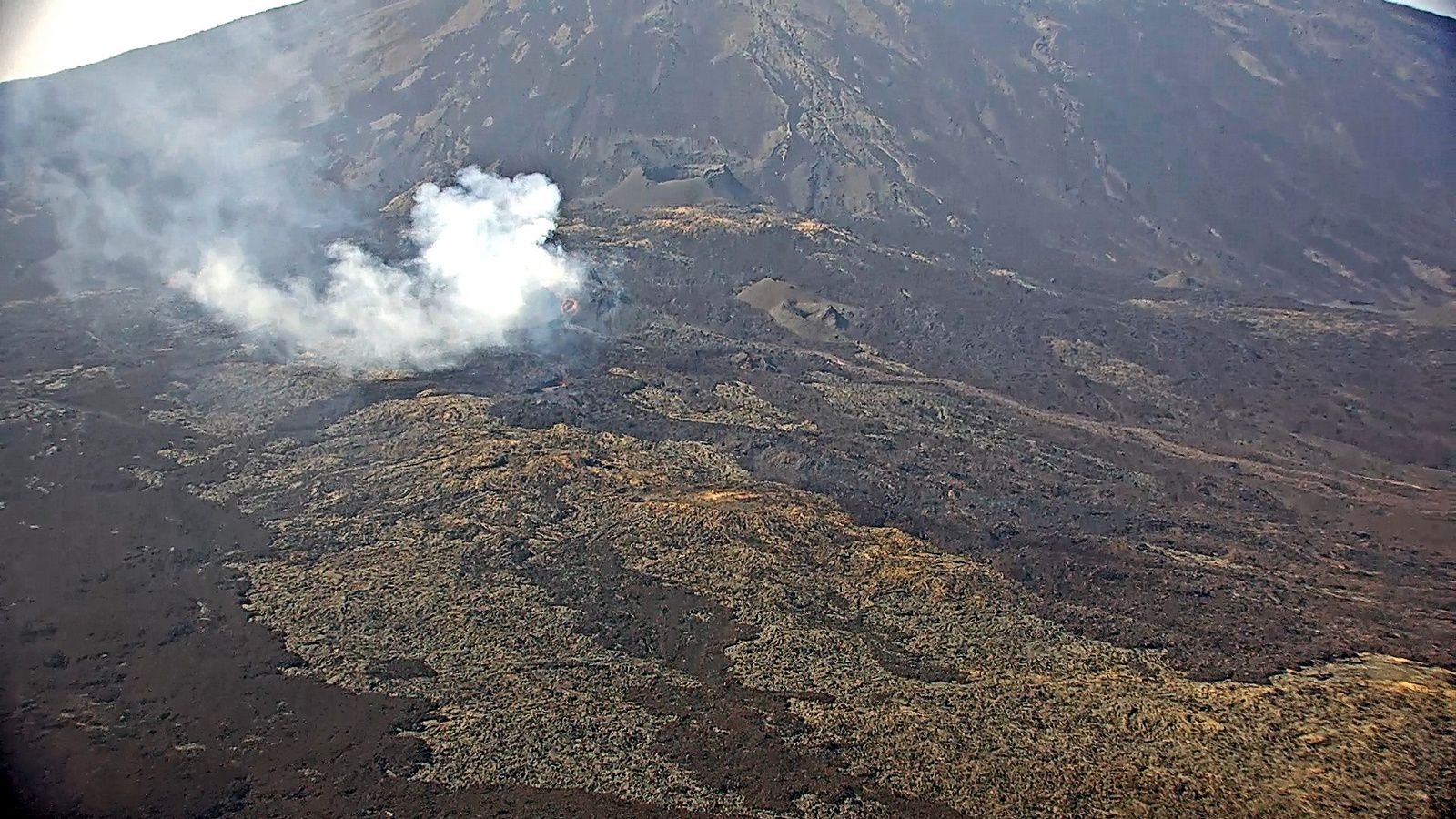 Piton de La Fournaise - the flow of SO2 remains confined in Enclos Fouqué - image IRT / OVPF 23.09.2018 / 15h02
In the Kuril Islands, Ebeko still has a moderate explosive activity.
The KVERT notes an explosion on September 23, accompanied by a plume of ash to more than 3,500 meters asl. dispersing to the southeast. At the end of the day, a cloud of ash drifted east 13 km from the volcano.
It is still reported in the early hours of September 24th.
Sources: KVERT & VAAAC Tokyo
In Kamchatka, VAAC Tokyo issued an ash dispersion advisory for Karymsky on 23 and 24 September, drifting east of the peninsula.
Eruption of a mud volcano on 23 September 2018 in Baku / Azerbaijan
The Ministry of Ecology of Azerbaijan reports the eruption of a mud volcano in the Haradag district of Baku.
It was recorded in the early hours of September 23 and continues; The eruption caused the opening of many fissures with a depth of 40 meters.
Source: News.am
In Fuego, heavy rainfall over the region generated significant hot lahars in the Seca and Mineral Barrancas; of 60 meters wide and 5 meters high, they carry blocks of 2 to 4 meters in diameter, and pasty material in a vapor atmosphere and a smell of sulfur. The vibrations were recorded by the seismometers.


Source: Insivumeh / 23.09.2018 - 19h local