Publié le par Bernard Duyck
The eruption at Piton de La Fournaise, started on September 15 at 4:25 am local time, continues. The intensity of the volcanic tremor (indicator of eruptive intensity at the surface) has remained relatively stable over the last 24.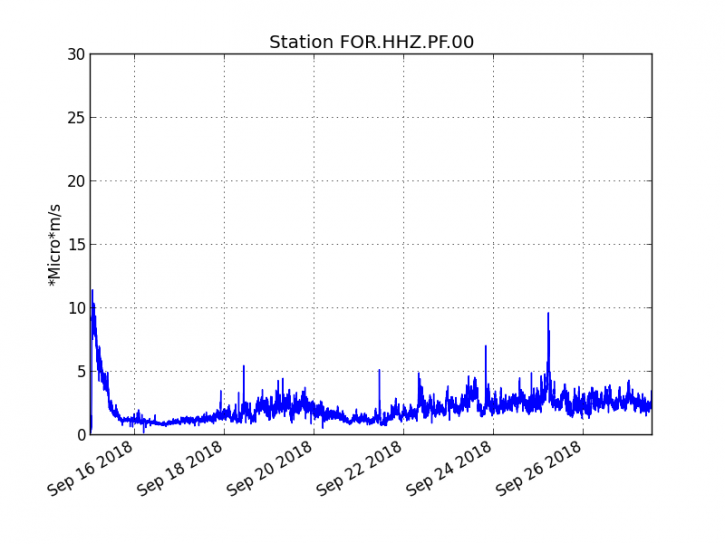 Piton de La Fournaise - Evolution of the RSAM (indicator of the volcanic tremor and the intensity of the eruption) between 04h00 (00h UTC) on September 15th and 16h30 (12h30 UTC) on September 27th on the seismic station FOR, located nearby Castle Fort crater (2000 m altitude on the southeast flank of the terminal cone).
No volcano-tectonic earthquakes were recorded during the day of 26 September or during the current day.
No significant deformation is noticeable.
The surface flows estimated from the satellite data, via the HOTVOLC platform (OPGC - Clermont Auvergne University) are maintained and are always between 1 m3 / s and 3 m3 / s over the last 24 hours.
The cone continues its construction, it is now completely closed for two days and surmounted by a summit mouth from which lava projections escape.
Observations made today in the field show that activity in lava tunnels is now dominant. The flows escape south of the cone through a main tunnel and emerge by resurgences located about 150-200m downstream south of the cone.
Source: OVPF
Find all the information related to the activity of Piton de la Fournaise on the website (http://www.ipgp.fr/fr/ovpf/actualites-ovpf), the Twitter account (https: // twitter. com / obsfournaise? lang = fr), and the facebook account (https://www.facebook.com/ObsVolcanoPitonFournaise/) of the OVPF-IPGP.
The information in this document may not be used without explicit reference.

At Veniaminof, the current eruption is characterized by an active lava flow that has reached 900 meters from the south vent.
The latest IR images mention an area of ​​312,000 m² for casting ... which amounts, for an average thickness of 2 meters, to a volume of lava emitted at September 25 of 624,000 m³.
Nighttime glow is always observed; no thermal anomalies are indicated due to cloud cover.
Source: AVO-USGS
In Krakatau, the number of eruptions was slightly down, with 364 recorded episodes, and a dominant amplitude tremor at 15 mm.
Plumes of ash and gas are diverted to the southwest, as in previous days

Sources: PVMBG, Magma Indonesia and Sentinel 2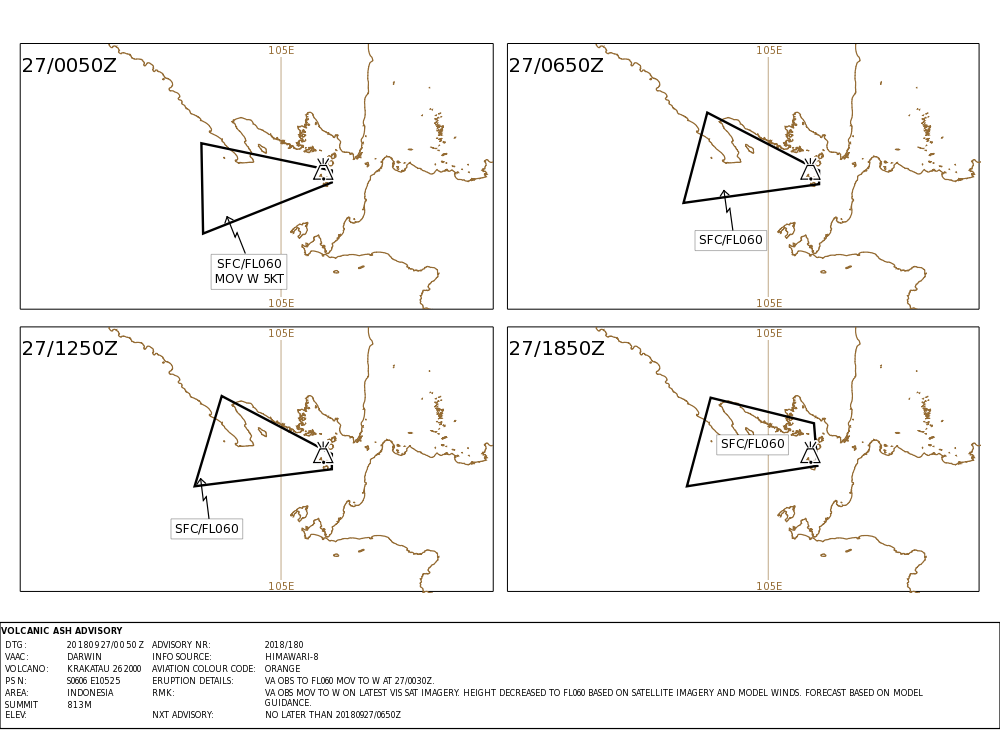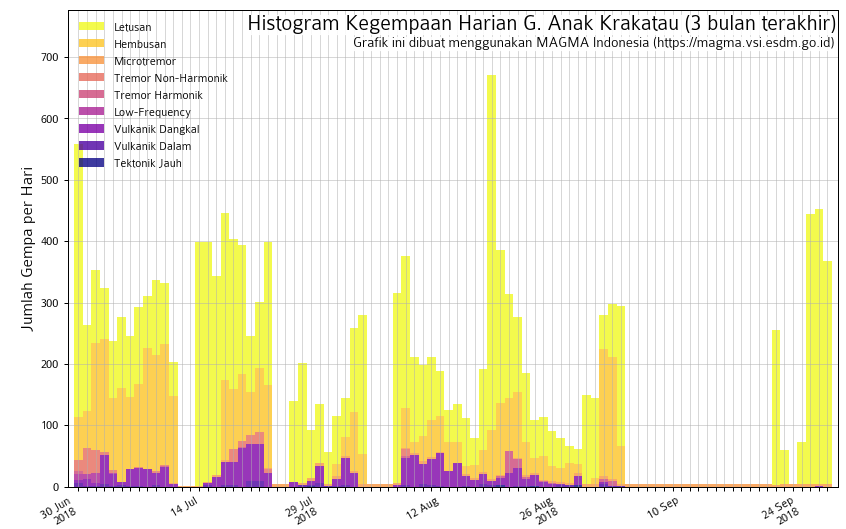 Anak Krakatau - 27.09.2018 - Volcanic Ash Advisory and seismicity - Doc. VAAC Darwin and Magma Indonesia
In Papua New Guinea, following a decline in activity, the latest news from Kadovar has spread widely.
The VAAC Darwin issued this 28.09 a notice of ash dispersal, discreet and supposed to dissipate within 6 to 12 hours.
The aviation alert remains orange.
A Sentinel 2 image allows you to observe the island-volcano without emissions on the 27th, the costal dome backed up, and some fumes and discoloration at sea, close to the coast.
Sources: VAAC Darwin & Sentinel 2