Publié le par Bernard Duyck
In Pacaya / Guatemala, during the night of 6-7 September, Insivumeh reports incandescence in the crater and two lava flows towards the northwest, visible from the commune of Saint-Vincente Pacaya. During the day, the volcano is surmounted by white and blue degassing fumaroles, 50 meters above the crater.
Source: Insivumeh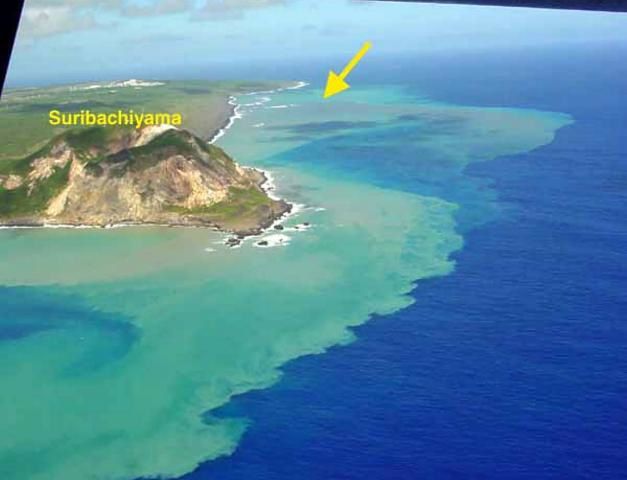 Discoloration of the waters due to an underwater eruption in September 2001 near the Suribachiyama / Ioto cone (yellow arrow) - Photo by Nakahori, 2001 (Japan Meteorological Agency, published in the Bulletin of the Global Volcanism Network).
A seismic swarm marks Iwo Jima, in the Izu-Bonin volcanic arc, since 2 September; on September 8, the JMA counted 566 volcanic earthquakes.
The island, occupied only by military personnel, is known for rapid inflation. Vigilance is required, with the possibility of a small underwater eruption near the coast.
Named Ioto before 2007, this trachytic-trachycesitic volcano is located in a vast underwater caldera 9 km wide.
Source: Japan Meteorological agency, via Fumihiko Ikegami / UTAS
The growth of the lava dome at the top of Merapi continues; its volume is estimated this September 9 to 90,000 m³, against 86,000 m³ the day before.
Alert level has not changed
Source: PVMBG
In Lombok, still affected by earthquakes, the Rinjani National Park Authority reports that it will be closed to all climbing activities for at least one year: repairs are needed on the mountain roads, cracked and dangerous.
Source: Straits Times Asia
While waiting for assistance in the construction of earthquake resistant houses in Lombok and Sumbawa, various NGOs are building temporary shelters for people whose homes have been destroyed by earthquakes.
Source: BNPB
On central Java, the Gunung Sundoro is closed due to ongoing fires on its flanks; in steep areas and fanned by strong winds, fires are difficult to extinguish due to lack of water and resources.
Source: BNPB