Publié le par Bernard Duyck
In Costa Rica, a phreatic eruption occurred at Rincon de La Vieja on October 17 at 5am local time; it was accompanied by a plume of water vapor, gas, aerosols and sediments from the hyperacid crater lake at a height of 1,000 meters. The duration of activity was 2 minutes.
The summit of Rincon was covered with a white cope of water and sediments, observed via the webcam located at Sensoria Land of Senses, and observers north of the volcano.
Ovsicori recommends caution near rivers and drainages, because of possible lahars.
The experts of the national network of seismology launched a notice of change of behavior of the seismic activity of Rincon, typical of the circulation of hydrothermal fluids or internal magmatic.
Source: Ovsicori-UNA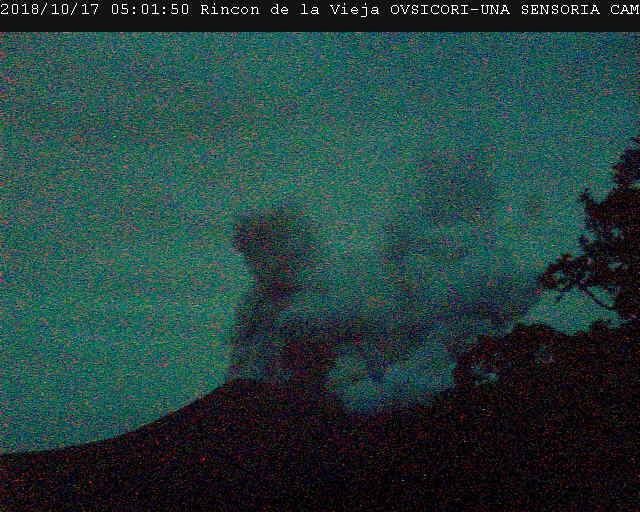 Rincon of La Vieja - 17.10.2018 / 05h01 loc. - OVSICORI-UNA y cortesía de Campbell Scientific Centro America y Caribe-Sensoria Land of Senses ubicada 3.5 km to the north of Cráter activo del Rincón.
In recent days, Anak Krakatau has resumed these explosions; one of them, on October 15, sent bombs that touched the sea near the Geoff Mackley, Matt Davison and Nicole Schied boat.
No injuries, but a big heat and an hasty retreat.
The activity level remains at 2, with a 2 km forbidden zone.
Source: Ultimate volcano expeditions & Magma
Krakatoa Volcano 15 October our boat had a close call when a large explosion threw rocks into the ocean very close to our boat.
In support of the news provided yesterday, a video of Mick Kalber / Paradise helicopters and photos of Bruce Omori illustrate the collapse of the summit of Kilauea, with the remodeling of the crater Halema'uma'u, and the destruction of nearby roads.
The summer eruption in the eastern rift zone drained significant amounts of magma from the reservoir, and removed the foundations from the summit. Successive collapses accom- modated the explosions; each collapse released energy equivalent to that produced by a magnitude 5 earthquake.
No active lava is present in the crater, traversed by numerous faults from which sulphurous gases escape, leaving deposits.
Source: Mick Kalber and Bruce Omori.

Video 16.10.2018 / Mick Kalber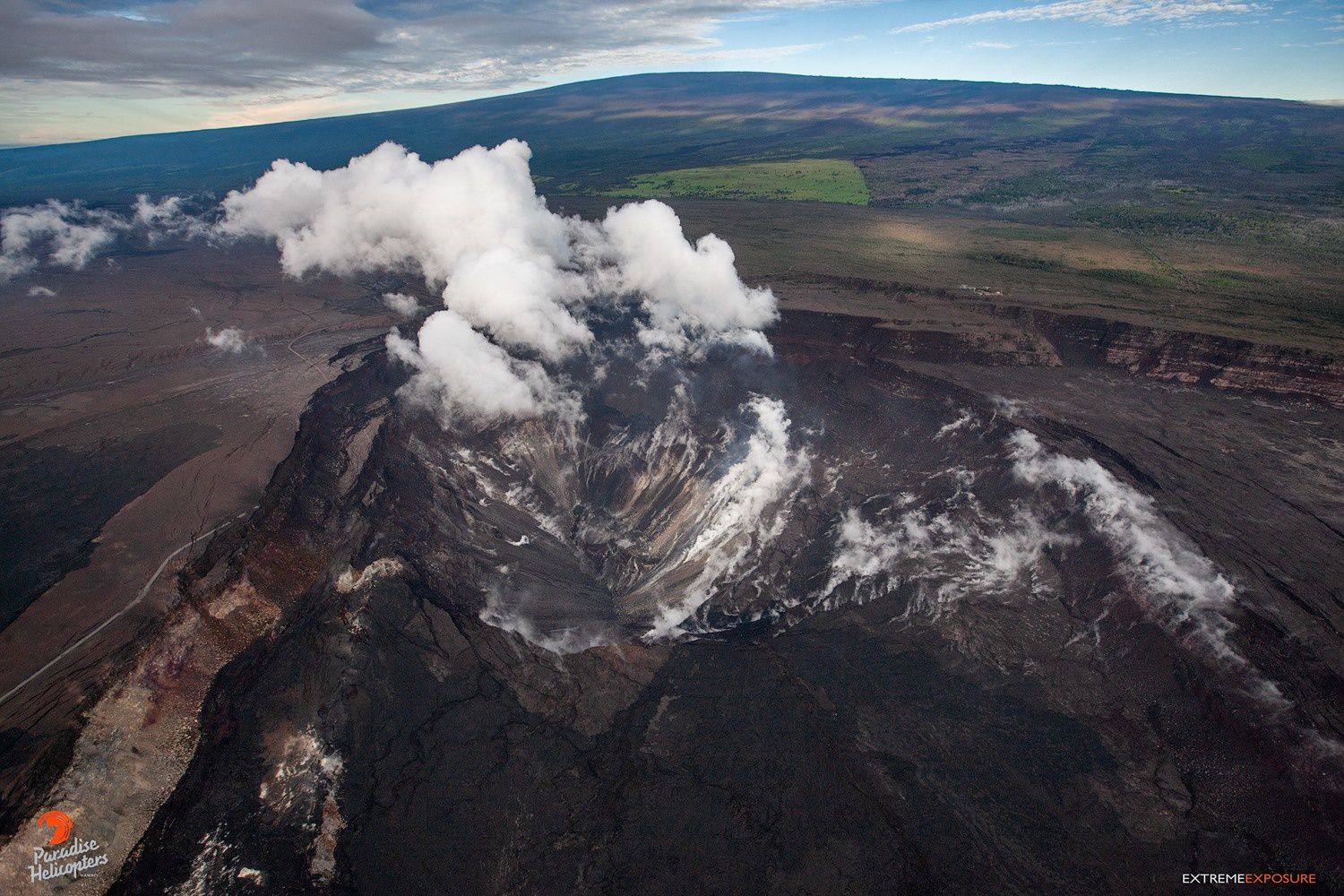 Kilauea summit - the crater of Halema'uma'u and in the background, Mauna Loa - photo Bruce Omori 16.10.2018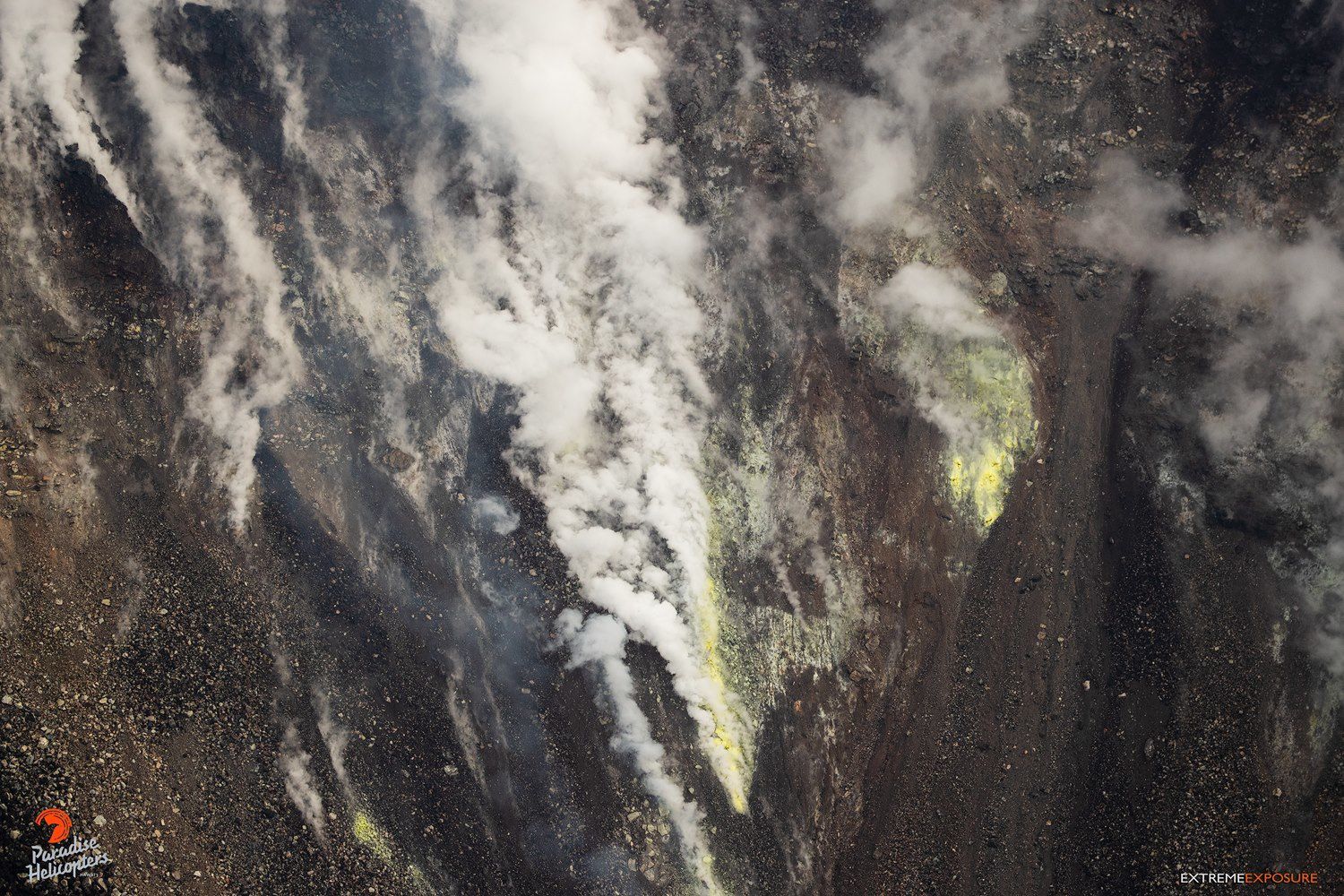 Kilauea summit - the north wall of the Halema'uma'u crater, with its sulfur gas fumaroles and sulfur deposits - photo Bruce Omori 16.10.2018