Publié le par Bernard Duyck
Boosting fever at Sangeang Api, where Mirova detects a very high temperature anomaly; it rose from 8-30MW between October 20 and 23 to 1,267 MW on October 24 at 2:40.
Magma Indonesia recommends a forbidden zone of 1.5 km radius around the active vent, and not to move in the Sori Wala valley, Sori Mantau, Sori Boro and Sori Oi due to possibility of pyroclastic flows. All drainage should be avoided in case of rain ... danger of lahars.
The volcano is in activity level 2 / waspada
Sources: Mirova and Magma Indonesia
At Dukono, on Halmahera, a thick white to gray plume rises 300 meters above the crater, and moves east. The seismicity of October 23 is characterized by 5 erathquakes of eruption, a volcanic earthquake and a continuous tremor of amplitude dominant at 2 mm.
The activity level is 2 / waspada, with a 2-kilometer zone around the Malupang Warirang crater, and an orange VONA was issued on October 23 at 10:22.
Sources: Magma Indonesia and VAAC Darwin
A moderate explosive activity continues in Ebeko, in the Kuril archipelago. An explosion was accompanied on October 23 by a plume of ash to more than 4,500 meters, extending east of the volcano for about ten kilometers.
Sources: KVERT and VAAC Tokyo.
The eruption started on September 15 at 4:25 am local time at Piton de La Fournaise continues. The intensity of the volcanic tremor (indicator of the eruptive intensity on the surface) is very slightly decreasing for several days.
Inflation (swelling) of the building is always recorded. This inflation reflects the pressurization of a localized source beneath the summit craters (Bory-Dolomieu) at a depth of 1-1.5 km, related to the recharge of the superficial reservoir by deeper magma.
Source: OVPF - Find all the information related to the activity of the Piton de la Fournaise on the different media of the OVPF-IPGP:
- the website (http://www.ipgp.fr/fr/ovpf/actualites-ovpf),
- the Twitter account (https://twitter.com/obsfournaise?lang=en),
- and the facebook account (https://www.facebook.com/ObsVolcanoPitonFournaise/)
The information in this document may not be used without explicit reference.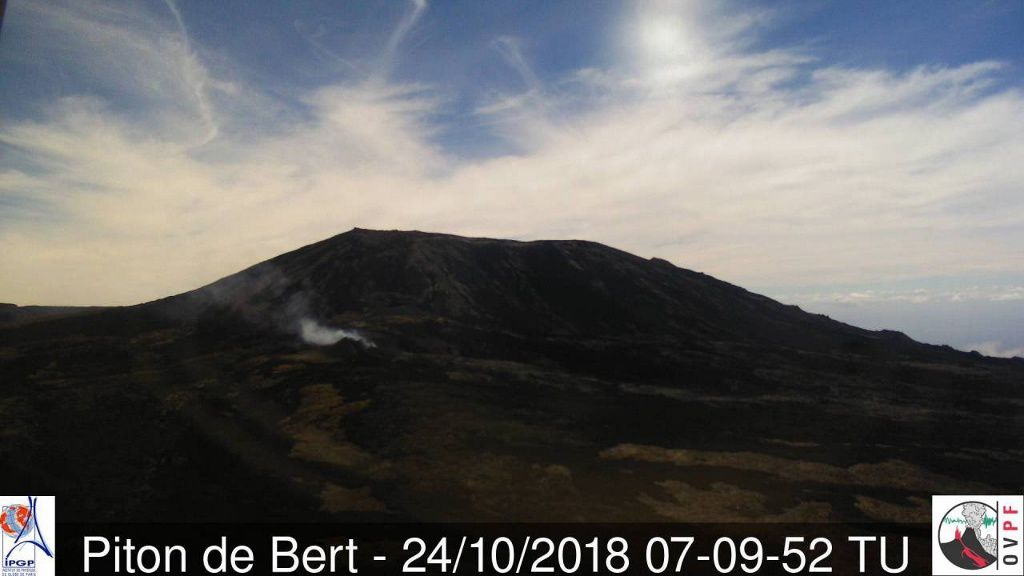 Piton de La Fournaise - 24.10.2018 / 7h09 UTC - good weather returns to piton, and fumaroles have decreased - Webcam OVPF piton Bert
A new species of sesarmid crab of the genus Karstarma has been studied in a lava tunnel of Piton de la Fournaise, at Le Brûlé des Citrons Galets, at altitudes of 60, 100 and 170 meters.
J.Poupin, marine biologist of the Naval School of Brest, and specialist in tropical crustaceans, named it Karstrama vulcan.
Source: Cave-dwelling crabs of the genus Karstarma from lava tubes of the volcano 'Piton de la Fournaise', in Réunion Island, with description of a new species and redescription of Karstarma jacksoni (Balss, 1934) from Christmas Island (Decapoda, Brachyura , Sesarmidae) - via Clicanoo and Info.re
On the left, Karstrama Vulcan - on the right, Piton de La Fournaise - Karstrama vulcan settlement - Location of the "Brulé des Citrons Galets" lava tunnel and its entrance - Crabs' place of life at the end of the tunnel - photo J.- P. Le Guelte - a click to enlarge
The Copahue, on the Chilio-Argentine border, in amarilla technical alert, always presents an instability of its hydrothermal system, with intermittent emissions of ashes.
An episode was photographed this October 22 from Caviahue in Argentina.
Source: Sernageomin & Valecaviahue / Twitter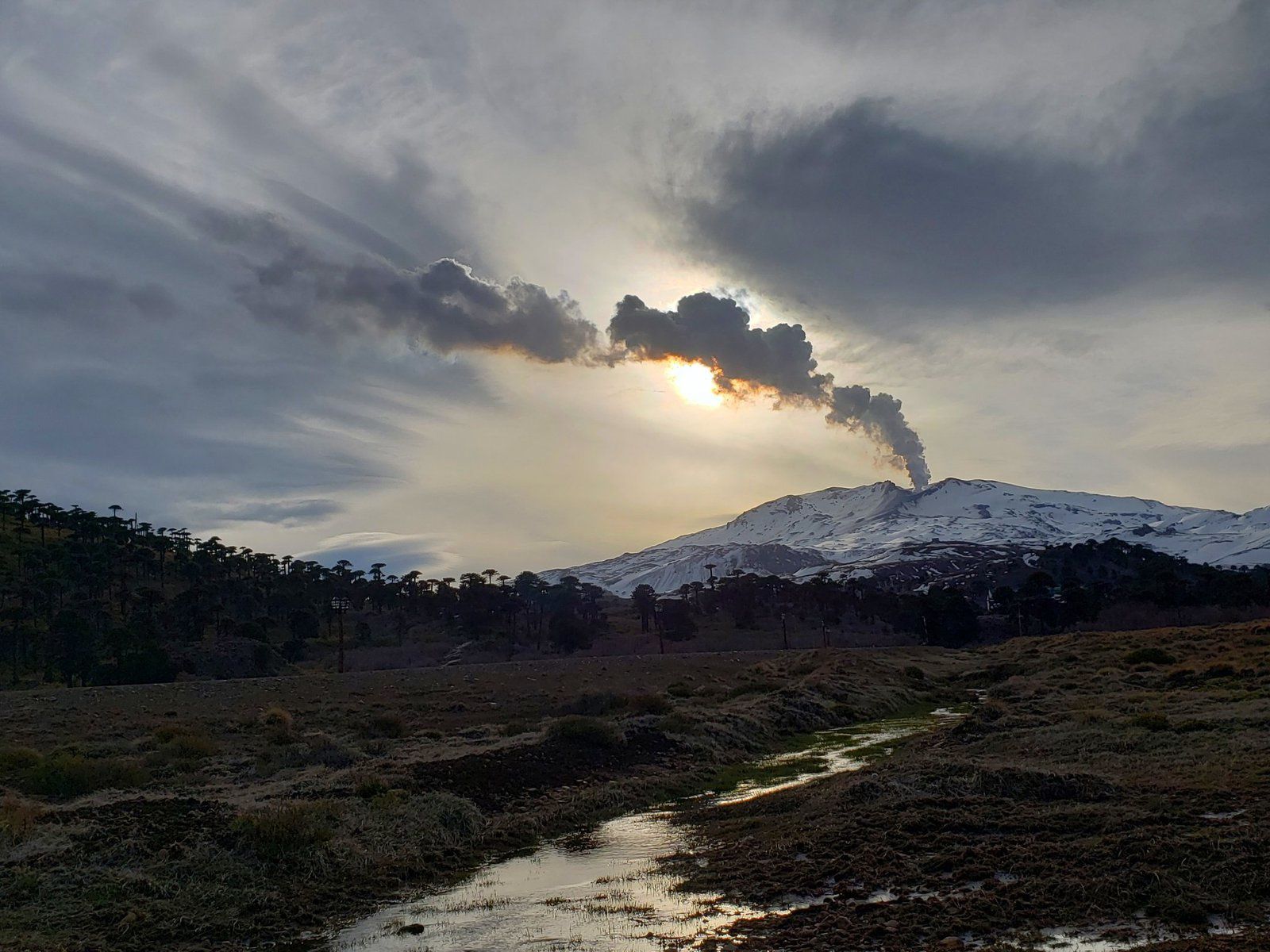 The Copahue, on the Chilio-Argentine border, in amarilla technical alertness, always presents an instability of its hydrothermal system, with intermittent emissions of ashes. A broadcast episode was photographed this October 22 from Caviahue in Argentina. Source: Sernageomin & Valecaviahue / Twitter