Publié le par Bernard Duyck
These works by Alfredo Zalce Torres represent the eruption of Paricutin, near Michoacán.

The first painting was repatriated from the United States to Mexico.
Active from 1943 to 1952, Paricutin, located in the Michoacán-Guanajuato volcanic field, is the only volcano followed from birth to extinction.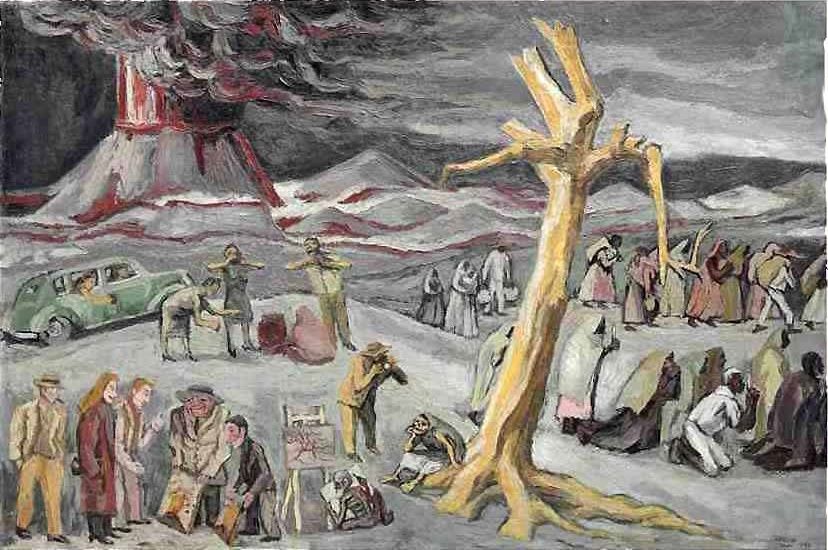 El Paricutín, 1949 - oil on canvas by Alfredo Zalce - 70 x 103 cm. / MutualArt - one click to enlarge
Zalce, born in Michoacan, sympathized with people fleeing their villages as lava covered their homes and businesses and ashes polluted their water supply. The eruption was accompanied by small earthquakes in which many kneeled, fearing their near end.
In the left foreground, we can see three of the greatest artists of Mexico; Diego Rivera, Raul Anguiano and Gerardo Murillo aka Dr. Atl, whom he painted offering their paintings to tourists. Zalce caricatured them, although they were all his friends, expressing his excitement at seeing this tragedy used for commercial purposes.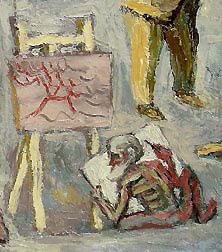 In the middle, the description of the distress of Mexicans fleeing the disaster ... and in the background, the cone of Paricutin and its lava flows.
This hierarchy in three planes corresponds to his resentments of witness, and native of the region.
Another painting by Zalce features a dark gray color palette for this "Paricutin" from 1949, too, in contrast to Dr. Atl's dynamic colors.
Born in Pátzcuaro (Michoacán) in 1908 of professional photographers parents , Alfredo Zalce lived in Tacubaya during the Mexican Revolution. His school was near the scene of the battle between the rival forces of Victoriano Huerta and Emiliano Zapata.
The young Alfredo would have started drawing at the age of six or seven. In elementary school, he drew regularly on the board to accompany his teachers and illustrate their lessons, to encourage his classmates.
Between 1924 and 1927, he studied at the Escuela Nacional de Artes Plásticas in Mexico City, where his formative influences included Mateo Saldaña, Germán Gedovius and Diego Rivera and other muralists. He had friendly relations with Diego Rivera and Rufino Tamayo, David Siqueiros, Jose Clemente Orozco and Frida Kahlo. As the eldest of three children, he assumed responsibility for the family after his father's death. while he was a student, he studied in the morning and worked in the afternoons to provide financial support.
Most of his career was devoted to teaching and cultural activities, and he founded many schools of paintings. He organized his first public exhibition at the José Guadalupe Posada Gallery in Mexico City in 1932.
Between 1937 and 1950, Zalce painted four murals on the school walls of the states of Colima, Puebla, Michoacán and Mexico City. In 1945, he completed one of his most famous works, the Estampas portfolio of Yucatan, after spending four months in southern Mexico. In 1948, he organized a major exhibition at the Instituto Nacional de Bellas Artes, which was then presented in his home state, Michoacán, at the Museo Michoacano in Morelia.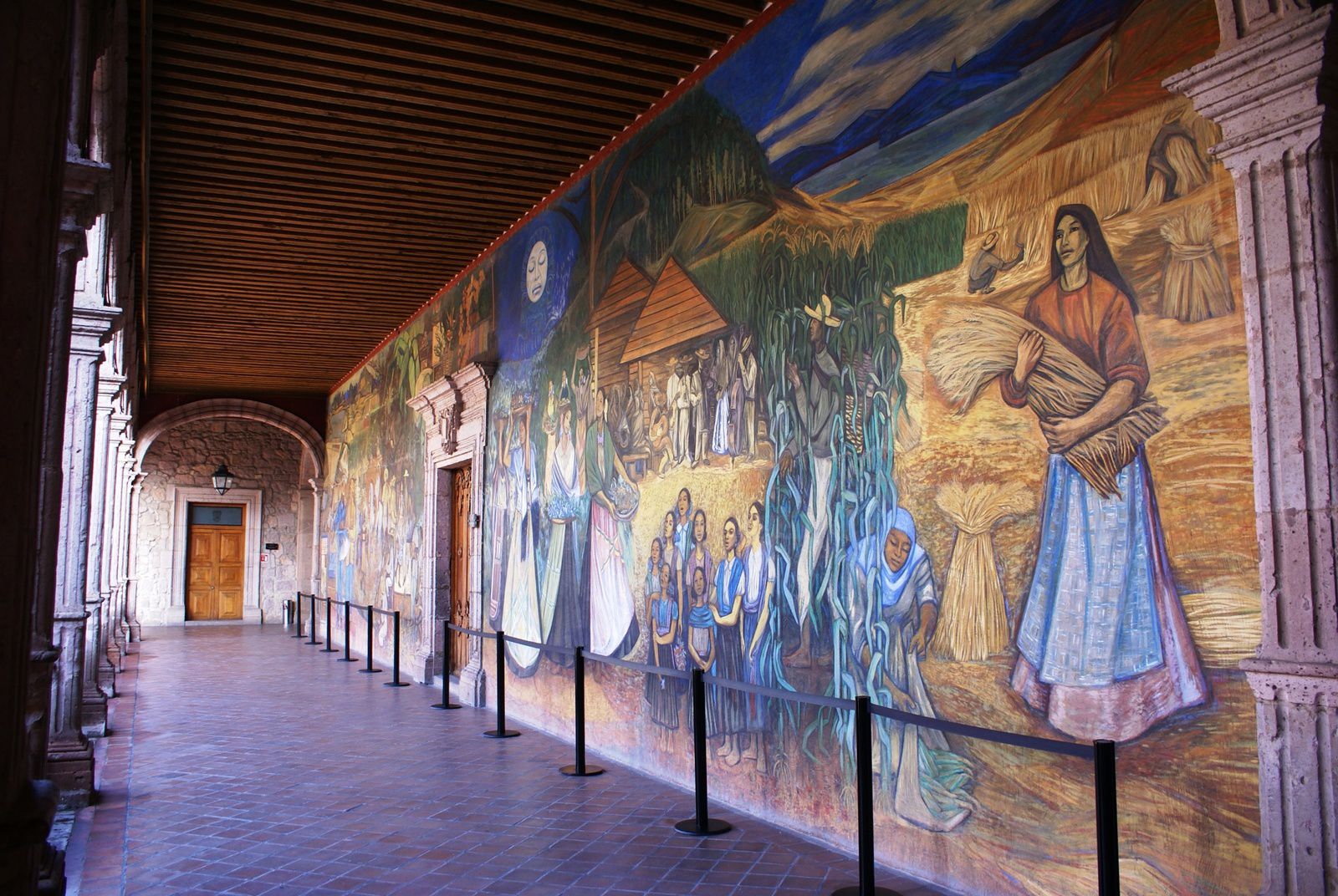 "Gente y paisaje de Michoacán", mural by Alfredo Zalce / 1962 - Palacio de Gobierno by Michoacán Morelia, Michoacán, México. - photo Veo Kenxiz
In 1950 he became director of the Bellas Artes de Morelia Popular School (sponsored by the University of Michoacán) and the Escuela de Pintura y Artesanias de Morelia (sponsored by the Instituto Nacional de Bellas Artes). He worked mainly in Morelia from that date. In the 1950s, he filled important commissions, including the Chamber of Deputies of the State of Michoacán and Morelia City Hall.
His works have also been exhibited outside of Mexico and now appear in the permanent collections of the Metropolitan Museum of Art and the Museum of Modern Art in New York, the Moderna Museet in Stockholm, the National Museum in Warsaw, the National Art Gallery in Sofia . and in Mexico City.
When he died at the age of 95 in 2003, he was cremated at Panteón Jardínes del Tiempo in Morelia. His old house in the city was turned into Alfredo Zalce Foundation to preserve his legacy.
Sources:
- RO gallery - Alfredo Zalce, Mexican (1908 - 2003) biography
- Global Volcanoes Program - Michoacan-Guanajuato volcanic field - link