Publié le par Bernard Duyck
An eruption must have hit the island of Manam in Papua New Guinea this September 30th, referring to the VAAC Darwin Volcanic ash advisory of October 1, the orange aviation code, and thermal anomalies of 6,326 and 7,135 MW reported by Mirova for these dates.
VA ADVISORY
DTG: 20181001 / 0330Z
VAAC: DARWIN
VOLCANO: MANAM 251020
PSN: S0405 E14502
AREA: PAPUA NEW GUINEA
SUMMIT ELEV: 1807M
ADVISORY NR: 2018/28
SOURCE INFO: HIMAWARI-8
AVIATION COLOR CODE: ORANGE
ERUPTION DETAILS: CONTINUOUS WEAK VA EMISSION TO FL090 EXT
WNW AND FL140 EXT SW
OBS VA DTG: 01 / 0330Z
At Piton de La Fournaise, the eruption started on September 15th at 4:25 am local time continues. Apart from a slight increase in early afternoon on September 30, the intensity of the volcanic tremor (indicator of eruptive intensity at the surface) has remained relatively stable over the last 24 hours.
The surface flows estimated from the satellite data, via the HOTVOLC platform (OPGC - Clermont Auvergne University) were less than 2 m3 / s over the last 24 hours. Note that the eruptive activity now taking place mainly in lava tunnels, detection of anomalous hot spots are increasingly difficult and therefore these values ​​of underrated flows. In the same way the cloud cover this day on the volcano disrupts the acquisition of these data.
A team of the OVPF present on the eruptive site yesterday reported low projections (both in intensity and frequency) within the cone. Most of the flows flow directly from the cone via a main lava tunnel and emerge in resurgences several hundred meters downstream of the cone. Yesterday morning, during the mission of the team of the OVPF, a small flow was also visible at the foot of the cone, but too dangerous access, so only a collection of volcanic bombs could be achieved by the team.
Find all the information related to the activity of Piton de la Fournaise on the website (http://www.ipgp.fr/fr/ovpf/actualites-ovpf), the Twitter account (https: // twitter. com / obsfournaise? lang = fr), and the facebook account (https://www.facebook.com/ObsVolcanoPitonFournaise/) of the OVPF-IPGP.
The information in this document may not be used without explicit reference.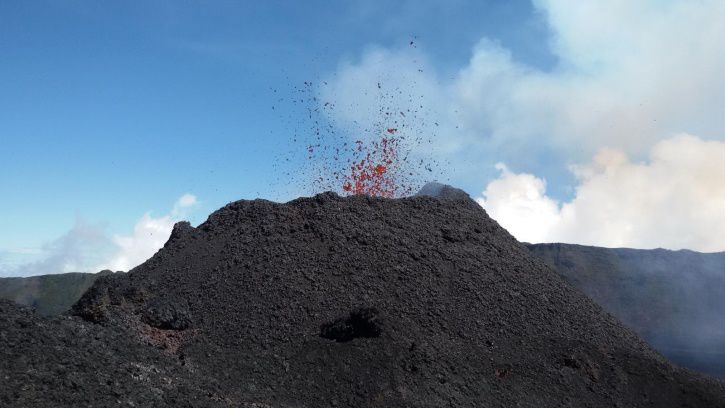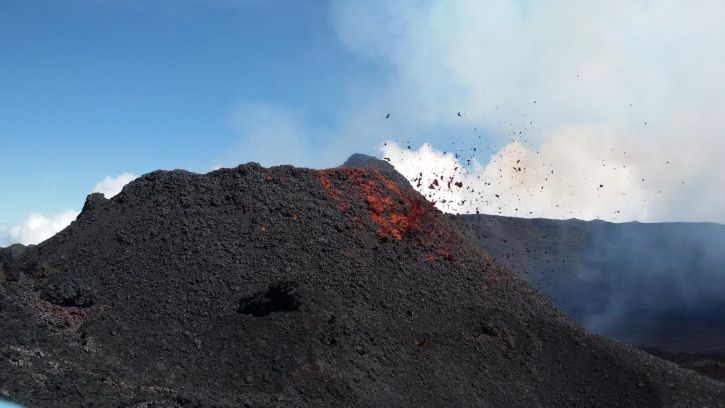 Piton de La Fournaise - view of the eruptive site on September 29, 2018, around 11:00 local time (© OVPF / IPGP).
As a bonus, for the pleasure of the eyes, a video of Thierry Sluys allows us to return to the beginning of the eruption, September 15 and 18.

In Kamchatka, the Karymsky, in orange aviation code, explosions are accompanied by ash plume rising to more than 3,000 meters above sea level before dispersing to the ESE for 116 km.
Moderate eruptive activity continues, and ash explosions can still occur and affect low-level flights.
Sources: KVERT 30,09,2018 / 02h22Z & VAAC Tokyo