Publié le par Bernard Duyck
The PVMBG increased the level of Soputan on Sulawesi from 2 to 3 / Siaga, with a restriction zone of 4-6.5 km radius around the summit (more extended to the west) because of an increase in different parameters.
Seismicity has been rising since September 2018 and has increased from 2 to 101 earthquakes per day on 2 October. "Breath Activity" / Hembusan went from 2-6 events to 851 events per day on October 2nd. The real-time seismic amplitude / RSAM is increasing.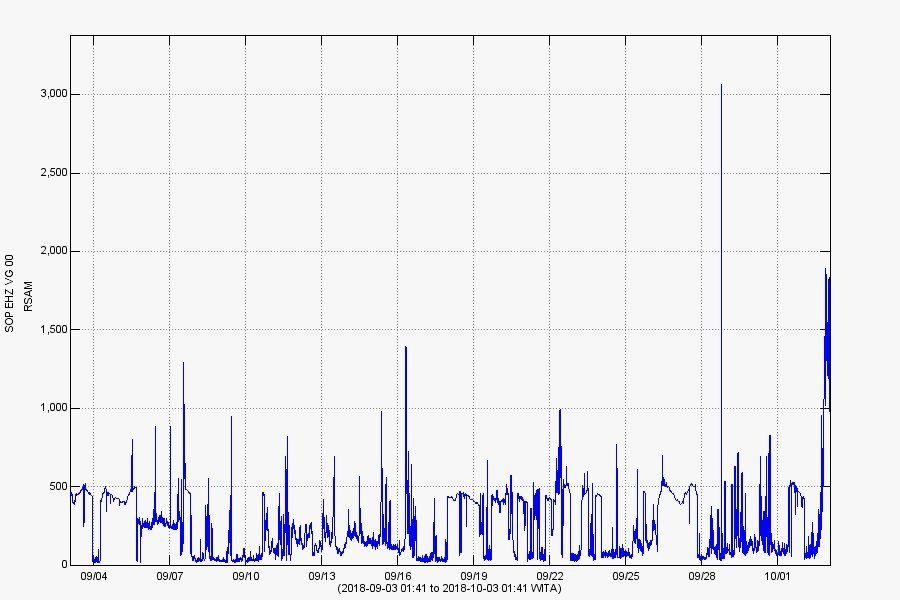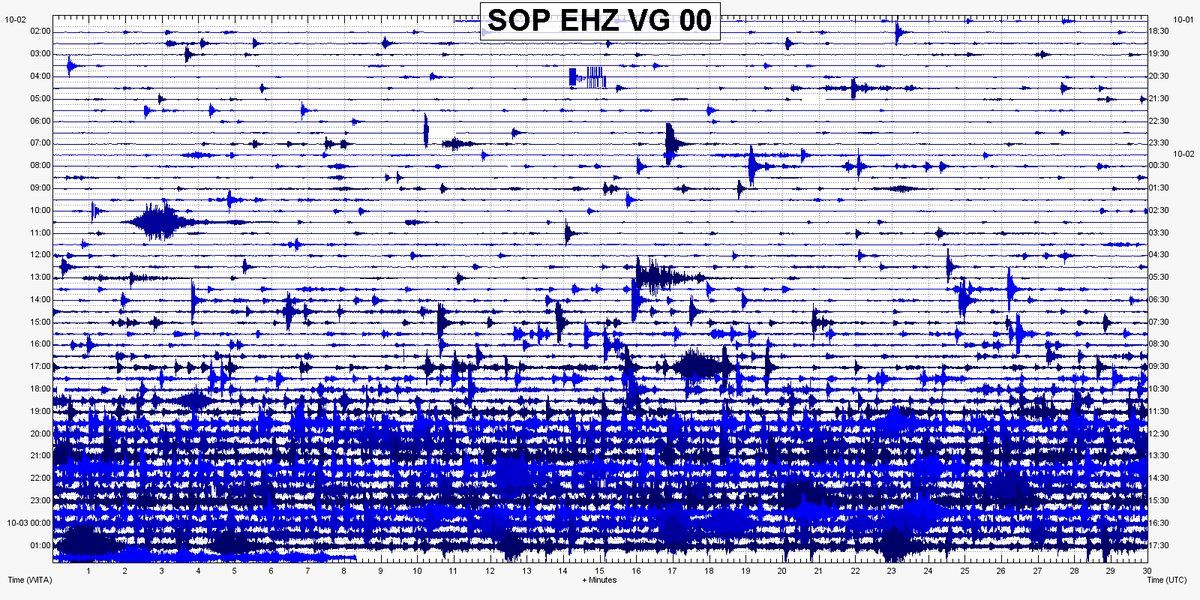 Soputan - RSAM from 03.09.2018 to 03.10.2018 - and seismogram of 02-03.10.2018 - Doc. Magma Indonesia
An eruption began in Soputan this October 3 at 8:47 Wita; it is accompanied by an ash plume with an estimated height of 4000 meters (5.800 m asl). The maximum seismic amplitude was 39 mm and a duration of about 6 minutes.
Three further eruptions occurred at 10.44, 11.12 and 11.52 respectively, accompanied by respective plumes of 2,000 m, 2,500 m, and finally 5,000 m. above the summit.
The Vona was increased in stages from yellow on October 2, to orange on October 3 at 9:09, and red at 12:18.
Sources: PVMBG, Magma Indonesia, BNPB, VAAC Darwin
According to the Mirova sites and the Sentinel 2 images, a new eruption started on Barren Island, in the Andaman Sea, on September 25, 2018.
A lava flow is visible on the north flank, associated with a strong thermal signal, on the satellite photo of September 28, taken by Sentinel 2; she probably reached the north-west coast (length on Doc.Mirova).
The latest eruption certified by the Global Volcanism Program dates from January 15th to May 16th 2017.
Barren island is the only historically active volcanic arch of the Andaman Islands extending N-S between Myanmar and Sumatra; this Indian possession is the summit emerged from a volcano whose base is at a depth of 2,250 meters.
This small uninhabited island, 3 km wide, is capped with a caldera about 2 km wide and a depth of 250-350 m., open to the sea on the west side. Historical eruptions of the central pyroclastic cone filled most of the caldera floor, allowing the flows to reach the west coast.
Sources: Mirova, Sentinel 2 and GVP
The eruption of 30 September 2018 on Manam, off the northern coast of Papua New Guinea, reported on 1 October, was imaged on 2 by the Sentinel 2 satellite.
A bifurcated lava flow can be seen in the direction of the northeasterly radial avalanche valleys.
A brief eruption on September 23, 2018 had generated an ash plume that reached 8,500 meters (VAAC Darwin data on GVP)
Sources: VAAC Darwin, Sentinel2 and Bureau of Meteorology Australia