Publié le par Bernard Duyck
The eruption started on September 15 at 4:25 am local time at Piton de La Fournaise continues. The intensity of the volcanic tremor (indicator of the eruptive intensity at the surface) is always sharply increasing since October 3 at 22h local time (18h UTC).
This increase could be related to the gradual closure of the entire feeding system, ranging from the dike ("feeding duct" of the eruption) to the eruptive cone, favoring a phenomenon of "resonance" more important.
Piston gases ("gas puffs" or "tremor burst") at the eruptive site are always recorded by the OVPF seismometers.
Sources: OVPF & Sentinel 2
Find all the information related to the activity of the Piton de la Fournaise on the different media of the OVPF-IPGP:
- the website (http://www.ipgp.fr/fr/ovpf/actualites-ovpf),
- the Twitter account (https://twitter.com/obsfournaise?lang=en),
- and the facebook account (https://www.facebook.com/ObsVolcanoPitonFournaise/)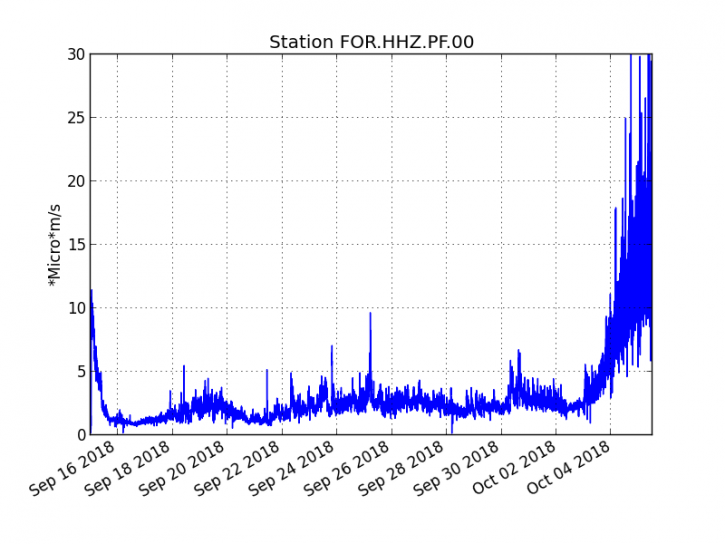 Piton de La Fournaise - Evolution of the RSAM (indicator of the volcanic tremor and the intensity of the eruption) between 04h00 (00h UTC) on September 15th and 16h00 (12h00 UTC) on October 5th on the FOR seismic station, located nearby Castle Fort crater (2000 m altitude on the southeast flank of the terminal cone). (© OVPF / IPGP)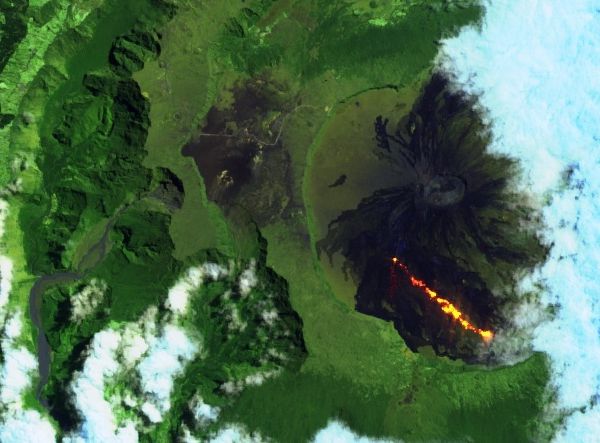 Piton de La Fournaise - 04.10.2018 - images Sentinel-2 image bands 12,11,4 ; bands 12,11,4 zoom; et Swir - one click to enlarge
A reminder of Indonesian active volcanoes on October 3rd by the BNPB
A total of 127 volcanoes are currently considered active.
A volcano is in level 4 / awas: the Sinabung; two in level 3 / siaga: Agung and Soputan; 18 are on alert 2 / waspada: see map.
An area particularly heckled at the moment: the surroundings of the Maluku Sea with Soputan, Gamalama, Dukono and Ibu volcanoes erupting.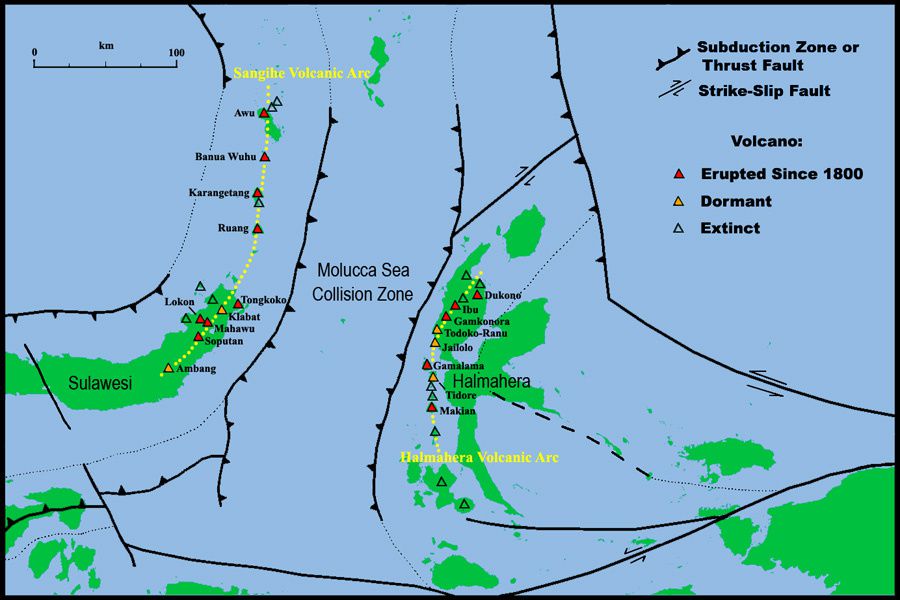 Tectonics of the surroundings of the Maluku Sea, with the volcanoes of North Sulawesi and the Maluku archipelago - Photovolcanica map
Eruption at Dukono / Halmahera continues; a thick white to gray plume escapes from the summit to 700 meters.
An eruption earthquake and continuous low amplitude tremor (0.5 - 8 mm) is recorded.
The activity level remains at 2 / waspada with a 2 km radius prohibited area around the Malupang Warirang crater.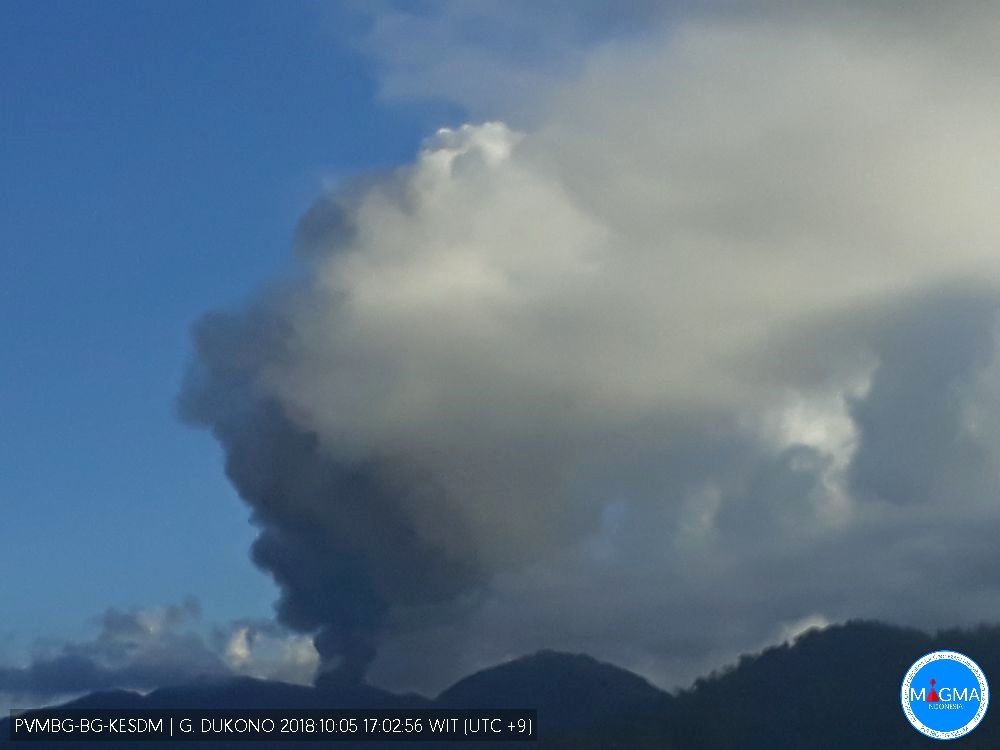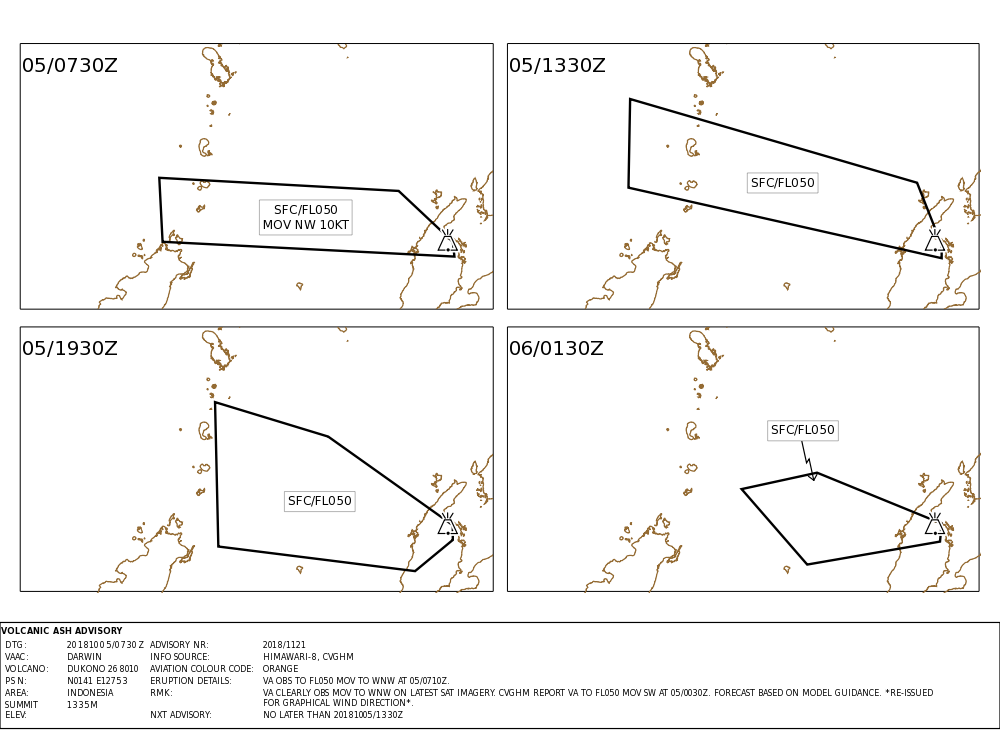 Dukono - 05.10.2018 / 17h02 - photo Magma Indonesia & Volcanic Ash Advisory for 05-06.10.2018 - Doc. VAAC Darwin
At Gamalama, after the minor eruption of October 4, 2018, a small gray white plume overcomes 150 m above the summit.
The continuous tremor remains weak, between 0.5 and 3 mm.
The alert level is 2 / waspada, with a forbidden zone of 1.5 km radius around the summit crater.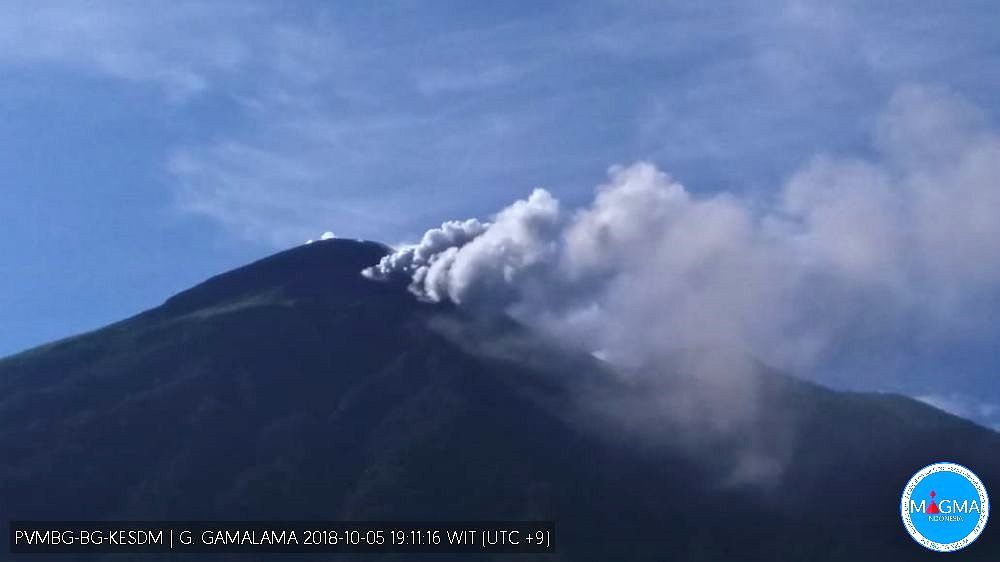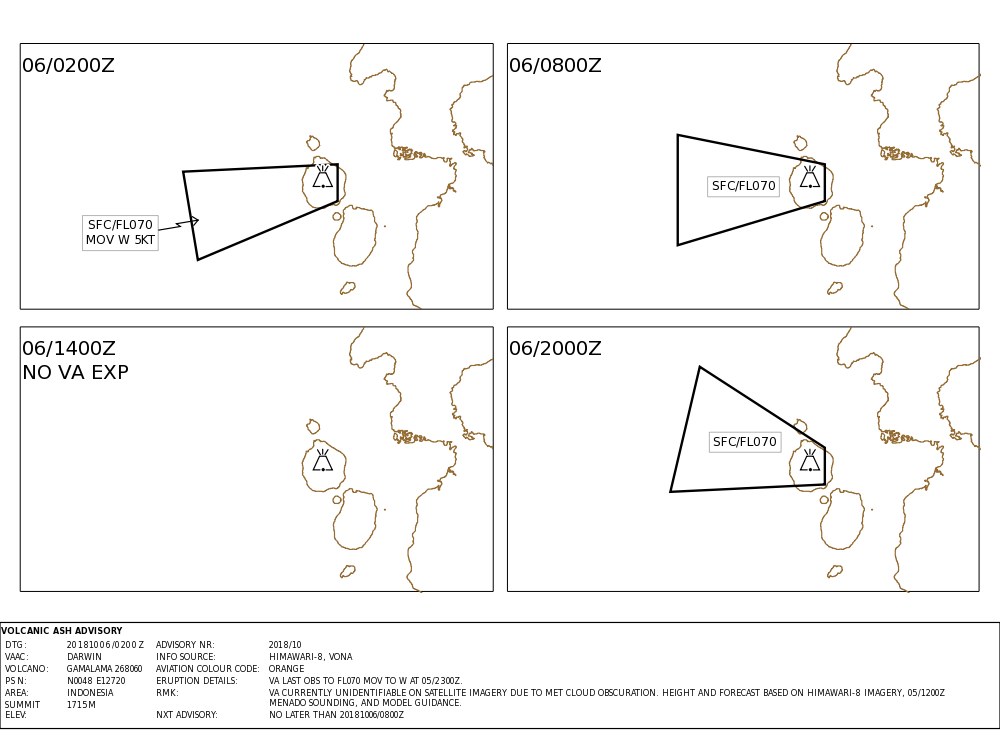 Gamalama - 05.10.2018 / 19h11 - photo Magma Indonesia   &   Volcanic Ash advisory for 06.10.2018 - Doc. VAAC Darwin
Sources: PVMBG, Magma Indonesia, BNPB