Publié le par Bernard Duyck
The Gunung Dukono, on Halmahera, in activity level II / Waspada, with a 2 km forbidden zone, is in constant eruption.
From yesterday to this morning, the summit of the volcano was observed visually until it was covered with mist. The plume is white to gray, thick, reaching 500 m above the summit.
The seismographs recorded on October 18th: 5 earthquakes of eruption and the continuous tremor with an amplitude of 0,5-15 mm (dominant 2 mm)
The last VONA is of ORANGE color, issued on October 18, 2018 at 12:04 WIT, relating to the eruption with an ash plume of a height of about 1729 m above sea level or about 500 m above the sea level. Mountain peak. The ash column moves east.
The Gunung Ibu, on Halmahera also in activity level 2 / Waspada, with a "no go zone" of 2km stretched 3.5 km north side, has been erupting continuously since 2008.
From yesterday to today, a white to gray plume is observed at a height between 200 and 600 meters above the summit.
Seismicity remains important, with 17 episodes of harmonic tremor on 18.10.
The VONA has been orange since October 6th.
Sources: PVMBG & VAAC Darwin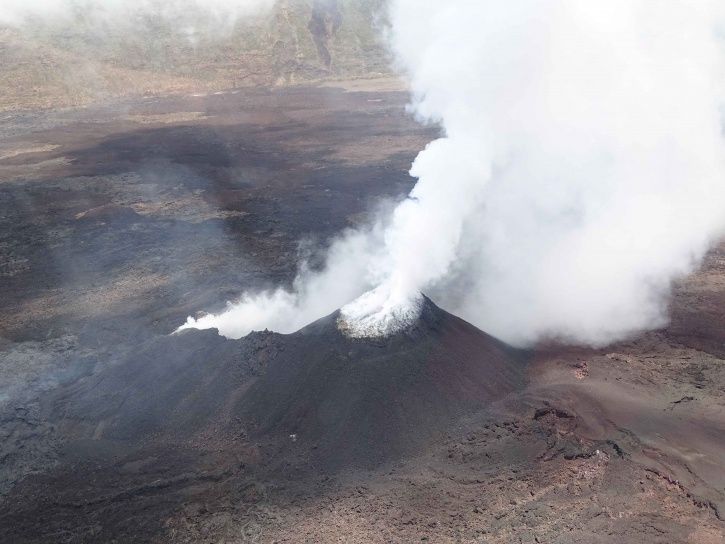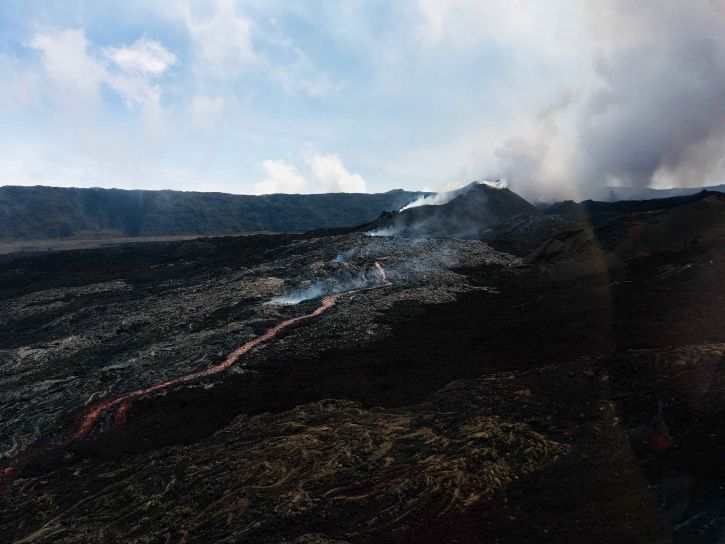 Piton de La Fournaise - Shots of the eruptive site on October 18th at 11:00 am local time. (© OVPF / IPGP)
At the Piton de la Fournaise, the intensity of the volcanic tremor (indicator of the eruptive intensity at the surface) is still very slightly decreasing.
Inflation (swelling) of the building is always recorded. This inflation reflects the pressurization of a localized source beneath the summit craters (Bory-Dolomieu) at a depth of 1-1.5 km, related to the recharge of the superficial reservoir by deeper magma.
The surface flow rates could not be estimated today because of lava flows that are too weak at the surface.
A field reconnaissance has been completed today. The observations show a surface activity still very limited. Strong degassing is always observed at the eruptive vent. Some resurgences and a small channel of a few tens of meters were visible this morning around 11:30 at the foot of the eruptive cone (eastern sector).
Source: OVPF - Find all the information related to the activity of the Piton de la Fournaise on the different media of the OVPF-IPGP:
- the website (http://www.ipgp.fr/fr/ovpf/actualites-ovpf),
- the Twitter account (https://twitter.com/obsfournaise?lang=en),
- and the facebook account (https://www.facebook.com/ObsVolcanoPitonFournaise/)
The information in this document may not be used without explicit reference.
Sernageomin has reduced the alert level of two volcanoes, Osorno and the Puyehue - Cordon Caulle complex, from Amarilla to Verde, following a decrease in their internal activity.