Publié le par Bernard Duyck
According to the latest report of the Geophysical Institute of Peru (IGP), seismic activity has increased in the Ticsani volcano, located in Moquegua.
Studies have determined that the appearance of the three seismic swarms was at the origin of a hundred micro-earthquakes near the massif. The first movement lasted 3 hours, the second 5 hours and the last 10 hours.
These three seismic swarms are the largest of the Ticsani volcano during this year 2018, but they are lower than those presented in 2015 and 2018. In addition, this last increase in activity indicates that inside the magmatic chamber occur movements likely to reactivate the existing faults.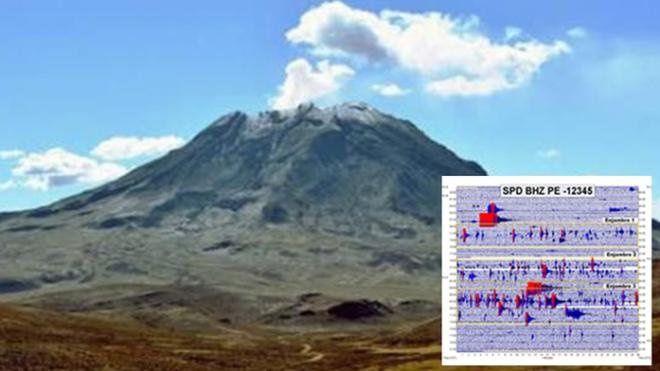 Source: IG Peru via La Republica
The week of October 22nd to 28th was marked at Sabancaya by a moderate activity, with an average of 30 explosions per day, accompanied by ash plumes at an altitude of 3,400 meters max.
Sulfur dioxide flows remain high and Mirova reports 5 thermal anomalies, between 5 and 15 MW, for this week
Source: IG Peru / OVI / Ingemmet
The community of Puna is trying to recover what it can after the destructive eruption of Kīlauea, while the volcano remains relatively calm.
Teams have been working since October 19 to create an emergency access road over the lava blocking Highway 137 near MacKenzie Park.
The heavy earthmoving machines started from MacKenzie State Park, cutting a path north to Poho'iki. The road will be reserved for residents and owners isolated by the lava flows in May.
Community members living in isolated areas on the north side of the lava flow hope to convince the administration to begin similar work on Route 132.
No significant changes for weekend activity: small amounts of sulfur dioxide and hydrogen sulphide are detected in the East Rift zone, and GPS and tiltmeters show a slight inflation near Pu'u O ' o extending to the east. No sign of a short-term eruption
Sources: Big Island video news and Hawaii Tracker.
No noticeable changes at Piton de La Fournaise, in a pouring rain today.
The intensity of the volcanic tremor remains relatively stable on very low values ​​for a few days.
Inflation (swelling) of the building is always recorded. This inflation reflects the pressurization of a localized source beneath the summit craters (Bory-Dolomieu) at a depth of 1-1.5 km, related to the recharge of the superficial reservoir by deeper magma.
Source: OVPF - Find all the information related to the activity of Piton de la Fournaise on the website (http://www.ipgp.fr/en/ovpf/actualites-ovpf), the Twitter account (https: //twitter.com/obsfournaise?lang=en), and the facebook account (https://www.facebook.com/ObsVolcanoPitonFournaise/) of the OVPF-IPGP.
The information in this document may not be used without explicit reference.