Publié le par Bernard Duyck
In the Maluku archipelago, an eruption occured in Gamalama volcano this October 4 at 11:52 WIT; a column of ash was observed at about 250 meters above the summit (ie at 1,965 m altitude), probably in connection with a hydrothermal activity.
An orange VONA has been issued.
Source: Magma Indonesia
The eruption of Soputan, started on October 3 at 8:47 am Wita, continued throughout the day, with a thick plume of ash oscillating between 4,000 and 6,000 meters, dispersing to the northwest.
Lava flows, 2,500-meter block falls, and pyroclastic flows have borrowed the west-southwest flank. The 4 km exclusion zone was extended on this flank at 6.5 km.
A cloud of ash has been detected, towards the west by the satellites.
The tremor is continuous with a maximum amplitude of 1 - 42 mm and a dominant at 42mm.
The status of the volcano is still 3 / Siaga, with an orange VONA
Sources: PVMBG, Magma Indonesia, VAAC Darwin, NOAA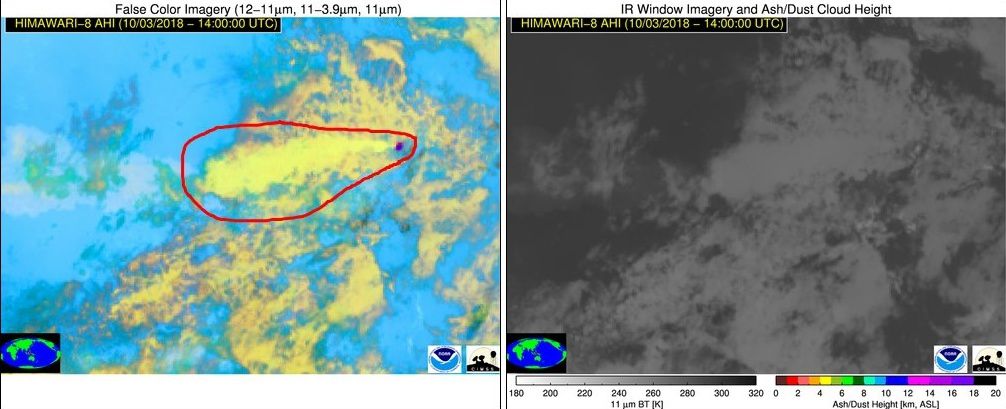 Soputan - Challenging conditions for volcanic ash detection from space in the tropical environment of Soputan, but there are signs of its presence in false-color imagery, perhaps due to differences in ice particle size in ash-seeded clouds. Source: @NOAA/@UWCIMSS https://volcano.ssec.wisc.edu / via Simon Carn
Soputan 03.10.2018 - CR Channel video
The eruption started on September 15 at 4:25 am local time at Piton de La Fournaise continues. The intensity of the volcanic tremor (indicator of eruptive intensity at the surface) has remained relatively stable over the last 24 hours.
However, since about 04:30 local time this day (00:30 UTC), "gas pistons" (flushes of gas or flushes of tremor) at the eruptive site are recorded by the seismometers of the OVPF. These "gas pistons" mark a change of regime in the degassing of the eruption, and are generally observed when the quantity of available gas is exhausted, and often synonymous with a decrease of activity on the surface.

Inflation (swelling) of the building, witnessing the influence of a source of pressure at the foot of the volcano, is still perceptible.
Surface flows estimated from satellite data, via the HOTVOLC platform (OPGC - Clermont Auvergne University) are between 1m 3 / s and 3 m3 / s over the last 24 hours.
An overflight of the eruptive site yesterday (October 2) by a team of the OVPF, reports a falling surface activity with rare lava projections at the level of the eruptive vent, and resurgences of lava from the main lava tunnel of small extensions (<600 m).
Source: OVPF - IPGP
Find all the information related to the activity of Piton de la Fournaise on the website (http://www.ipgp.fr/fr/ovpf/actualites-ovpf), the Twitter account (https: // twitter. com / obsfournaise? lang = fr), and the facebook account (https://www.facebook.com/ObsVolcanoPitonFournaise/) of the OVPF-IPGP.
The information in this document may not be used without explicit reference.