Publié le par Bernard Duyck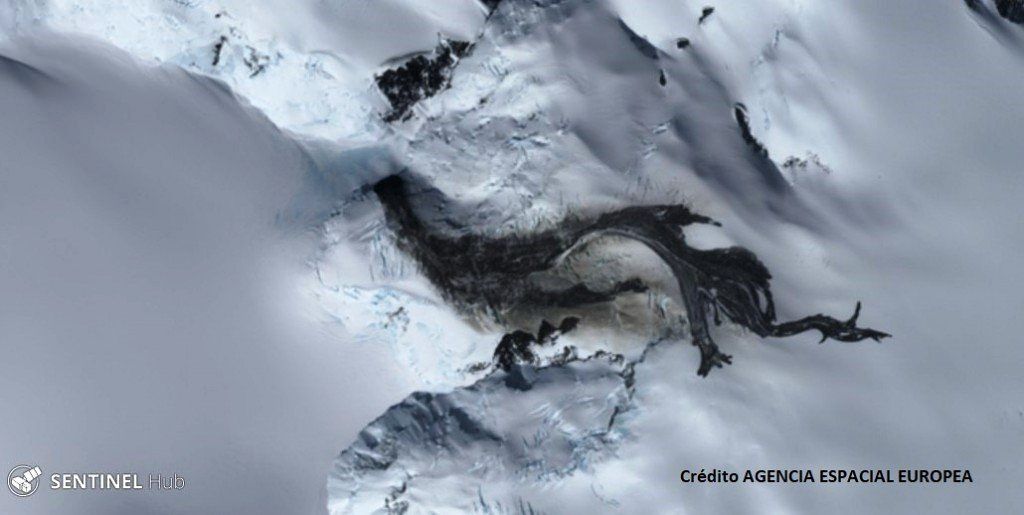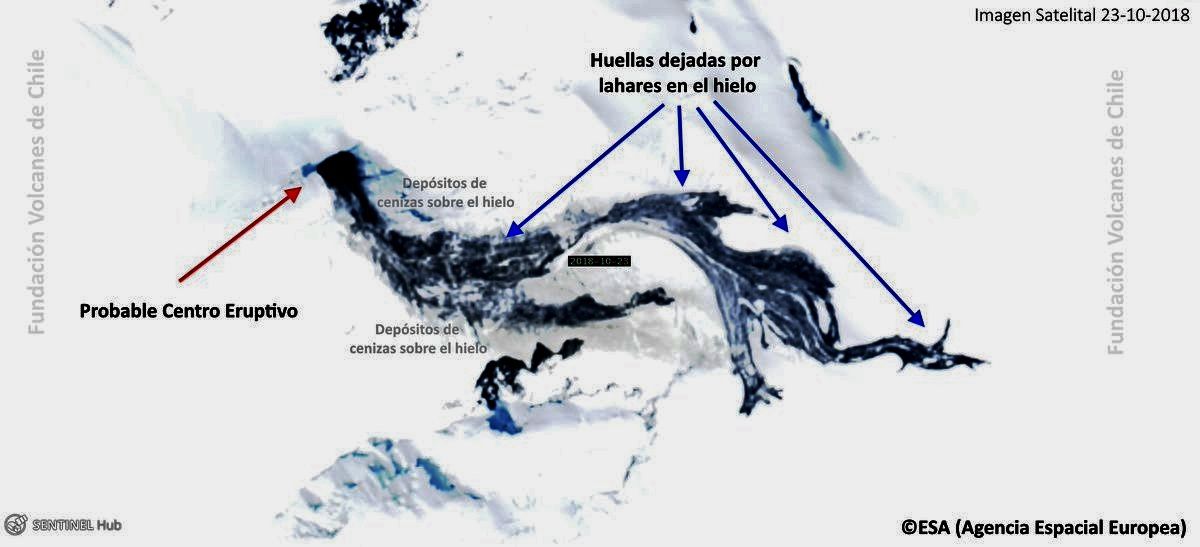 Ash deposits and lahars on the ice of Cordón Mariano Moreno - satellite image ESA and interpretation by Volcanes de Chile. - one click to enlarge
A scientific expedition of glaciologists spotted volcanic ash on a glacier in the Cordón Mariano Moreno, north of the Caldeira Viedma, an area that is under dispute between Chile and Argentina. Satellite images of ESA confirm the presence of ash deposits and lahars ... results of volcanic activity between 19 and 20 October in the Campos de Hielo ?
The Cordón Mariano Moreno was not until now known as a volcano, but it is close to the Lautaro volcano, which in 1877 released a large quantity of ash carried on the glaciers Viedma and Upsala.
Volcanic activity could have unfortunate consequences, due to the possible formation of subglacial lakes due to the geothermal flow, with a consequent breakup.
Sources: Volcanes of Chile and Ahora Calafate.
Update by the Sernageomin 06,11,2018
Álvaro Amigo, head of the RNVV / National Volcanic Monitoring Network, explained that the fact is associated with a mass removal of an extent of three kilometers, which did not affect the surrounding glacier cover. In this way, it would be excluded whether it is a lava flow or associated with the emission of volcanic ash.
Regarding the origin of the event, Amigo stated that, to date, it was not possible to establish with certainty, but the most likely assumption would be a massive withdrawal caused by the instability of the slopes of the mountain range.
Among the different techniques used in this work, we find the use of satellite images (provided by the IRD of France), infrared spectral bands to determine temperature, morphological analyzes and geological evidence.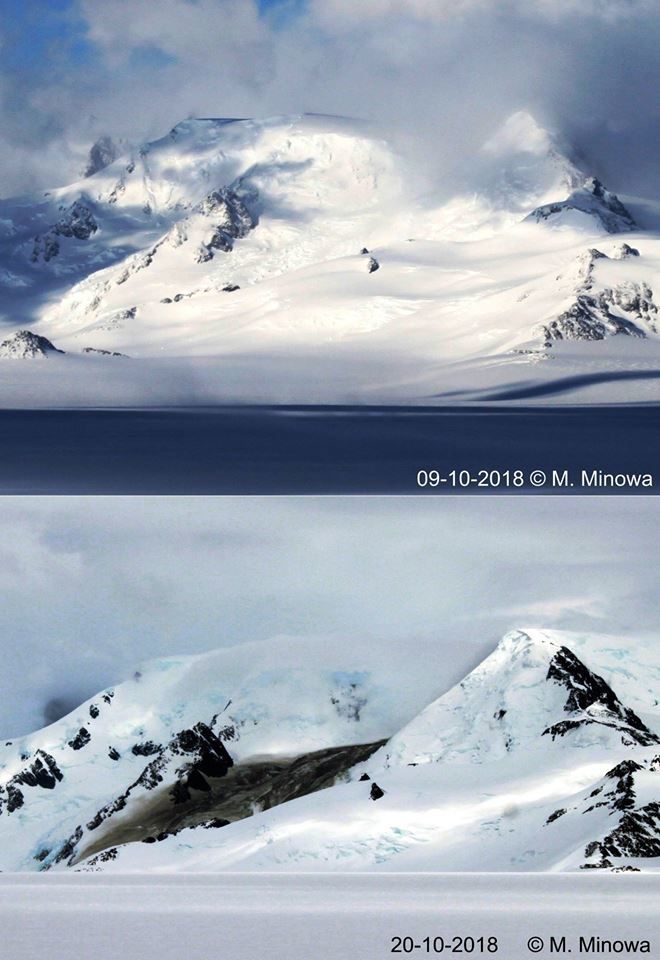 Cordón Mariano Moreno - photos 09.10 and 20.10.2018 by M.Minowa during the scientific expedition. / via Ahora Calafate.
Small outbreak of fever in Villarica, where the POVI reports in addition to the incandescence on November 5, the ejection of an incandescent bomb (estimated at 1.4 meters in diameter) on the upper north-east of the volcano.
Source: Werner Keller / POVI
The Phivolcs reports, on the basis of the Mayon seismic survey, three volcanic earthquakes, a current of pyroclastic density and two avalanches of rocks during the last 24 hours.
Sulfur dioxide emissions are measured at an average of 800 tonnes per day at the end of October, as well as inflation in the southeast sector of the volcano, following a possible aseismic magmatic intrusion.
Source: Phivolcs 06,11,2018 / 8h
November 7, 2018 will be officially launched the European European Platform Observing System (EPOS), which aims to pool and decompartmentalize all types of data and services concerning the study of the planet Earth.
This initiative, in which the CNRS and the BRGM are involved, in connection with the Ministry of Higher Education, Research and Innovation, should for example help to better understand the mechanisms at the origin of earthquakes or volcanic eruptions. Built according to the standards of open science, the infrastructure has just acquired a legal entity of European law by becoming an ERIC (European Research Infrastructure Consortium).
The data and services offered by EPOS will cover seismology, observation of faults and volcanoes, ground deformation measured via satellite positioning of ground stations and via satellite imagery, spatial and temporal variations of the Earth's magnetic field. , telluric risks induced by human activities, geological information (from boreholes for example), laboratory data and test platforms for geothermal energy and CO2 storage.
Source : CNRS