Publié le par Bernard Duyck
The Fuego shows a slight increase in activity, with explosions accompanied by an ash plume rising to 4,700-5,000 meters asl. traveling 20 km towards a western sector.
Incandescence is observed, as are weak avalanches around the crater; some projectiles reach the limit of the vegetation, in the direction of the barrancas Las Lajas, Ceniza and Seca; ashfall is reported on San Pedro Yepocapa, Panimache, El Porvenir, Morelia, Santa Sofia, Sangre de Cristo and Finca Palo Verde.
Early in the morning of November 14, stronger explosions generating significant fallout are recorded.
Sources: Insivumeh & Conred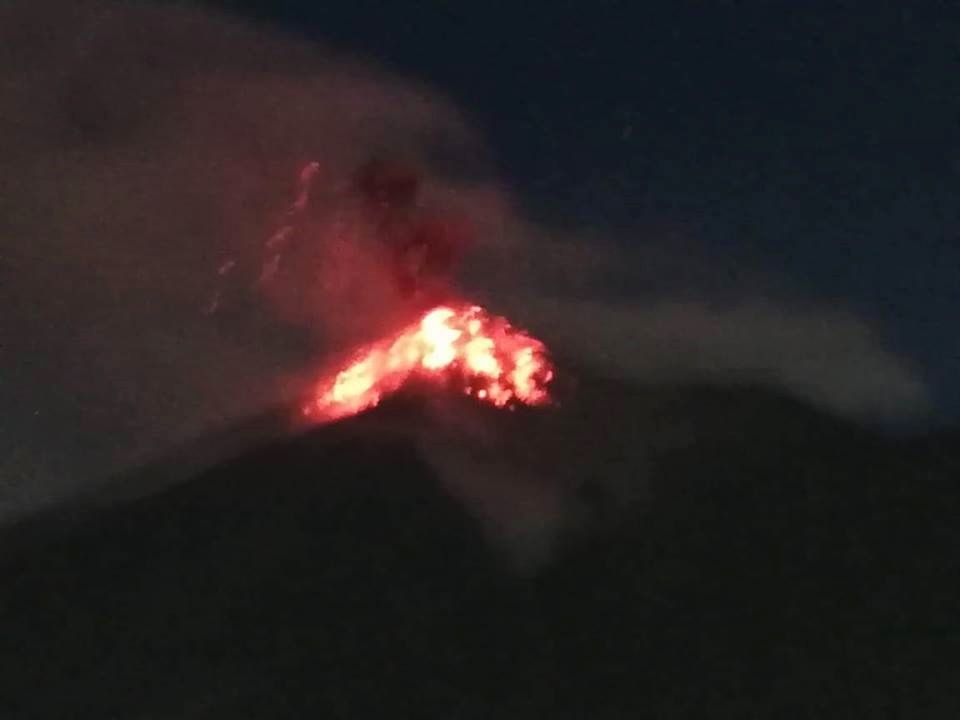 Fuego - night activity (no better photo at the moment) - photo 24.11.2018 / report of 5:42 / Insivumeh
At the Nevados de Chillan complex, whitish pulsatile emissions, dominated by water vapor, mark the crater Nicanor.
Sernageomin provides nighttime glow, small explosions and ballistic projections.
This activity remains in the standards of the technical alert Naranja, in connection with the cycles of growth and destruction of the dome nestled in the crater.
Source: Sernageomin
The volume of the Merapi summit lava dome was 218,000 m³ on 21 November 2018, with a growth rate of 2,600 m³ / day, a little higher than the previous week.
The seismic activity is lower than last week.
On visual and instrumental results, the lava dome is considered stable.
The activity level remains the same: 2 / waspada
Sources: PVMBG & BPPTKG
The JMA has raised the alert level of Meakandake to 2 / do not approach the crater, on November 23 at 12:30 JST, following an increase in superficial volcanic earthquakes near the crater Ponmachineshiri since 20 November. (271 on 22.11, 557 on 23.1 at 3 pm local time)
However, there is no reported deformation or plume emitted.
Within the Akan volcanic complex, characterized by a 13 km by 24 caldera, only the Meakandake group has been historically active; the last activity dates back to November 2008, with a small phreatic eruption.
Sources: JMA, NHK web news, and Gloval Volcanism Program / Akan