Publié le par Bernard Duyck
Incandescent blocks rolling on the flank of the Sangay volcano are visible on the webcam image ecu911. This activity, of low intensity, is associated with the viscous lava outlet of the Ñuñurcu Dome. It does not currently present any risks
Sources: Videovigilancia ECU 911 / IGEPN via Benjamin Bernard, VAAC Washington.
In Villarica, the POVI reports, on November 15, the presence of a small pyroclastic cone at the bottom of the crater, with a lateral opening about ten meters in diameter, and inclined at 50 ° towards the inner wall of the crater.
On November 16th, some majestic Strombolian explosions are observed, which expel lava flakes on the western edges of the crater.
Source: POVI / Twwitter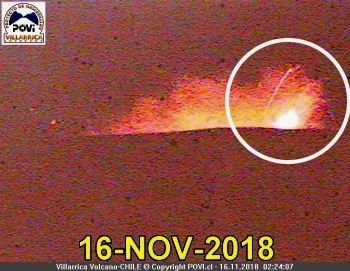 Villarica - 16.11.2018 / 02:24 - Strombolian explosions with expulsion on the western edge of the crater - photo POVI
In Krakatau, the activity is maintained, with a rhythm of 4-5 eruptions accompanied by ash plumes, traveled by lightning, in two hours, according to the observation of Oystein Lund Andersen from the coast.
The PVMBG reports, for the day of November 16, 236 eruptions earthquakes, 59 emission earthquakes, 43 shallow volcanic earthquakes, one harmonic tremor episode and a continuous tremor of dominant amplitude at 5 mm.
The activity level remains at 2 / waspada, with a forbidden area of ​​2 km radius around the crater.
Sources: PVMBG & Oystein Lund Andersen
The new lava dome of Merapi continues to grow; it reached a volume of 290,000 cubic meters on November 15, with a growth rate, that has been falling since November 7, of 2,400 cubic meters per day.
According to the PVMBG, the dome is in a stable position, despite the extension of a lateral lobe.
The activity level remains at 2 / waspada, with a prohibited area of ​​3 km radius.
For the day of November 16th, 30 collapse earthquakes and 11 emission earthquakes are counted. A white plume is observed rising up to 50 meters above the summit, and dispersing towards the NSN.
Source: PVMBG
The Volcanological and Seismological Observatory of Guadeloupe recorded a sequence of 78 volcanic earthquakes on Monday of magnitude 1, not felt by the population. The hypocentre is located 2.5 km deep under the summit of the cone of La Soufrière.
Source: RCI