Publié le par Bernard Duyck
At Pompeii, at the feet of Vesuvius, discoveries succeed one another. After the graffiti specifying the month of the eruption that buried the city, a fresco was unveiled revealing the loves of Zeus and Leda.
This beautifully preserved illustration of the Greek myth was found in the bedroom of a Pompeian house, located in Via del Vesuvio, north of the city buried in 79 BC. This theme develops narratives about the relationship between the supreme god and humans, a complex mythology resumed by the syncretism practiced in Rome.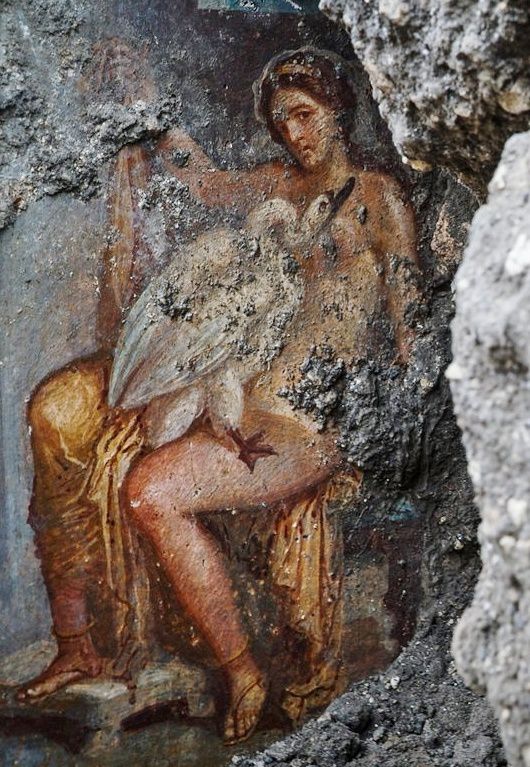 The fresco of Pompeii depicts the loves of the queen of Sparta Leda with Zeus who took the form of a swan. - photo Cesare Abatte / Archaeological Park of Pompeii
The myth and its implications in ancient history:
Zeus saw Leda, the wife of the king of Sparta, Tyndare, swimming in the river Euratos, and desired it.
To approach it, he discovered a ruse with the complicity of Aphrodite: he asked him to change into an eagle, and to simulate a pursuit, after having turned it into a swan. Leda took the frightened swan in his arms, and Zeus took the opportunity to unite with the queen.
Leda was fertilized by her husband the same day.
Leda gave birth to four children, two immortals, children of Zeus: Helen and Pollux, and two mortals, children of Tyndare: Clytemnestra and Castor.
The two boys, Castor and Pollux, known as Dioscuri (identified in the constellation Gemini, the Dioscuri are the patrons of sailors and athletes.), will know a human epic, followed by a divinity shared. Inseparable, they will be venerated by the Greeks then the Romans.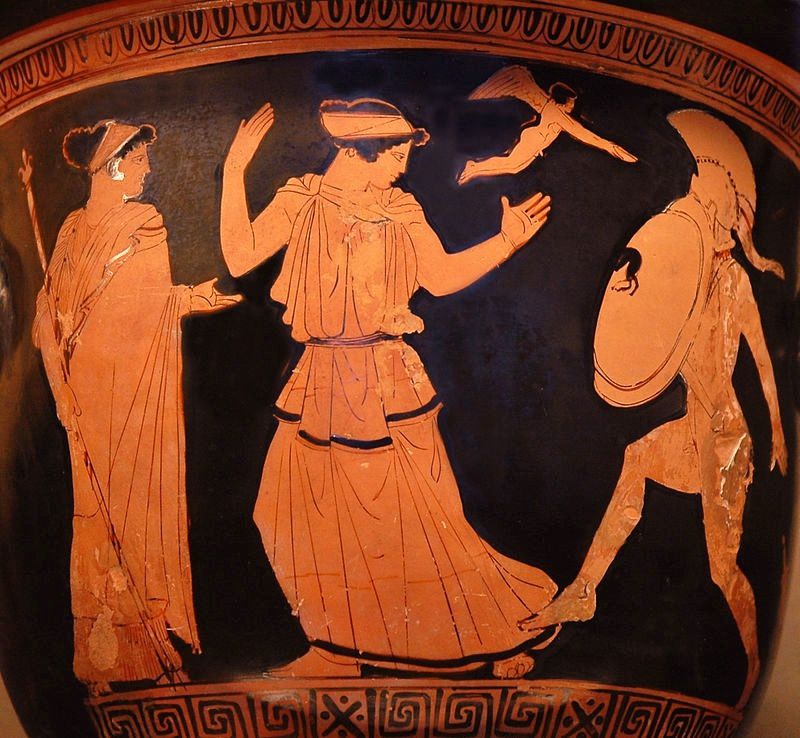 Menelaus intends to kill Helen but, struck by his beauty, he drops his sword. A flying Eros and Aphrodite, to Helene's left, look at the scene. Detail of an Attic crater with red figures, 450-440 BC J.-C., discovered in Gnathia (current Egnazia, Italy). - Louvre Museum
Helen, in her turn, became queen of Sparta, married to Menelaus, whom she relinquished, willingly or under duress, to marry prince Paris of Troy.
This episode triggered the Trojan War, which pitted a Greek coalition against the Trojans. The city finally falls after a long siege, thanks to a ploy: the Trojan horse that hid valiant warriors. All the protagonists of this story are taken up in the story of the Iliad.
The other girl, Clytemnestra, married the elder brother of Menelaus, Agamemnon, king of Mycenae and Greeks.
Clytemnestra had her husband murdered by her lover, Egysthe, on her return from the Trojan War. Oreste, their son, avenged his father by killing his mother.
How many fatalities have been gathered together, the mythological heroes and the city buried under the eruption.
Sources:
- France Culture - In Pompeii, discoveries in cascade
- You tube - Nuove scoperte in Pompei: the affresco di Leda e il cigno