Publié le par Bernard Duyck
A seismic swarm hit the western part of Etna between 05:55 and 15:21 (local time) today, 20 November 2018. The monitoring networks of the INGV-Osservatorio Etneo have recorded more than 40 seismic events. with a magnitude of Ml between 1.6 and 3.5
The earthquake of greater magnitude (Ml = 3.5) occurred at 6:06 am and was located about 5 km northeast of the municipality of Adrano, at a depth of about 22 km.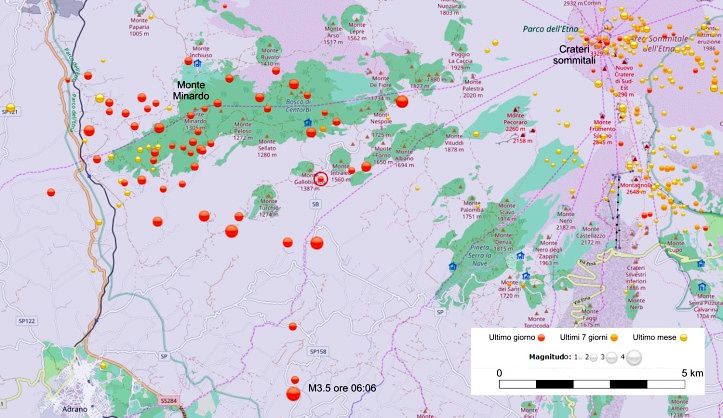 Map of the epicentres of the earthquake swarm of November 20, 2018 on the western slope of Etna. Source: Etneo Observatory Analyst Group, Catania (Sismoweb) http://sismoweb.ct.ingv.it/index.php
The epicentres of recorded seismic events are all located on the west flank of the volcano, upstream from the municipalities of Bronte, Adrano and Biancavilla, mainly in the Monte Minardo region. The depth of the hypocentres varies between 15 and 27 km. This is an area in which seismic swarms have already occurred.
Although the seismic swarm was declared complete in the afternoon, isolated seismic shocks continue to occur in the western region of Etna.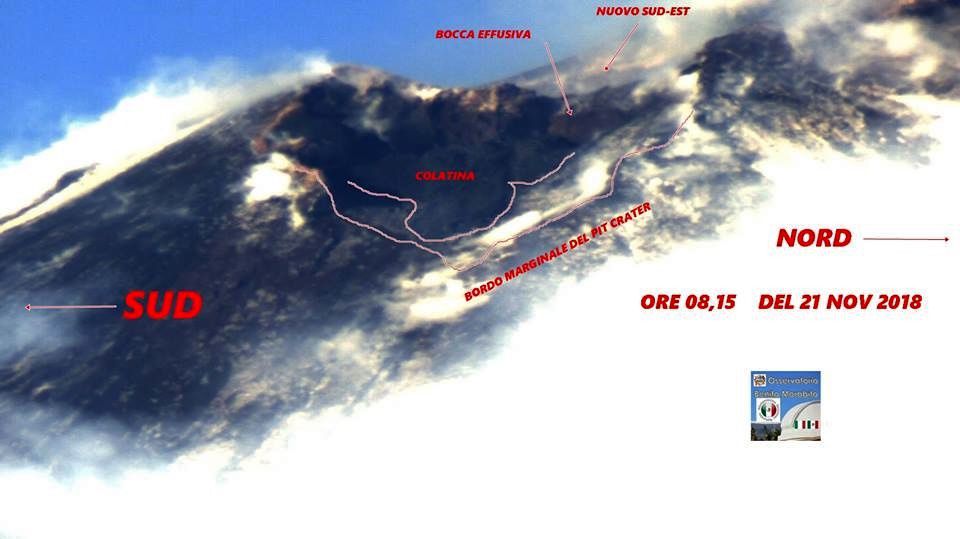 Etna NSEC - the small flow remains confined in the pit crater - photo Benito Morabito 21.11.2018 / 8:15
Meanwhile, the modest Strombolian activity continues at the craters at the top Bocca Nuova, Crater Northeast and Nuovo Crater Southeast, which continues for several weeks. In particular, the small cone of waste present in the eastern mouth of the New Southeast Crater (NCSE) also emits, on the evening of November 20, a small lava flow that remains however confined in the eastern mouth of the same place. NCSE.
Sources:
- INGV - Seismic swarm on the west side of Mount Etna - November 20, 2018 - by Boris Behncke, Maddalena De Lucia, Marco Neri and Maurizio Pignone
- Benito Morabito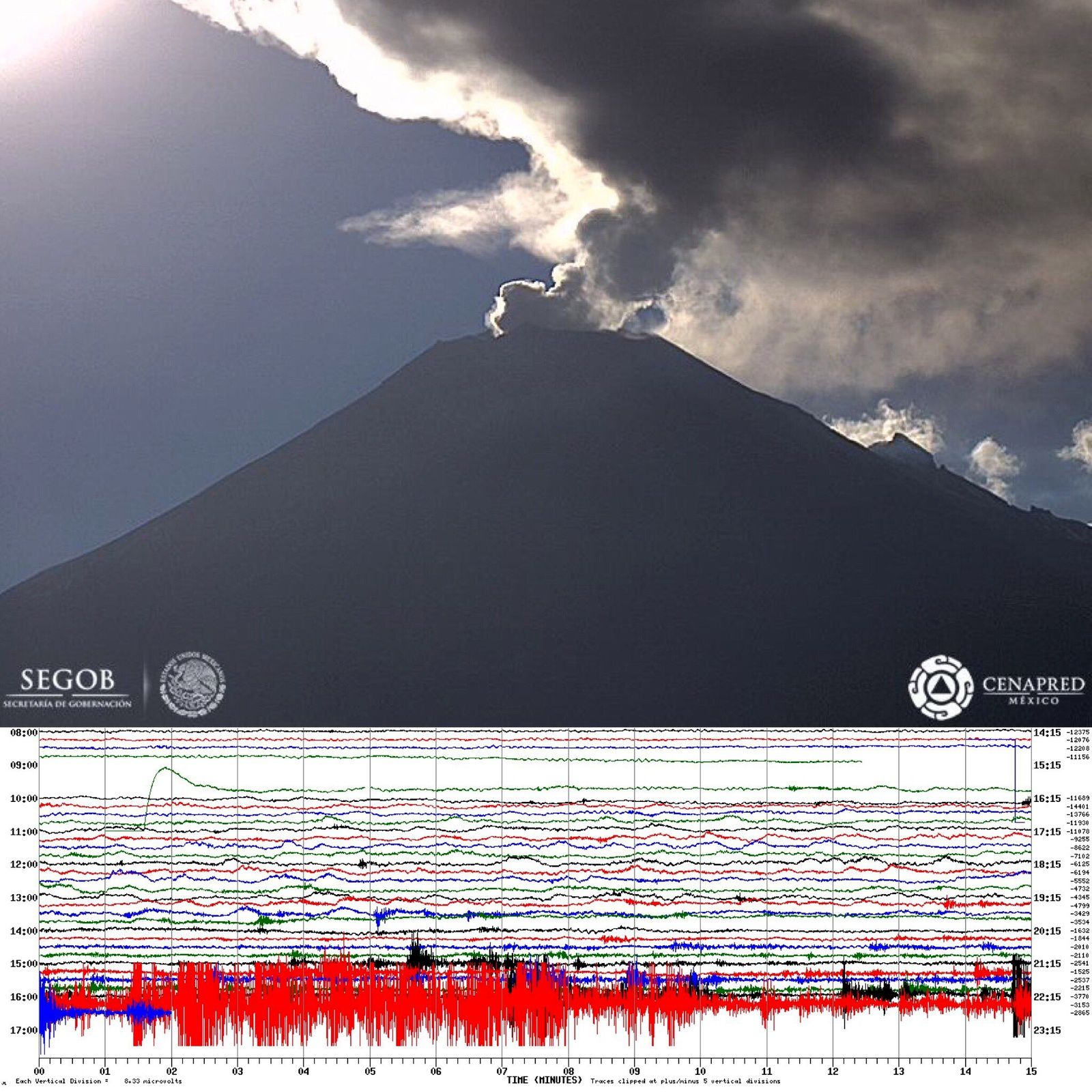 Popocatépetl - increase in seismic activity accompanied by emissions of gas, steam and ashes - Cenapred photo 20.11.2018
At Popocatépetl, an increase in activity is revealed by a low-amplitude tremor between 15:26 and 23:00 on 19 November and a large emission of gas, steam and ashes.
During the last 24 hours, 113 exhalations and one explosions were recorded.
On November 20, from 13:30, a sequence of earthquakes Lp, related to the movements of internal fluids, and an increase in amplitude of the tremor are reported.
Nighttime glow and projections on the walls are visible on webcams.
The volcanic alert remains in the expected frame: amarillo fase 2.
Sources: Cenapred & Segob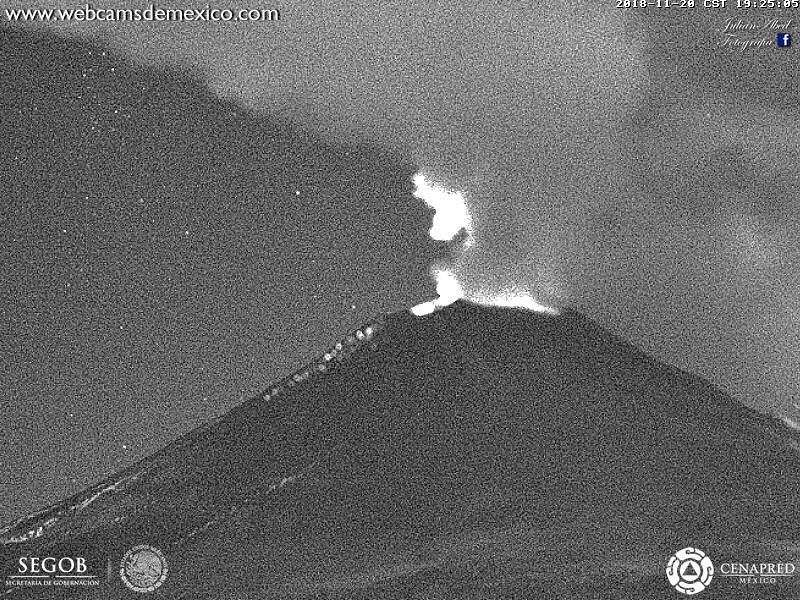 Popocatépetl - 20.11.2018 / 19h25 - expulsion of incandescent fragments on the eastern flank - WebcamsdeMexico
At Villarica, the P.O.V.I. reports a small pyroclastic cone at a depth of 70 meters at the bottom of the crater; its oval aperture of 8-10 meters is incandescent, and surrounded by materials generated by a process of inverse sublimation ... the low temperature in the perimeters of the crater allows the gases to convert into solid minerals without passage through the liquid phase.