Publié le par Bernard Duyck
An explosion marked the Nevados de Chillan complex this November 29 at 13:38 local; the plume emitted was visible from several places in the region. Satellite images from ESA show an increase in the area of ​​thermal anomalies associated with the active lava dome in the Nicanor crater.
Explosions of varying magnitude continue, and nighttime glow is observed on the webcam.
The alert level remains in Naranja, with a prohibited area of ​​3 km radius around the active crater.
Sources: photos Sernageomin, via volcanes of Chile and Terremoto in Talcahuano.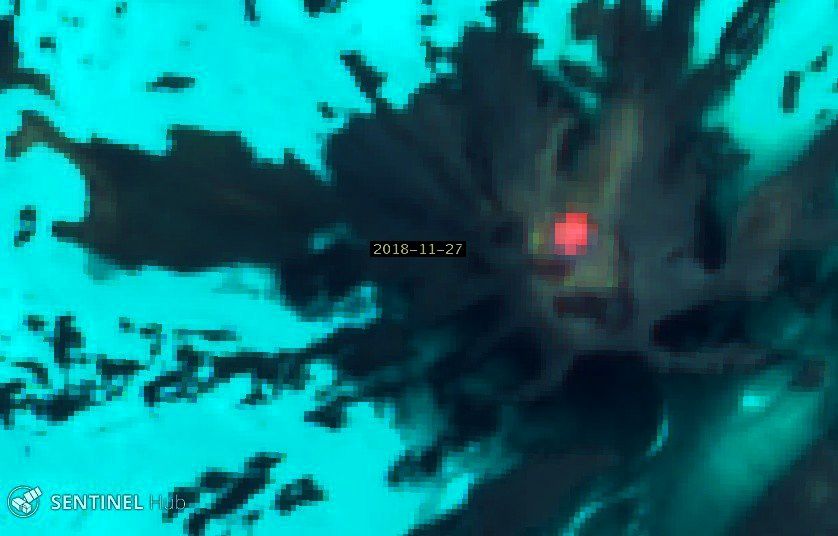 Nevados de Chillan - 29.11.2018 - increase in the area of ​​thermal anomalies associated with the dome - Doc. Sentinel Hub / ESA
Nevados de Chillan - continuation of the activity on 29.11.2018 / 16:38 and incandescence night on the 30.11.2018 / 7:14 - webcam Sernageomin - one click to enlarge thumbnails
In Guatemala, heavy rains on 28 and 29 November on the Fuego led to the descent of strong, hot lahars, accompanied by the smell of sulfur and degassing columns, towards the Seca, Santa Teresa and El Mineral barrancas. The lahars carried ash, blocks 1 to 3 meters in diameter, volcanic materials deposited during the last eruptions.
Paths to different villages have been affected: between San Pedro Yepocapa and Sangre de Cristo, between Finca Palo Verde and El Porvenir. At Sainte-Sophie Yepocapa, a vehicle that was trying to pass ford was surprised and destroyed, fortunately without victims.
Source: Insivumeh special bulletin of 29.11.2018 / 13.40 and Canal 5 of Yepocapa.
Volcanic activity on Ambae / Vanuatu is again stable according to the VMGD, which maintains the volcanic alert at level 2, together with a 2 km safety zone around the Manaro Voui Lake vent, and zones in yellow.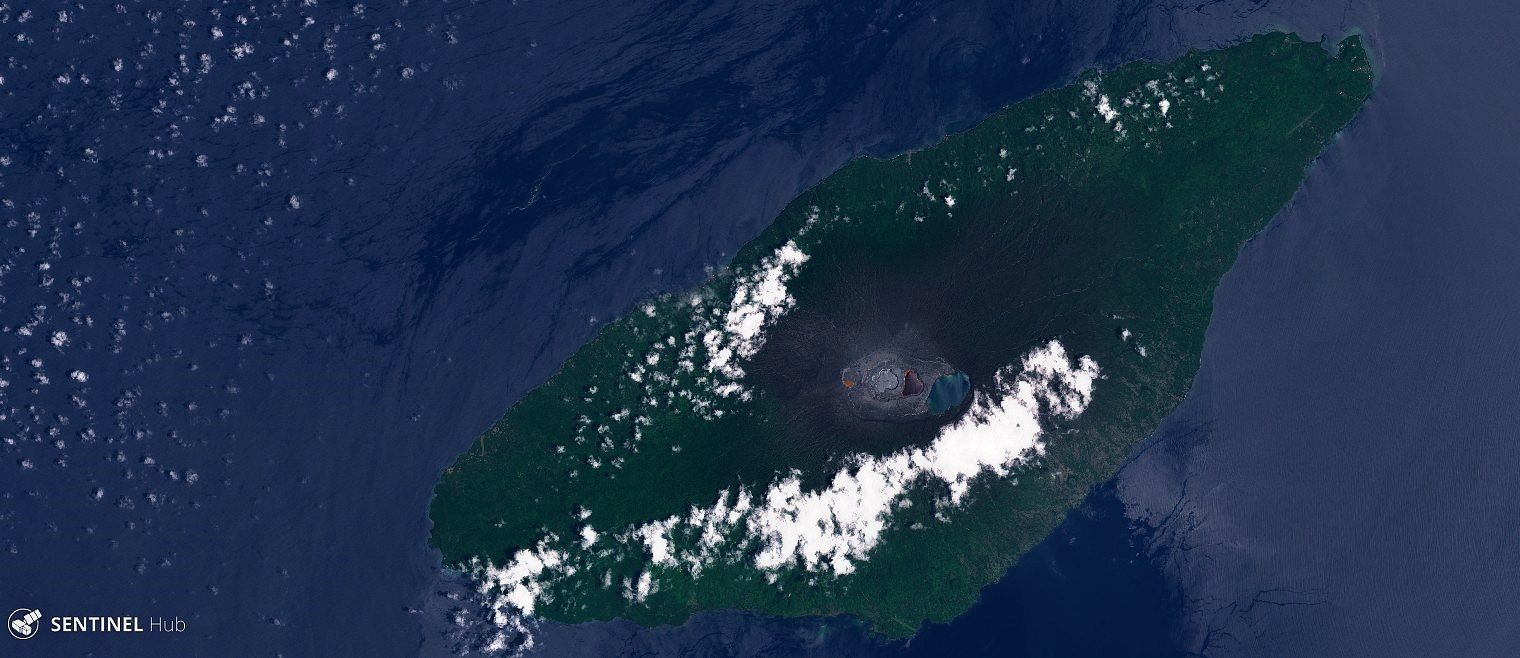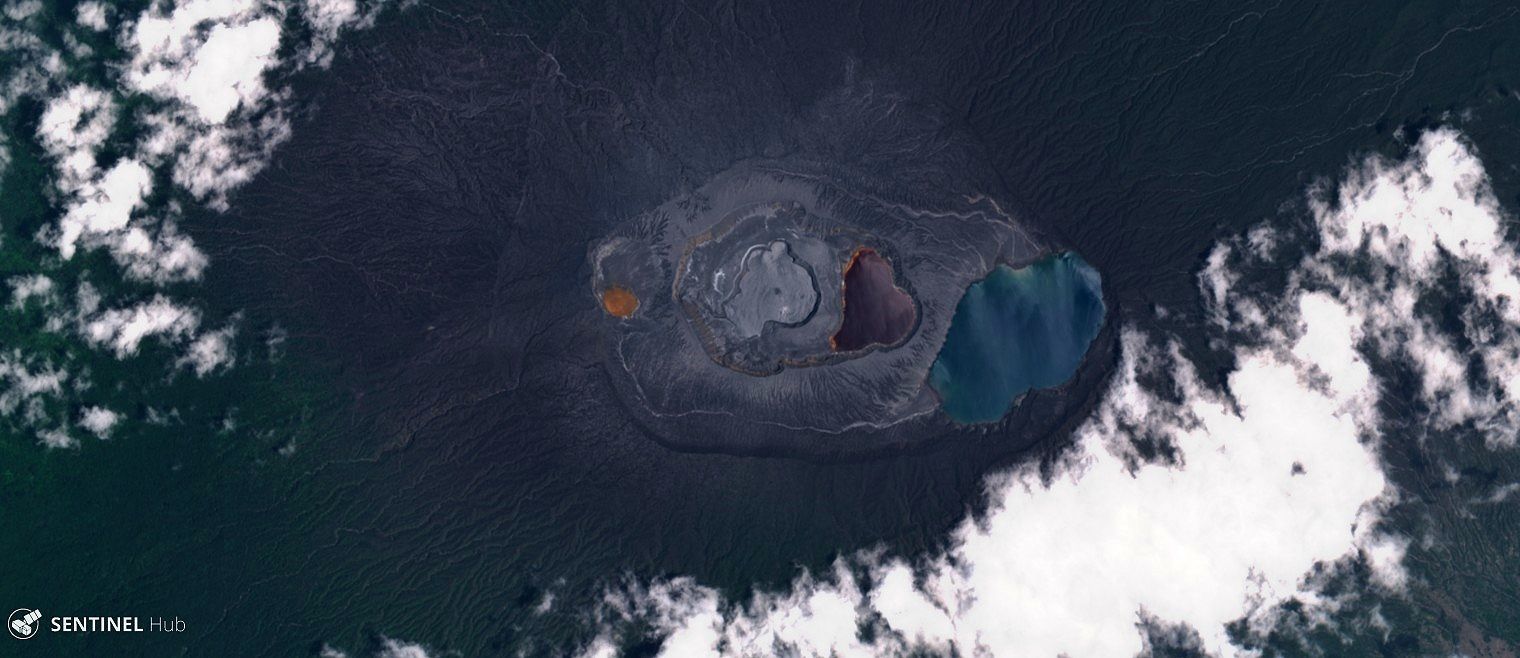 Ambae - during a thinning on 25.11.2018 - Sentinel-2 images nat colors image and zoom on Lake Voui. - a click to enlarge
It must be remembered that the eruptions resulted in two evacuations involving 11,000 people in the last 18 months.
The first evacuation took place in September 2017, followed by a partial return; In March 2018, the eruption resumed, leading to a new voluntary evacuation at first, then mandatory in late July.
A government press release said the population should not return to the island and that Ambae chiefs would be held accountable for returning members of their communities.
Ambae people should focus their efforts on building a second home on a nearby island, he said.
Government employees will not be returned to Ambae as their safety can not be guaranteed.
However, the government has confirmed that a multi-sectoral assessment of the island will take place in the next two weeks.
Sources: Radio NZ & Sentinel 2