Publié le par Bernard Duyck
Insivumeh special bulletin 19,11,2018 / 8:30 local
The strong eruption of the Fuego is accompanied on November 19 in the morning by constant explosions, and a sustained ash plume rising to about 7,000 meters asl, before dispersing 50-60 km to the west and southwest.
The incandescent source is observed 800-1000 meters above the crater, with ballistic materials scattered for more than one kilometer around the volcano.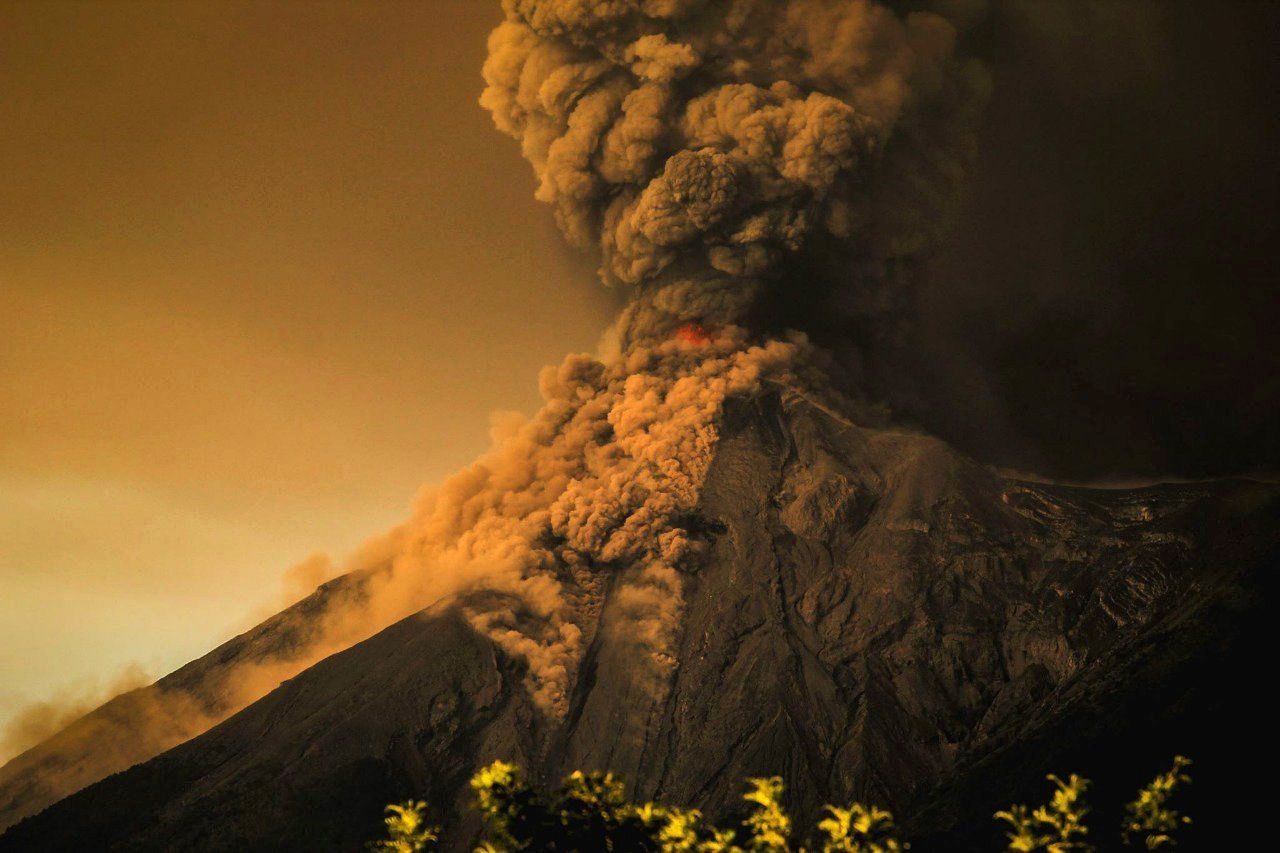 Fuego - the eruption seen from the road to Ciudad Vieja on 19.11.2018 / 6:45 local - photo Paulo Figueroa in La Prensa Libre
The main lava flow reaches about 3,000 meters in length towards the barranca Ceniza ; two shorter flows, of about 300 meters, are observed in the direction of Las Lajas and Honda barrancas. The flows are accompanied by avalanches and mobilization of ashes.
Pyroclastic flows have borrowed from the Seca, Las Lajas and Honda barrancas.
Abundant falls of ash and particles are found on Panimache, Santa Sofia, Sangre de Cristo, Finca Paolo Verde, San Pedro Yepocapa, San Juan Alotenango, and Antigua Guatemala.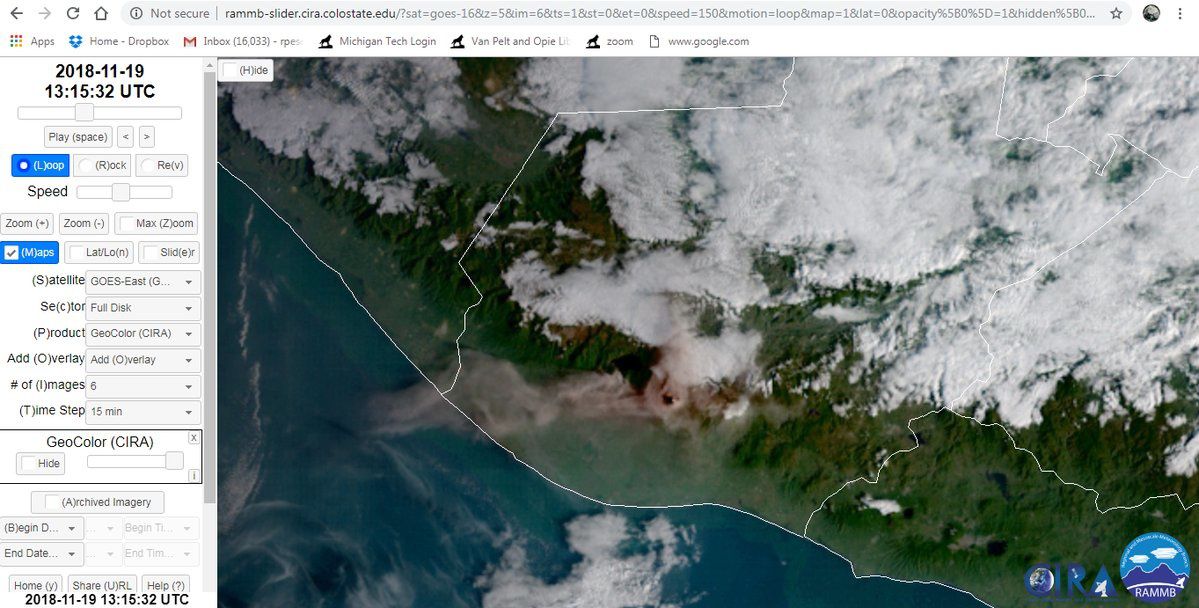 Fuego - extension of the ash plume to the west 19.11.2018 / 1:15 pm UTC - image sat. Goes via Rüdiger Escobar Wolf
The Conred reports light ash falls on Mazatenango, San Bernardino, San Antonio, San Miguel Panán, Chicacao, San Juan Bautista, Santa Bárbara Río Bravo and Patulul, and that 2,052 people are safe and 3,000 have been evacuated; 76,145 people would be affected.
Special bulletin of Insivumeh 19.11.2018 / 11:40 local
A slight decrease in seismicity is observed, as well as a decrease in the height and extension of the ash plume: height of 6,000 meters asl dispersing over 20-30 km.
However, the observatory does not rule out the possibility of new pyroclastic flows, and advises against circulating in endangered drainages.

Special bulletin of Insivumeh 19.11.2018 / 18h local

The seismogram and the RSAM show a drop in activity, and the observatory considers that the 5th eruption of the year is over, after a duration of 32 hours.


Explosions are always recorded, weak to moderate, accompanied by a plume of ash at 4,800 meters asl, drifting to a west and southwest sector over 15 km.
The incandescent impulses were reduced to 100-300 meters, generating weak avalanches mainly in the crater contour; some ejections reach the limit of vegetation towards the main barrancas.
Data on aerosol and sulfur dioxide index from the paroxysm of November 19 were provided by the satellite Sentinel 5P / Tropomi ... under conditions, this eruption would be a little smaller than that of June 3, 2018 (source Simon Carn)