Publié le par Bernard Duyck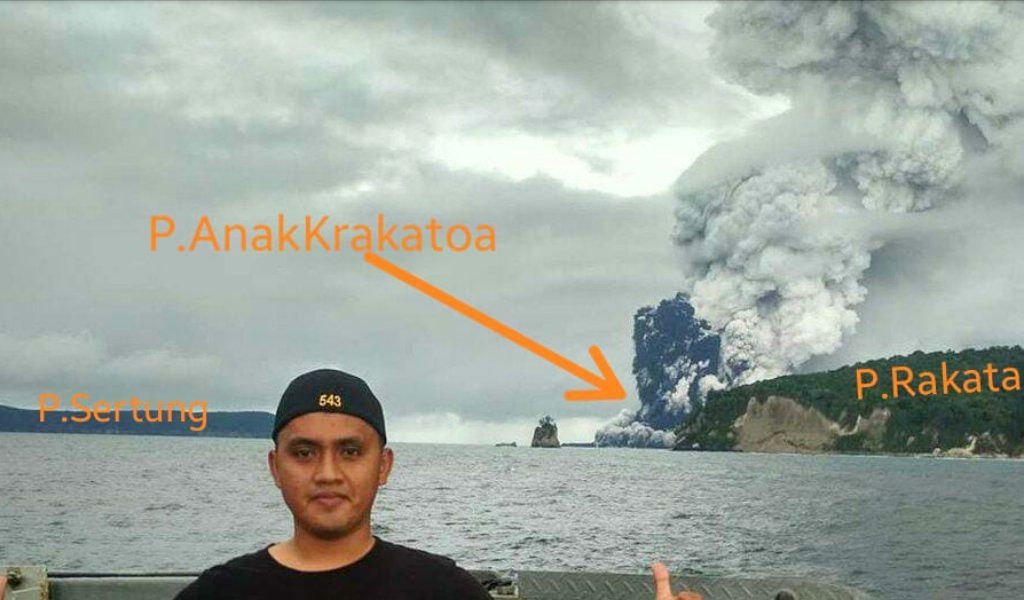 Anak Krakatau - 26.12.2018 - we can see "the remains of the cone" between the islands - photo Du2nZizouEffenberg / Twitter
After the eruptive sequence of December 22, with a continuous tremor with an excessive amplitude of 58 mm, the Anak Krakatau was marked at 21:03 WIB by a strong eruption.
Based on the satellite images, the PVMBG concludes that most of the Anak Krakatau has disappeared, causing a tsunami with deadly repercussions.
Since December 22, a sustained plume is emitted, and the seismicity is dominated by a continuous tremor, with a dominant at 25 mm (max 32 mm).
The volcanic ash is mostly distributed to the southwest, according to satellite radar images, this December 26th.
The satellites indicate heights between 15 and 18 km AGL at the point of emission (NOAA HYSPLIT model) and a displacement at more than 10 km altitude over a maximum of 130 km.
Ash falls are reported on Cilegon city and Serang this 26.12 to 17h WIB. (Liputan6)
Sulfur dioxide readings indicate a total mass of 0.022 Tg on December 26 at 19h UTC / 27.12 at 6hlocale (AIRS SO2)
Anak Krakatau - images of the plume on 26.12.2018, at 21.30 WIB and 27.12.2018 at 0:00 WIB - images Himawari RGB Citra - one click to enlarge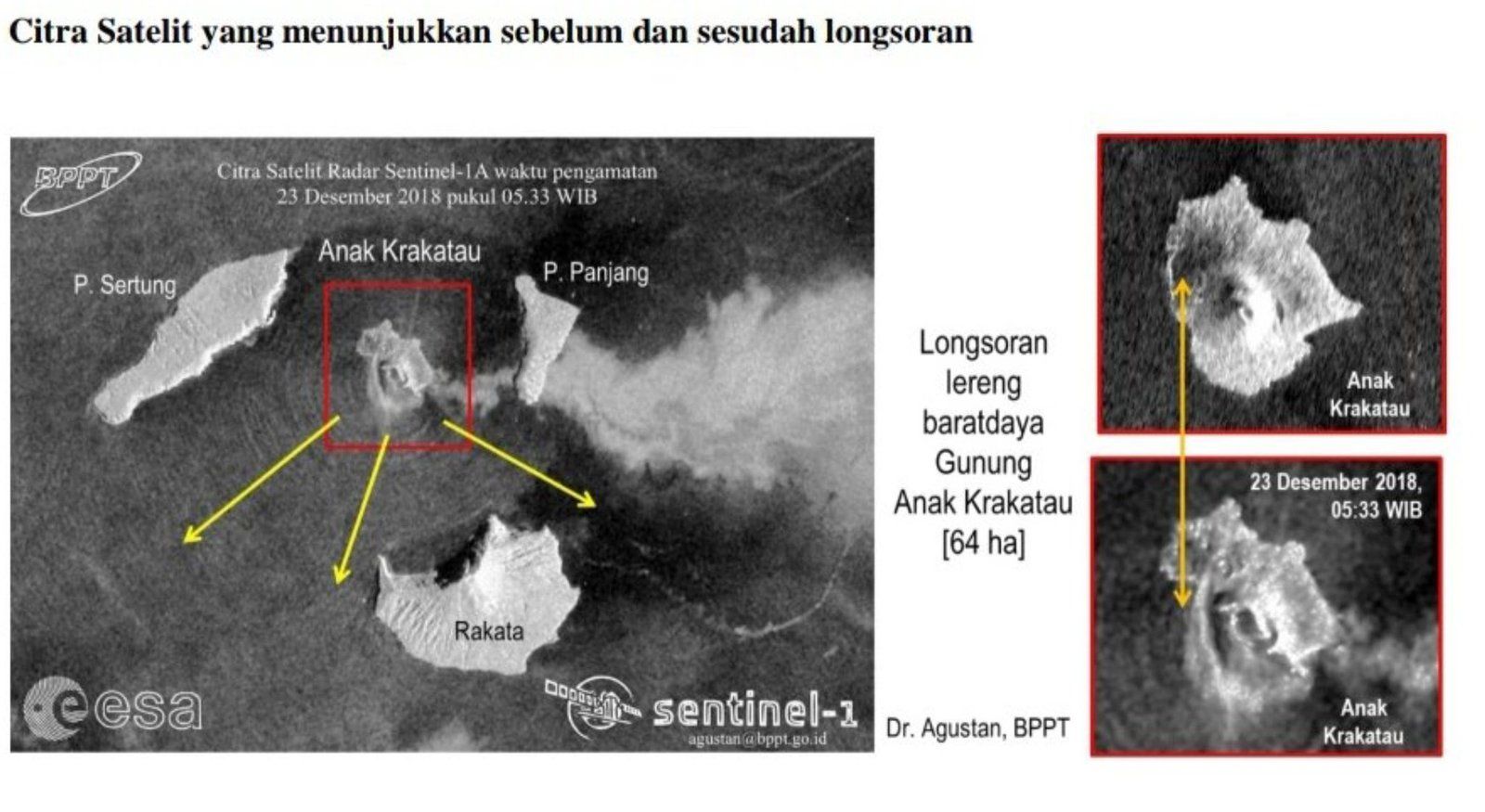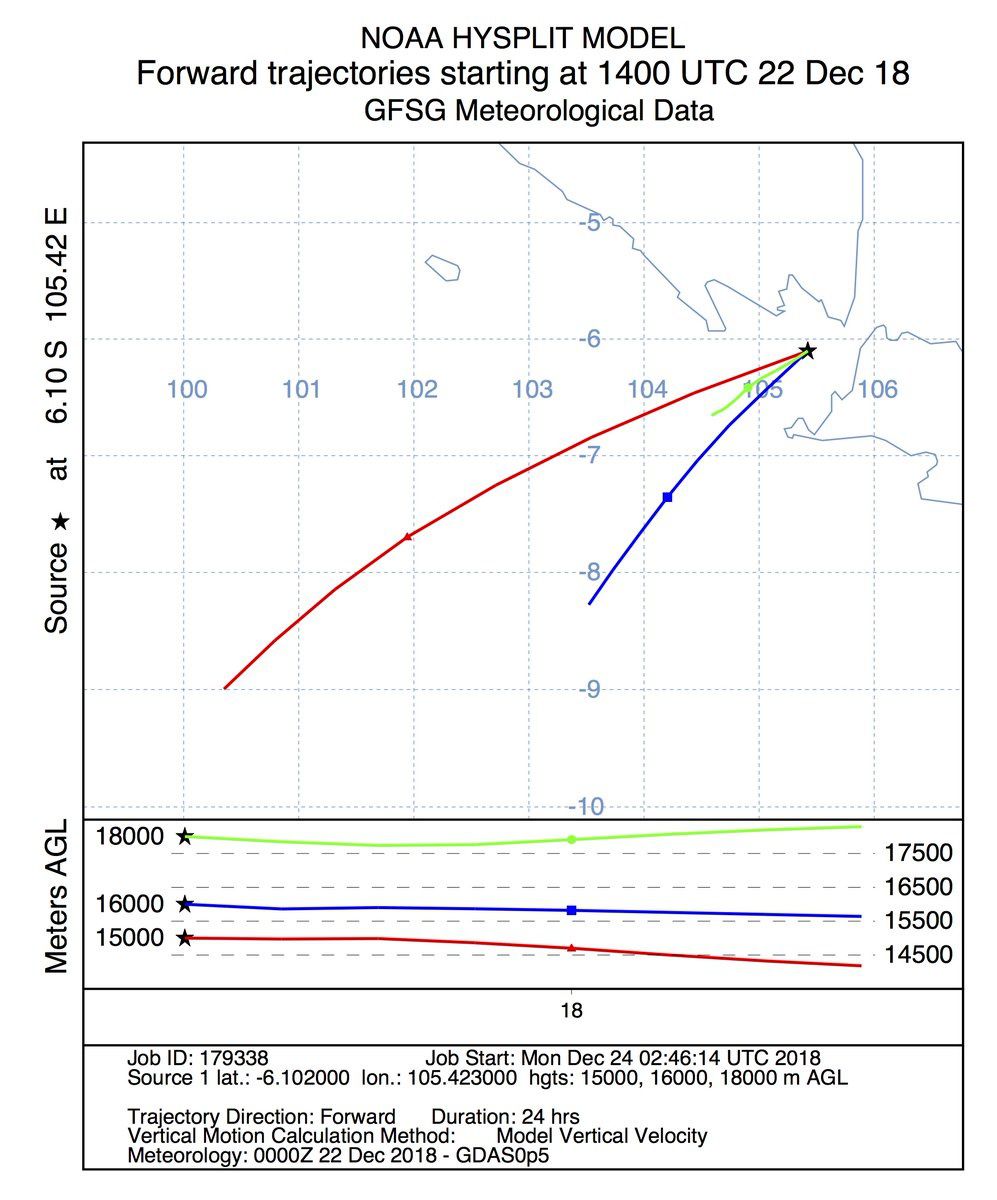 Anak Krakatau - Analysis of radar images and ash trajectories on 24.12.2018 - sources: BPPT and NOAA HYSPLIT model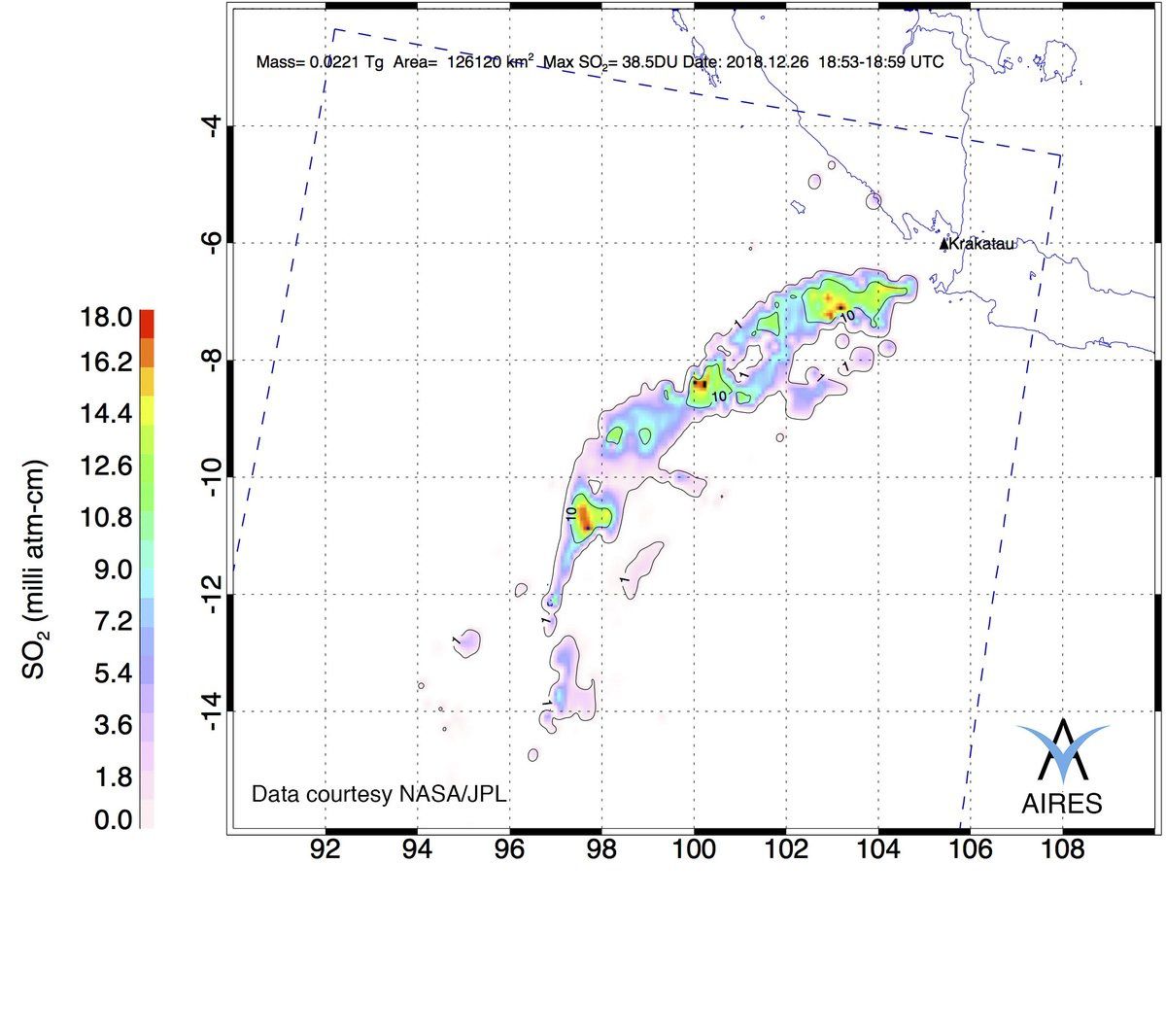 Anak Krakatau - Sulfur dioxide flow 27.12.2018 at 6am local (26.12 / 19h UT) - Doc AIRES - Total SO2 mass estimated at 0.022 Tg by S.Carn
Given the parameters and terrible weather, the PVMBG decided to raise the Krakatau alert level to 3 / siaga, with a prohibited area of ​​5 km radius, December 27 at 6:00 WIB. A Volcano Observatory Notice for Aviation / VONA Red is issued from 27 December.
From yesterday to this morning, a visual contact makes it possible to observe a black and thick plume rising about 700 meters, with a wind blowing to the north and the east.
Status Gunungapi Diatas Normal
| | | | |
| --- | --- | --- | --- |
| | G. Sinabung | AWAS | 02-06-2015 |
| | G. Anak Krakatau | Siaga | 27-12-2018 |
| | G. Karangetang | Siaga | 20-12-2018 |
| | G. Soputan | Siaga | 03-10-2018 |
| | G. Agung | Siaga | 10-02-2018 |
| | G. Merapi | Waspada | 21-05-2018 |
Sources: PVMBG, Magma Indonesia, BNPB, and local press.

A link to the site and images of Øystein Lund Andersen, with his version of events on December 22 - link
At Etna, the INGV specifies that the M4.8 earthquake of December 26 at 3:19 am is probably related to the activation of Fiandaca and Pennisi faults, and associated surface faults.
The earthquake would not be generated by magmatic movements, but constitutes a response of the volcano to a stress resulting from the intrusion and its transfer to the surrounding tectonic structures.
The seismic swarm has temporarily reached the number of 1,100 episodes, of which 60 exceed a magnitude of M2.5; the tremor after on increasing on 24,12, decreases slightly, still above the norm.
The general eruptive activity indicates a decrease, but one can not exclude a possible refeeding, on the basis of the geophysical signals, and an opening of new fractures to alitudes lower than 2,400 meters.
Source: INGV Catania
Note that the seismic activity of Stromboli was marked on December 24, between 8:00 and 8:20 local, by a series of signals repeating at regular intervals of 30 seconds for fifteen minutes.The frequency and shape of the wave are compatible with a fracking phenomenon likely to be located in the summit zone. (LGS / Laboratorio Geofisica sperimentale).
The alert level has therefore been raised from green to yellow, / unstable situation, and this although local observers do not notice more significantly larger explosions than usual.
Sources: LGS & INGV
In the Philippines, two phreatic eruptions are reported at Mayon this 27th of December at 8:17 and 8:28; they were accompanied by gray to greyish plumes rising respectively 600 and 200 meters above the summit, before drifting to the southwest.
During the previous 24 hours, a volcanic earthquake was recorded, as well as nighttime glow.
Inflation in the southeastern sector is still noticeable, and sulfur dioxide flux is measured at 1,943 tonnes / day on 25 November.
The alert level remains at 2.
Source: PHIVOLCS
A new lava flow / incandescent debris was observed at Merapi / Java on December 27 at 2:50 am HNE, about 300 meters long. The alert level remains unchanged.
Source: Merapi Observatory