Publié le par Bernard Duyck
In northern Chile, the Lascar volcano, which is still on alert "Verde" , has thermal anomalies; they have been reported by the MIROVA site since 21.11.2018 with a peak of 52 MW on 5 December.
This increase in heat flux is concomitant with another of the sulfur dioxide emissions, detected by the Sentinel 5P-Tropomi satellite.
The Sernageomin reported in its last report (October 1 to 31) 11 VT earthquakes associated with rock fracture at a depth of 7.6 km, and 140 LP earthquakes in relation to the dynamics of internal fluids.
On the webcams, a recurrent degassing at the central crater, with a predominant magmatic component, is observed, rising about 650 meters above the active crater.
Thermal camera's glow is visible at night.
Sources: Sernageomin and Sentinel 5P / Simon Carn
At Veniaminof, where the eruption continues, analysis of a December 2 satellite image shows a third lava lobe extending a short distance on the southeast flank of the intra-caldera cone.
A continuous low level tremor is detected in the last few days.
Alert levels remain unchanged.
Source: AVO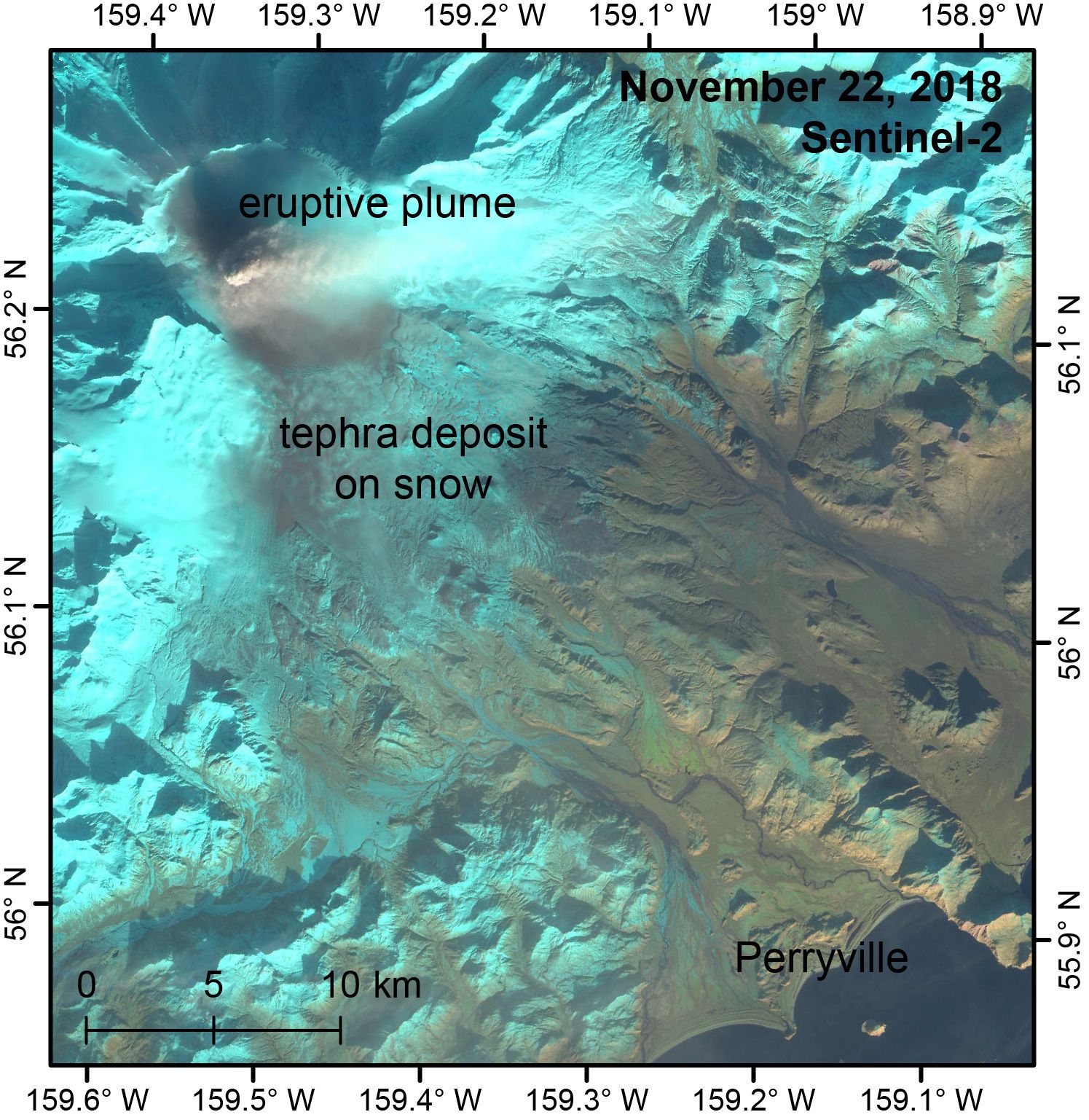 Veniaminof - plume over cone and tephra / ash deposits up to Perryville - Doc.Dietterich, Hannah / AVO; ESA Sentinel-2 on 22.11.2018 / 21:48 
In Fuego, the day of December 5 was marked by a few explosions accompanied by plumes of gray ash at a height of 4,500-5,000 meters asl. dispersing to the west and southwest over 25 km.
Incandescent impulses are reported at a height of 150-200 meters above the crater, generating fallout in the vicinity of the crater and to the main barrancas.
Small ash falls are reported in the leeward areas.
At Pacaya, strombolian activity is characterized by explosions with ejections 25-50 meters above the crater falling around the Mackenney cone, which feed a bifid lava flow towards Cerro Chino, which reaches about 200 meters.
Source: Insivumeh