Publié le par Bernard Duyck
In Guatemala, Insivumeh reports important changes in the eruptive behavior of the Pacaya: Strombolian explosions are accompanied by ejections 25-50 meters high, a lava flow towards Cerro Chio on the northwest flank, 200-300 meters long, incandescent avalanches, and moderate fallout within a radius of 8 km.
The construction of the intracrateric cone continues and fills the Mackenney crater; its height would soon exceed 75 meters in height above the edge.
This activity suggests the possibility of lava flows in larger quantities and the beginning of a new eruptive phase.
The prevailing atmospheric conditions on the Guatemalan territory, with winds that go from south to north, modified the areas of ash fallout produced by Fuego activity ... towards the Amatitlan area, and nearby areas of Pacaya, with the possibility of reaching the capital.
Sources: Insivumeh, Conred and VAAC Washington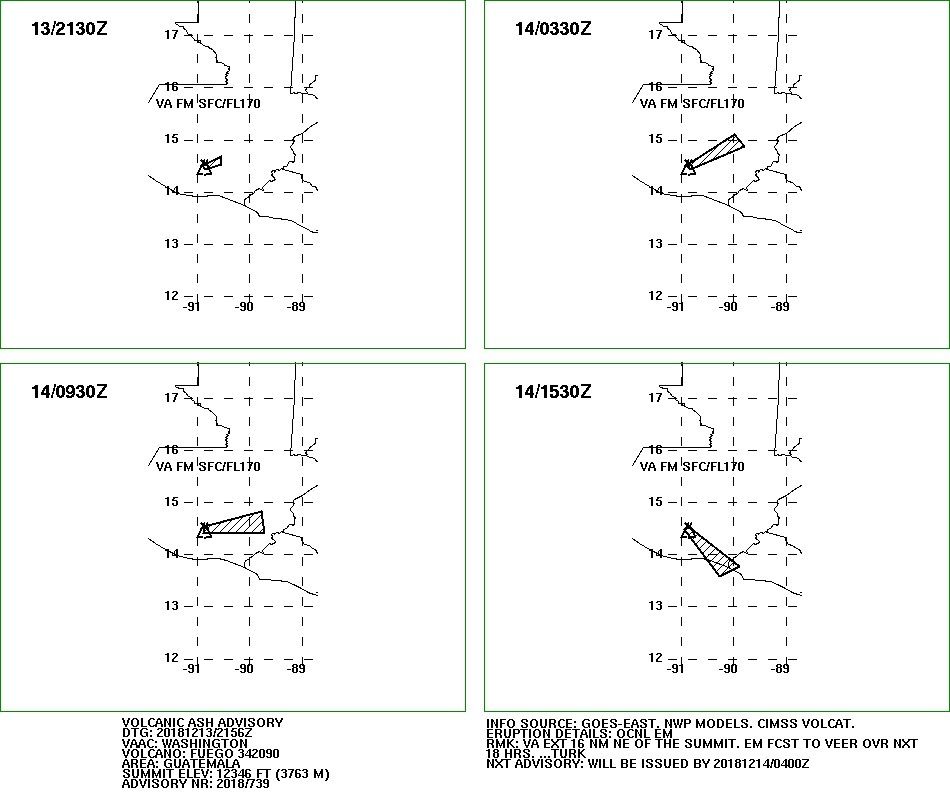 Fuego - Volcanic ash advisory for the 13-14.12.2018 following the change of direction of the winds - Doc. VAAC Washington
At Etna, the Puttusiddu's activity of the new south-east crater continues; it feeds two lava flows of a few hundred meters in the direction of the Valle del Bove, issued on the one hand by the new cinder cone, on the other hand a mouth located a little under the rim of the crater.
The effusive activity seems to be maintained, while the Strombolian explosive activity has been decreasing for a few days.
At dusk on December 13, the reflections of the lava create luminous halos that reverberated on the clouds covering a part of the summits, coming to magnify the light on the day of Santa Lucia of Syracuse.
Sources: Tom Pfeiffer and Boris Behncke
The Krakatau presented this 14 December at 2:15 pm WIB an eruptive episode, which was accompanied by a thick and black ash plume to 200 m. about above the summit, leaning to the northeast. The seismic amplitude of the episode is 57 mm max. and a duration of 48 seconds.
On December 13th, the PVMBG reported 22 earthquakes of eruption, 37 earthquakesof emission, 67 episodes of harmonic tremor and a continuous tremor of dominant at 3 mm. No recent pictures, because of the fog.
The level of activity remains at 2 / waspada, with a 2 km radius ban.
As a bonus, a video of Yohannes Tyas Galih Jati from September 2018, illustrating an explosive activity of two nearby vents, and the lava flows.
Sources: PVMBG & Volcanodiscovery