Publié le par Bernard Duyck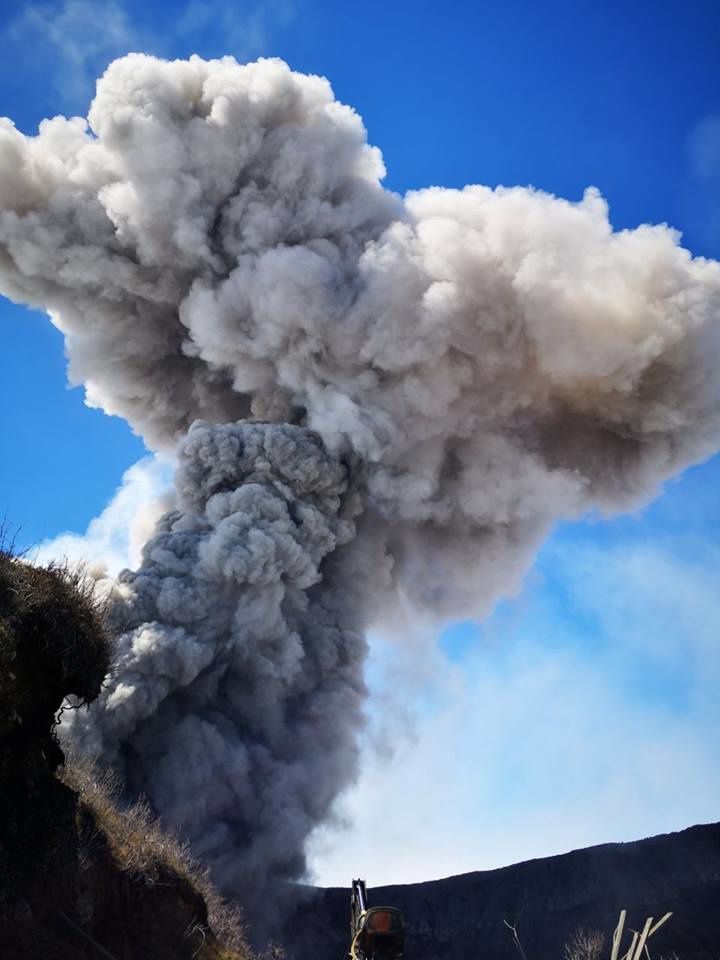 Turrialba - 03.12.2018 / 12h05-12h10 - photo from the summit of the volcano by Jean Paul Calvo and Luis Fernando Brenes / RSN
An eruption, energetic but of low amplitude, occurred on December 3 from 12:05 in Turrialba, accompanied by a plume of ash that rose 500 meters above the crater.
At the time of the episode, two RSN officials were close to the active crater engaged in maintenance work, and were able to take pictures from an unusual point of view.
Sources: RSN & Ovsicori
The observatory Pasto / IGEPN recorded this December 3 from 1am. local time a new swarm of volcano-tectonic earthquakes at the Chiles-Cerro Negro of Mayasquer complex, located on the border between Ecuador and Colombia. It is characterized by an average of 100 earthquakes per hour, with a MLv magnitude of 2.4 for the strongest.
The volcano, which last erupted in 1936, has a reduced activity with the presence of seismic activity and of hot springs and solfataras.
Source: IGEPN Pasto
No notable change in Fuego activity, characterized by 5 to 8 moderate explosions per hour, accompanied by light gray plumes at 4,300 m asl. dispersing to a western sector, and ash falls on leeward villages.
The ejections of incandescent materials 150-200 m above the crater generate moderate to strong avalanches in its surroundings, and are accompanied by shock waves.
Photos on Planet shows an enlargement of the diameter of the summit crater following volcanic activity, between November 20th and 30th.
Sources: Insivumeh & Conred
At Sabancaya, volcanic activity between 26 November and 2 December is considered moderate, with an average of 21 explosions per day, accompanied by plumes of gas and ash at 2,500 meters maximum above the summit, dispersing over 30 km .
Seismicity is characterized by LP earthquakes, associated with internal fluid movements, and hybrid earthquakes, associated with the rise of magma.
The flow of sulfur dioxide remains significant, with 4,600 tons / day, recorded on November 28th. Slight inflation is reported, as well as small thermal anomalies between 2 and 19 MW.
The alert level remains in Naranja.
Sources: IG Peru, OVI, Ingemmet