Publié le par Bernard Duyck
A phase of explosive activity began December 8 at 13h local / 03h UTC at Manam volcano in Papua New Guinea.
The ash and gas plume rose more than 13.5 km, drifting east and northeast. Strong ashfall on the island is reported by observers (planes and US Navy ship), blocking the sun's rays and hiding the volcano's summit.
According to VAAC Darwin, the plume should dissipate within three hours.
Manam - 08.12.2018 - bulletin and Volcanic ash advisory of VAAC Darwin, respectively at 09hZ and 13h20Z - one click to enlarge
Manam eruption 08.12.2018 / video Brian Malone
A previous eruptive phase dates from August 25, 2018. It was characterized by an eruptive plume at 15.2 km, and lava flows and pyroclastics in a valley NE of the island, which buried 6 houses (in GVP - link)
Sources: Madang Province news (via Shérine France), VAAC Darwin, Mirova, Scott Waide and Brian Malone / Twitter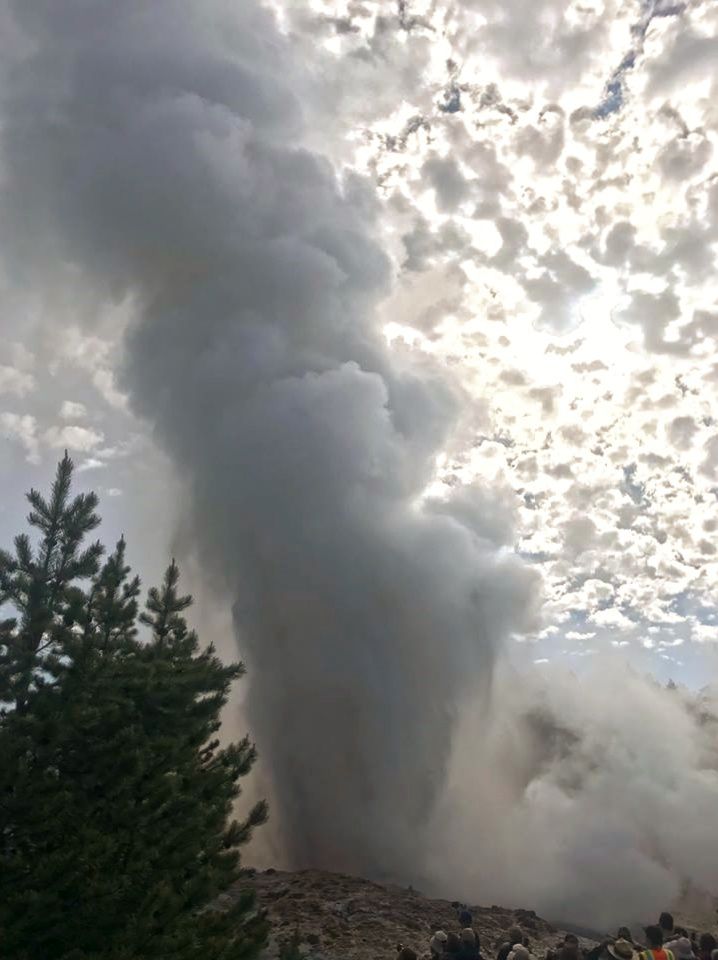 Aqueous eruption of Steamboat geyser on 04.06.2018 - Photo by Jamie Farrell, University of Utah via USGS
The USGS reports the 30th water eruption 2018 of the Steamboat geyser, which is a record, at Yellowstone National Park this December 8 at 1:07 local.
These spectacular water eruptions do not imply a change in the volcanic activity of Yellowstone.
Source: USGS
An eruption occurred this December 8 at 9:12 local at Dukono volcano in the Moluccas. An ash plume developed to a height of 1529 meters asl. The eruption continues.
VAAC Darwin plans to ashes move west and then southwest.
An orange VONA has been issued and the activity level is 2 / waspada, with a 2 km radius ban around the Malupang Warirang crater. Ashes can fall on the island, a mask protection is recommended.
Source: PVMBG / Magma Indonesia

An eruption of Anak Krakatau on 9 December 2018 at 1050 WIB was accompanied by a column of ash observed at ± 700 m above the summit (± 1038 m above sea level). The column of ash is black and thick, leaning northward. This eruption is recorded on a seismogram of maximum amplitude of 57 mm and a duration of ± 5 minutes 29 seconds. Currently, G. Anak Krakatau is in Status Statute II (Waspada) with recommendations not to approach the crater within 2 km of the crater.
Source: PVMBG