Publié le par Bernard Duyck
At Merapi on the island of Java, growth of the summit dome continues; On December 19, it reached a volume of 370,000 m³, with an average inflow rate of 2,000 m³ / day, slightly down.
Debris avalanches are reported on 16 and 19 traveling about 300 meters in the indentation.
Yesterday, December 21, a new avalanche of debris would have traveled a greater distance, about 1,000 meters towards the valley of the Gendol River; the distance remains approximate, given the poor visibility conditions.
Source: BPPTKG
Karangetang activity, located on the island of Siau north of Sulawesi, has been increasing since the end of November.
These 20 and 21 December, more or less important plumes are visible on the webcam and on photos of premises.
Magma Indonesia reports a level of activity at 3 / siaga, corresponding to new ash emissions, with prohibited zones of 2.5 km radius around the active crater, extended 3 km to the northwest; vigilance is required at the drainage level because of possible lahars, and it is recommended that the requirements for ash emissions be observed.
Source: Magma Indonesia
Karangetang - sismogrammes of 20.12.2018 / Nia Haerani / Volcano Disaster Assistance Program - and evolution of seismicity at 21.12.2018 / Magma Indonesia - one click to enlarge
An orange aviation code has been assigned to Langila Volcano in Papua New Guinea by VAAC Darwin.
He reports a discreet eruption and ash emission on December 21st from 5:20 pm
VA ADVISORY
DTG: 20181221 / 0027Z
VAAC: DARWIN
VOLCANO: LANGILA 252010
PSN: S0532 E14825
AREA: PAPUA NEW GUINEA
SUMMIT ELEV: 1330M
ADVISORY NR: 2018/47
SOURCE INFO: HIMAWARI-8, VOLCAT
AVIATION COLOR CODE: ORANGE
ERUPTION DETAILS: DISCRETE WILL ISSUE INITIATED AT 20 / 1720Z
OBS VA DTG: 21 / 0027Z
OBS CLD VA: NOT IDENTIFIABLE FM SATELLITE DATA WIND
SFC / FL140 360 / 10KT
FCST CLD VA +6 HR: 21 / 0627Z NO VA EXP
FCST CLD VA +12 HR: 21 / 1227Z NO VA EXP
FCST CLD VA +18 HR: 21 / 1827Z NO VA EXP
RMK: CAN NOT LONGER BE DISCERNED ON SAT IMAGERY, NO OTHER
INFORMATION SOURCES INDICATE THE PRESCENCE OF ASH. ADVISORY
TERMINATED.
NXT ADVISORY: NO FURTHER ADVISORIES
Source: VAAC Darwin
In Fuego / Guatemala, strong north-easterly winds blow up the ashes emitted by volcanic activity in the Honda dam. Ash falls are reported on San Juan Alotenango, and El Porvenir.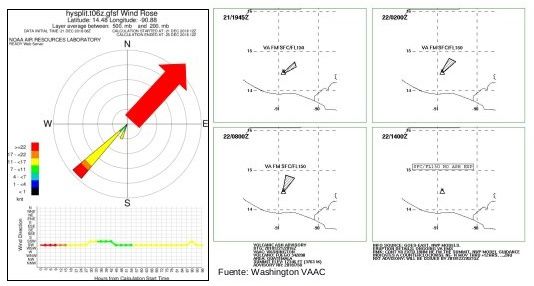 The VAAC Washington warns against the possibility of greater displacement of ash plumes in this direction.
Sources: Insivumeh & Conred, VAAC Washington
The National Disaster Management Office, the National Emergency Operations Center and the VMGD coordinate their actions in the health, agriculture, water and infrastructure sectors, and develop teams on Ambrym, where new monitoring facilities are installed.
Ash and gas falls were observed on the northeast side of the island; Seismic activity has affected many areas, especially in the southeast, impacting buildings, roads, water supplies and gardens. The most affected village is Pamal; residents moved to Ule School where three evacuation centers are operational.
Help services focuses on the vital needs of shelter, food and drink.
Source: National Emergency Operations Center 19.12.2018