Publié le par Bernard Duyck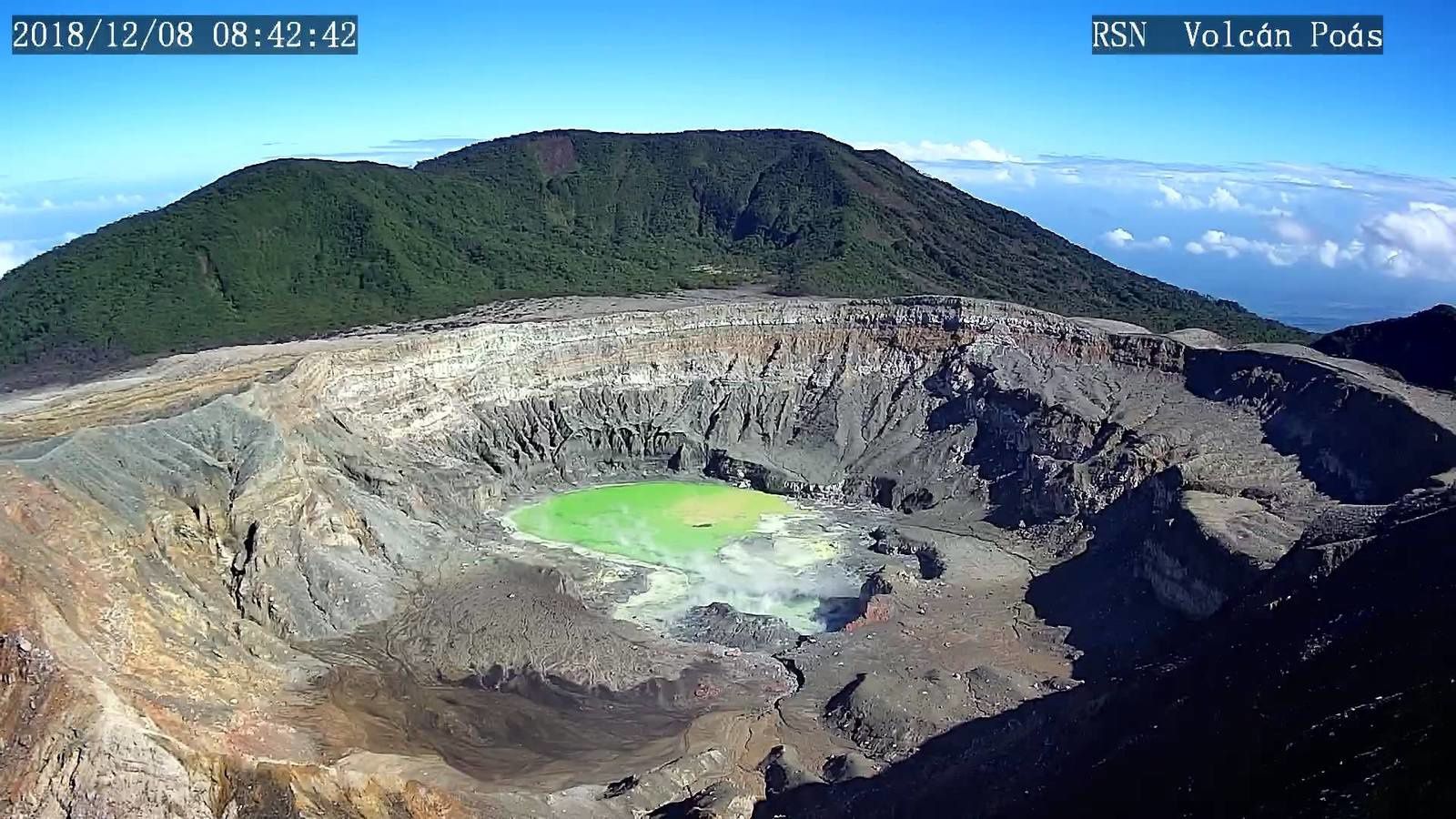 Poas - the acidic lake has taken an unusual color, green tinged with yellow - photo RSN 08.12.2018 / 8h42
A change of color is reported by the rangers of the Poas Park: the acidic lake has changed from its usual turquoise color to green tinged with yellow.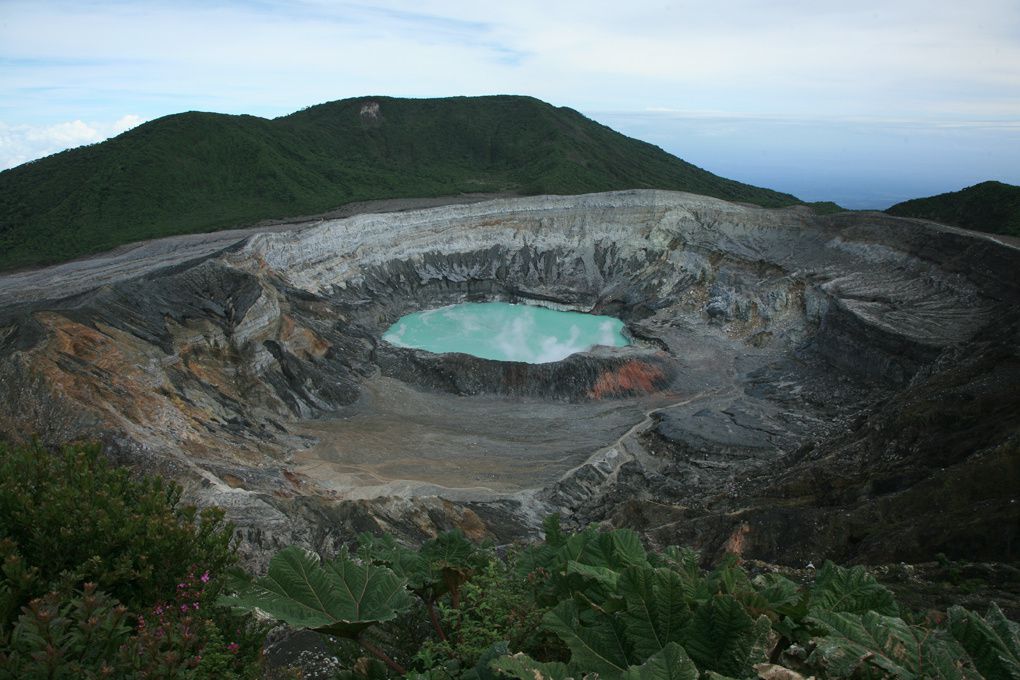 Maria Martinez, geochemist at Ovsicori, explains this change, unusual for two centuries, by the injection of sulfur dioxide by sub-lacustrine fumaroles, and the incidence of visible blue light that combines with the yellow of sulfur with as result, the current green tint.
Laguna Caliente has a greater or lesser degree of degassing, masking its surface at times. No eruptions are reported, and the activity remains similar to the previous days.
Source: Ovsicori & RSN
The Turrialba is the seat on December 8 and 9 of various eruptive episodes; among these, on December 8 at 7:49, an episode was accompanied by a plume of ash and gas 800 meters above the summit.
On December 9, Ovsicori reported an eruption at 6:52 local time, accompanied by a plume of ash 1,000 meters above the active crater.
Ash falls are reported on the Central Valley, affecting various places in the national parks of Turrialba and Irazu volcanoes, including Coronado, San Jerónimo, Granadilla, Guadalupe, Ipís, Moravia, Tibás, San José, Pavas, Zapote, San Pedro, Sabanilla , Heredia, San Isidro, Santo Domingo, San Rafael, Santa Bárbara, Barva, Alajuela, etc.
Source: Ovsicori & RSN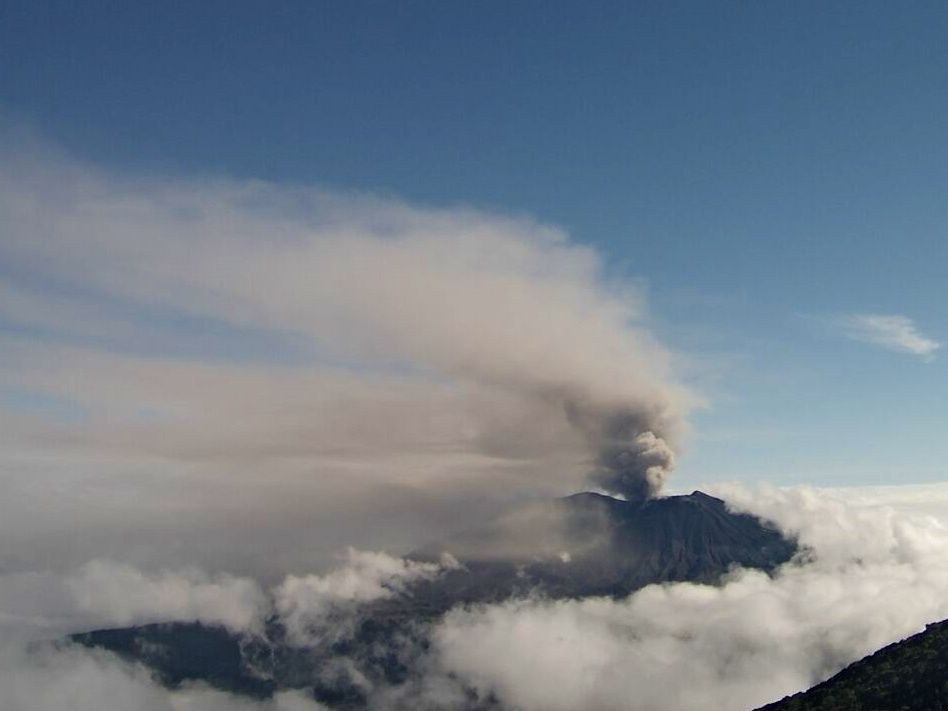 Turrialba - plume and cloud of ash on 9.12.2018 at 8:21, seen from the neighboring volcano Irazu - photo Ovsicori
The eruption continues at Dukono, with this December 9, the emission of a thick plume white-greyish 500-700 meters above the crater.
A VAAC Darwin Ash dispatch an advisory showing their impact on Halmahera Island, with the southwesterly and southerly winds.
The PVMBG recorded for 09.12. 2018, 6 emission earthquakes, and continuous tremor with a dominant amplitude at 2 mm (amplitude 0.5 - 5 mm)
The activity level remains at 2 / waspada, with a no-go zone of 2 km radius around the Malupang Warirang crater.
Sources: PVMBG / Mgma Indonesia & VAAC Darwin
At Popocatépetl, the last 24 hours are marked by 55 low intensity exhalations and 4 explosions, respectively 08.12 on 12:27, and on 09.12 at 01:39, 07:51 and 10:35, accompanied by plumes of ash between 1,300 and 2,000 meters, and ejection of incandescent fragments on the slopes of the volcano.
At the seismicity level, 45 minutes of low amplitude harmonic tremors and 3 volcano-tectonic earthquakes of M 1.5, 2.7 and 2.7 were recorded.
A public information effort is needed to clarify the activity in progress, to explain the alert levels and to recall the advice in case of ash falls in the form of clear and accessible diagrams.
Sources: Cenapred & Seguridad