Publié le par Bernard Duyck
A seismic activity has affected the island of Mayotte since the beginning of May 2018. These earthquakes form a swarm with epicentres grouped at sea, 30 to 60 km east of the coast of Mayotte. The vast majority of these earthquakes are of low magnitude, but several events of moderate magnitude (at most M5.9) have been strongly felt by the population and have damaged some buildings. Since the month of July the seismic activity has decreased but a seismicity persists which certain earthquakes felt.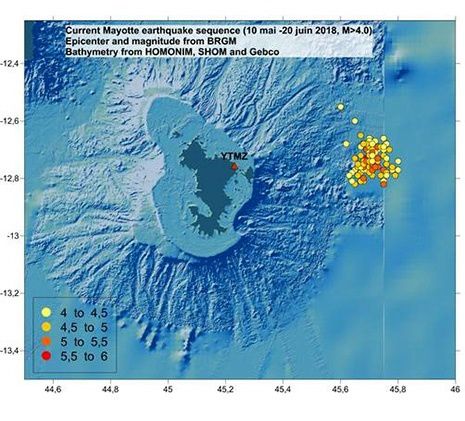 Location of earthquakes from May 10 to June 20, 2018. The location of earthquakes has not changed since the beginning of the crisis. © BRGM
In November, the month was particularly active with two earthquakes of Magnitude> 4 felt, November 19 (M4.5) and November 27 (M5.0).
In parallel, data from the Teria network's GPS stations installed on the island of Mayotte, which are distributed by the RGP of the Institut Géographique National (IGN), indicate since July an overall displacement of about 9 cm to the east and subsidence (subsidence) of about 8 cm. Automatic and daily calculations have been set up at the OVPF (via the Gipsy software) in order to follow these deformations, as well as the source at their origin.
Thus for the month of November, the source of "depressurization" at the origin of these movements could be located about 32 km east of Mayotte and about 37 km deep.
As initially suggested by the ENS, the hypothesis of a source of deflation corresponding to the emptying of a magmatic reservoir at the level of the seismic zone seems most likely. On November 11, 2018, a long period seismic signal was recorded, and will confirm this volcanic hypothesis.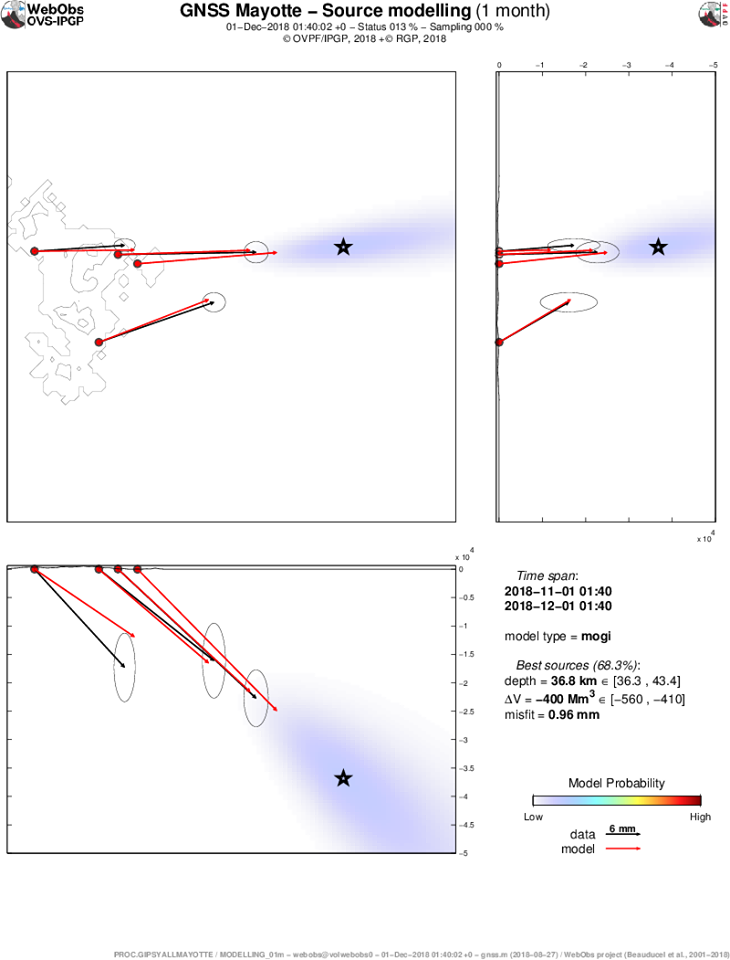 Seismic activity of Mayotte - Location of the source (best model resulting from a "Mogi" type of modeling) at the origin of the movements recorded in November on GPS stations of Mayotte. Modeling realized by F. Beauducel (IPGP / IRD) and OVPF-IPGP.
"Although the hypothetical flow is important [...], the place where the magma (extracted from the deep reservoir) is placed on the surface (or under the surface, in the crust) is currently unknown. this date would be of the order of 1.3 km3, which is very high and never observed before at sea bottom, if it is indeed an eruption ", says Pierre Briole, physicist at the ENS
The BRGM antenna in Mayotte reports in an interview with Clicanoo that "for several months, the scientific community has come together to understand the phenomenon and answer the questions that arise from it.The deployment of new instruments on land and at sea to improve the detection and localization of the observed earthquakes is under study.In parallel with this observation mission, a request for an oceanographic campaign was made to explore both the swarm zone between Mayotte and Madagascar and, more widely, the Comoros region. " The time to be expected is of the order of one to two years.
(from Clicanoo - source ref.)
Sources:
- OVPF - Seismic crisis in Mayotte / Monthly bulletin
- ENS Geosciences - Volcanology - link
- BRGM - Earthquake swarm in Mayotte: situation points - link
- Clicanoo - Seismic activity: in Mayotte, the volcanic hypothesis is precise - link