Publié le par Bernard Duyck
In Fuego, Guatemala, low white outgassing is interspersed with weak to moderate explosions at a rate of 7-11 per hour, accompanied by ash plumes at 4,600-4,800 m asl., then moving to a south and west sector over 10-15 km.
During the night and the morning of January 19, incandescent emissions are observed at 150-300 m above the crater, generating avalanches in the contours of the crater, some reaching the vegetation in the direction of the Seca, Taniluya, Ceniza, Trinidad and Las Lajas barrancas.
Falls of ashes are reported on San Pedro Yepocapa, Morelia, Santa Sofia, Finca Palo Verde, Sangre de Cristo, and Panimache.
Source: Insivumeh
Short news in photos of Etna: important degassing in the evening of January 19th, and emission of ashes from the northeast crater; fumaroles at the foot of the new crater southeast.
Sources: authors of photos cited, webcam LAVE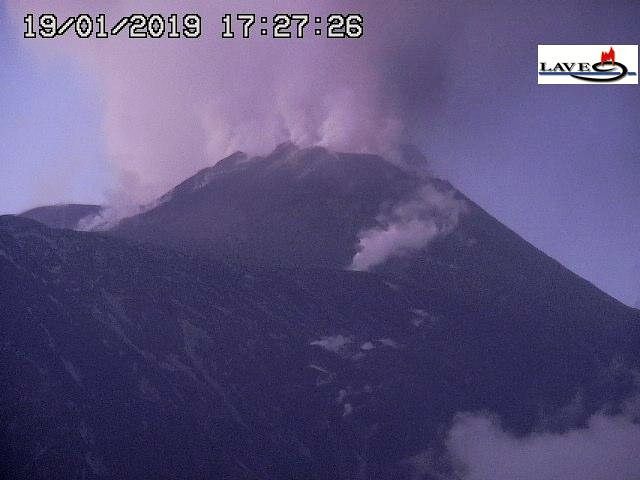 Etna - 19.01.2019 / 17h27 - fumaroles at the foot of the NSEC and ash emission at NE crater - webcam Lave
On January 17 around 1:30, the Rincon de La Vieja presented a moderate phreatic eruption (or phreatomagmatic, in laboratory determination) at the acidic lake.
Spotted on the seismogram with a signal of 2 minutes, it ejected solid and liquid materials that were transported by the rains and rios to the bottom of the massive, north side.
Gray sediments and fine granulometry, with a muddy texture, polluted the various rivers, Penjamo, Quebrada Azufrada, Río Azul, and Pizote, where dead fish and one caiman were found.
A pH measure shows water acidification, with values ​​of 0.96; the electrical conductivity shows a high content of dissolved salts, and the turbidity measurements of a large amount of colloidal particles in suspension.
Source: Ovsicori / Costa Rica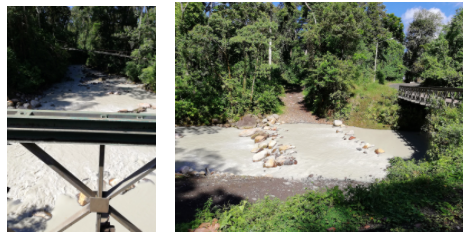 The Río Azul in the area of ​​the municipality of Gavilán de Upala, laden with sludge from the Rincón de La Vieja - photo Ovsicori 17,01,2019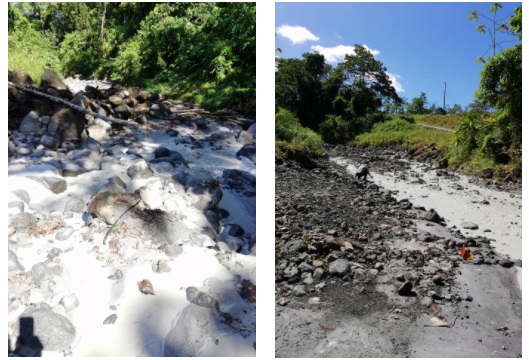 La Quebrada Azufre at the crossroads of the community of Dos Ríos de Upala, with a dense load of muddy material thrown from the main crater of Rincón de la Vieja - photo Ovsicori 17,01,2019
Kerinci volcano, on the island of Sumatra, erupted on 19 January at 7:34 local time, which was accompanied by a thick plume of ash 200 meters above the summit crater.
The level of activity is 2, with a prohibited area of ​​3 km radius.
Source: PVMBG, BNPB