Publié le par Bernard Duyck
Anak Krakatau - phreatomagmatic / surtseyan activity of 04.01.2019, and gradual closure of the bay - photo Planet labs Inc
The surtseyan activity continues in Krakatau.
It is characterized by numerous earthquakes of eruption, and the emission of large steam plumes, white to grayish (ash content). A continuous tremor of dominant amplitude at 7 mm is recorded.
On the photo provided by Planet Labs, there is a gradual closure of the bay formed following the eruption of December 22, 2018.
On January 4, a stereo analysis performed by AIRES reports the height of the ash cloud at 17 ± 0.5 km.
Oystein Lund Andersen, returned to the spot, reports lightning in the plume as he took pictures in the early evening.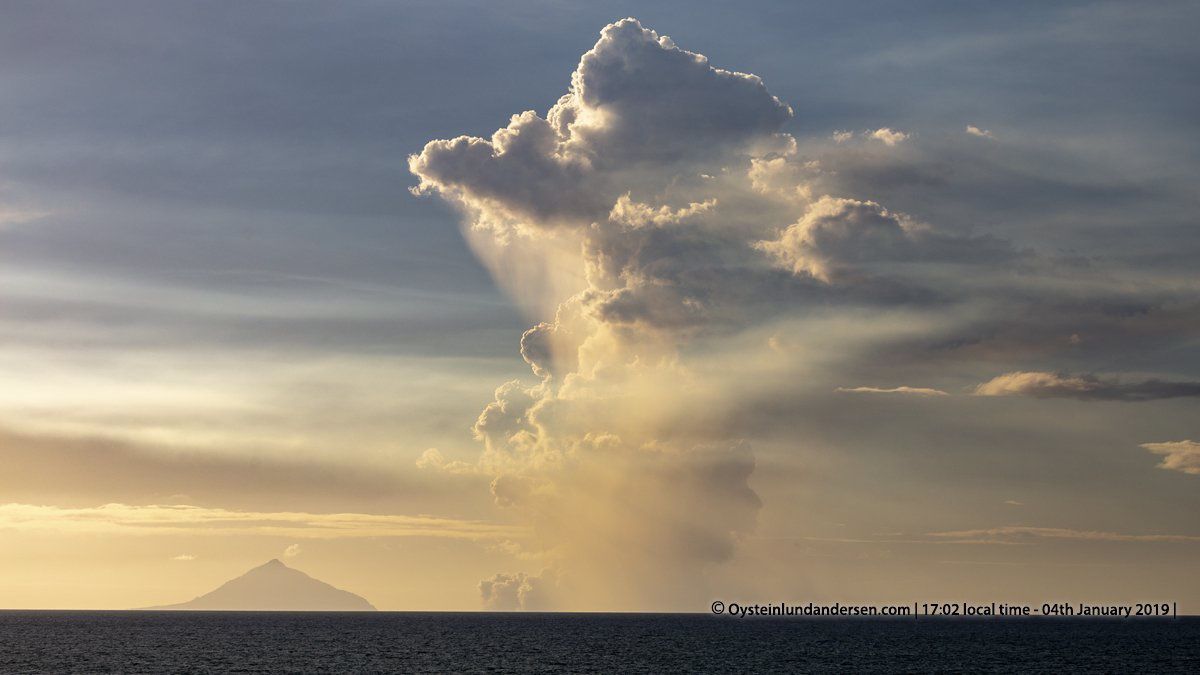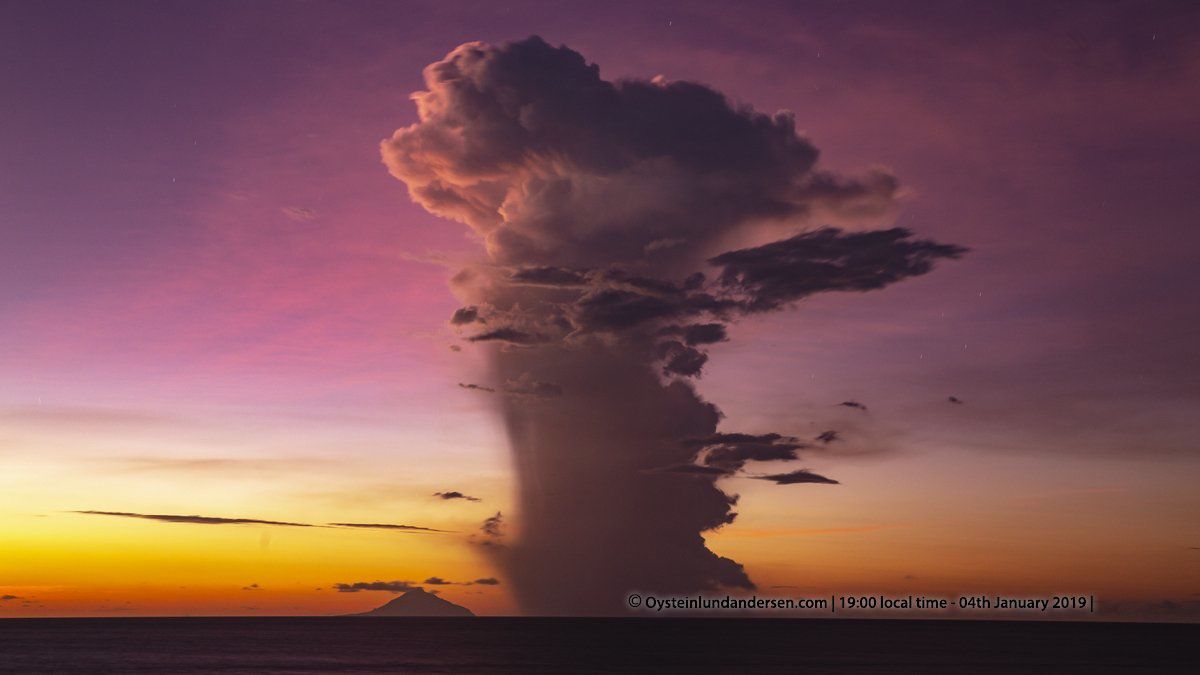 Anak Krakatau - the important eruptive plumes of 04.01.2019 / at 17h02 and 19h local - ohoto Oystein Lund Andersen
The activity produces a flow of sulfur dioxide that disperses east over the Jakarta region and reaches the east of Java Island, at an altitude of about 10 km. (Sentinel / Tropomi, via Simon Carn)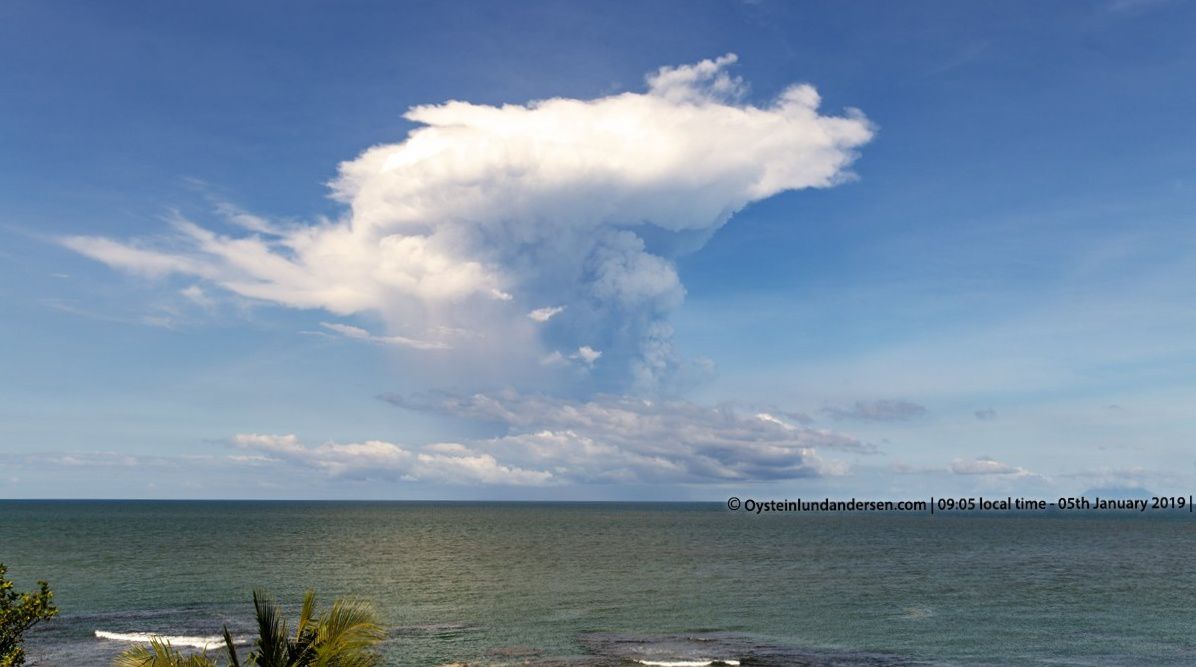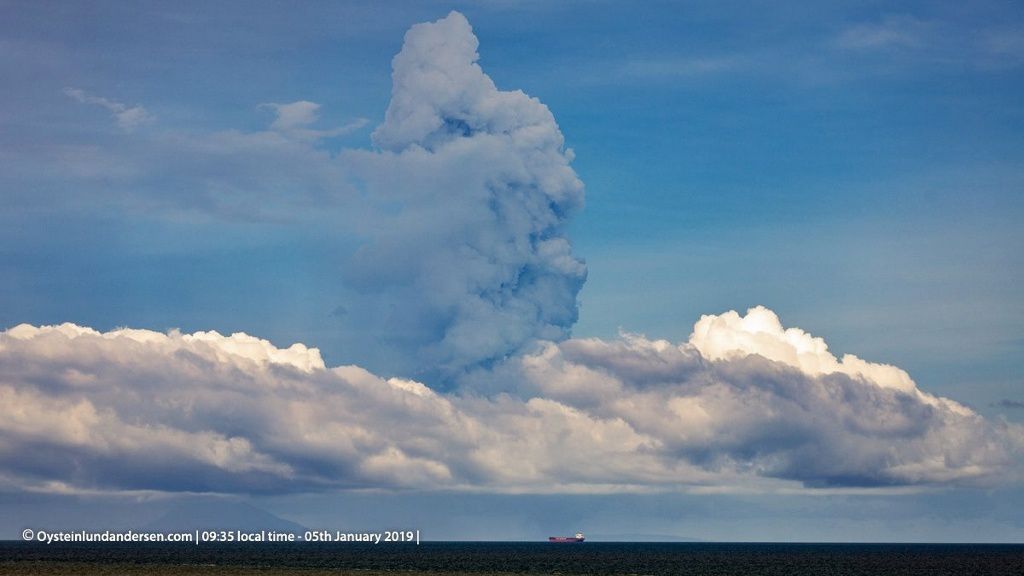 Anak Krakatau - plume of steam, then ashes on 05.01.2019, at 9:05 and 9:35 local - photos Oystein Lund Andersen
On January 5, a thick plume of gray ash is reported at 11:11 WIB at about 1,500 meters above the current summit; it is inclined to the southwest. The amplitude of the episode, lasting 1 minute 5 seconds, is 18 mm.
The level of activity remains at 3 / siaga, with a prohibited area of ​​5 km.
Sources: PVMBG, Magma Indonesia, BNPB, Oystein Lund Andersen, Simon Carn.
At Merapi / Java, in activity level 2 / waspada, dome growth continues at an average rate of 3,800m³ / day, up from the previous week.
It reached on 3 January 2019 a volume of 415,000 m³.
Incandescent collapses are common and an episode lasting 150 sec. around 9:01 pm local time on December 4, was observed on about 1,200 meters. The amplitude on the sismogram is 70 mm. (?)
Source: BPPTKG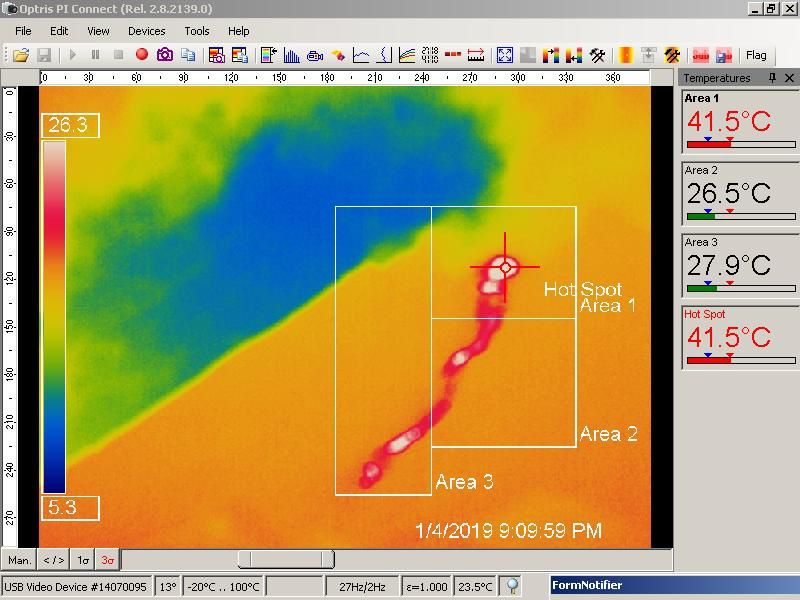 Merapi-  incandescent rockfall over 1,200 m. on 04.01.2019 / 09:01 pm WIB to Gendol river - image BPPTKG
In Karangetang, eruptive activity has increased since November 25, 2018, continues.
The PVMBG reports for January 3, 2019, 68 earthquakes of collapses, 57 earthquakes of blast, 2 hybrid earthquakes, and a continuous tremor of small amplitude, with a dominant at 0.25 mm.
A debris and lava flow exceeds 1,500 meters in length in the NNE gully, and is still active (traces on satellite IR images); the danger of collapsing pyroclastic flows threatens nearby homes.
The activity level is maintained at 3, with a forbidden zone of 2.5 km for craters north and south, and 3 km north-west.
Sources: PVMBG & Sentinel 2
Karangetang - summary table of seismicity on 04.01.2019 and seismogram of 04.01.2019 - Doc. Magma Indonesia - one click to enlarge
In Kamchatka, where an explosive-extrusive activity continues in Sheveluch, we can observe on the images of the webcam and the photos, a pyroclastic flow this January 4th.
A large plume of gas, steam, and ashes is reported at a height of 5,000-5,500 meters on 4 and 5 January, dispersed by winds to the northeast, then northwest over more than one hundred kilometers.
The aviation code remains orange, due to the possibility of ash and plume explosions that can reach 10-15 km at any time.
Sources: KVERT & VAAC Tokyo