Publié le par Bernard Duyck
Surtseyan eruptions continue in Krakatau on 3 and 4 January.
The seismicity of January 3rd is characterized by 37 earthquakes of eruption, 42 earthquakes of emission, and a continuous tremor of amplitude between 1 and 15 mm, with a dominant to 7 mm.
For the 4th of January at 6am WIB, 13 eruptions are enumerated, with an amplitude of 15-22 mm and a duration between 40 and 110 sec. ; 5 emissions lasting between 35 and 65 sec. and with an amplitude of 14-21 mm. The tremor is recorded continuously with an amplitude of between 2 and 21 mm, with a dominant at 6 mm.
Among the heights of plumes emitted, there is that of the local 03.01 / 10h17 at 2,000 m, and that of 12:03 loc. at 1,500 m. altitude
The aviation code is orange; the level of activity remains at 3 / Siaga, with a prohibited area of ​​5 km
Sources: PVMBG, Magma Indonesia, BNPB and VAAC Darwin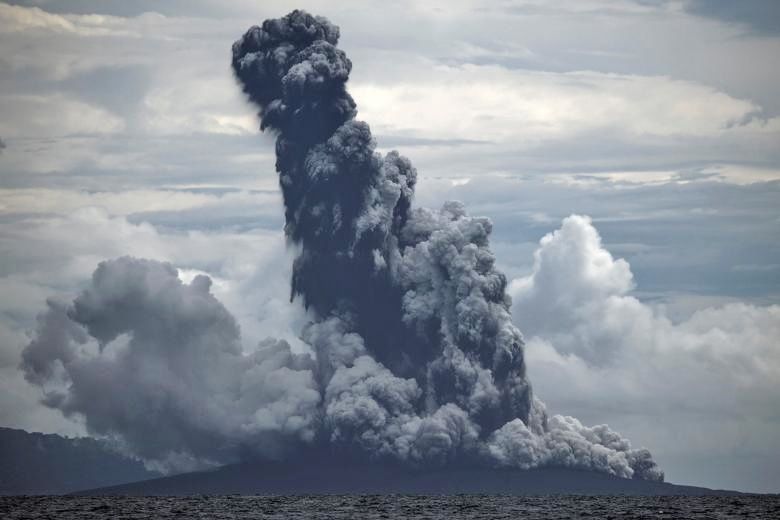 Anak Krakatau - 03.01.2019 photo from an Indonesian patrol ship in the Strait of Sunda - Antara Foto / Sigid Kurniawan- via REUTERS
In Sheveluch, explosive-effusive activity continues on January 3 and 4, 2019.
KVERT reports plumes of gas, steam and ash at more than 5,500 meters asl, extending east on 03.01 and north-east on 04.01 extending 652 km.
Thermal anomalies reported by Mirova are considered high, ranging from 68 to 564 MW.
Sources: KVERT, VAAC Tokyo and Mirova
Sheveluch - Volcanic Ash Advisory for the 3rd and 4th of January - Doc. VAAC Tokyo - one click to enlarge
In Poas, Costa Rica, frequent steam eruptions are recorded, while the gray acid lake level is decreasing.
Seismicity is dominated by low frequency volcanic earthquakes and sporadic tremor, in relation to steam eruptions.
Source: Ovsicori
In Chile, the Villarica returns to its Strombolian explosions after a five-week break.
The lava fountains are projected 30 meters above the edges of the crater, and cause pyroclasts to fall eastward.
In 2019, a new camera should give us renewed images every second (instead of 10 seconds for the old one)
Source: Werner Keller / POVI