Publié le par Bernard Duyck
An explosive eruption occurred at about 9:19 am on January 17 at Kuchinoerabujima, in the Ryuku volcanic arc, south of Japan.
It was accompanied by a plume of ash to a height of 6.000 meters, ejection of pyroclasts up to 1,000 meters from the crater, but also pyroclastic flows encompassing the southwest flank of the volcano on 1,500 meters. These flows have fortunately not reached the inhabited areas.
Following this eruption, a powerful white plume of gas and vapor was observed.
The JMA maintains the alert level at 3 / do not approach the volcano within a radius of 2 km.
Sources: JMA, NHK and various observers, via Shérine France
The Planchon Peteroa complex presented on January 15 at 20h56 local an explosion accompanied by a greyish ash plume at about 600 meters, moving mainly northwest.
In a previous bulletin, the Sernageomin specifies that according to the observations and the recorded measurements, a new eruptive cycle of phreatomatic characteristics develops, following the possible contact of a magmatic body with a part of the hydrothermal system. which would facilitate the fragmentation of a minor volume of magma and the expansion of steam and the emission of ashes.
The alert level remains in Amarilla.
Source: Sernageomin
At Merapi / Java, the PVMBG reports for January 16, 2019 a total of 33 collapse earthquakes, a blast earthquake, and a distant tectonic earthquake.
The activity level remains at 2 / waspada.
Source: PVMBG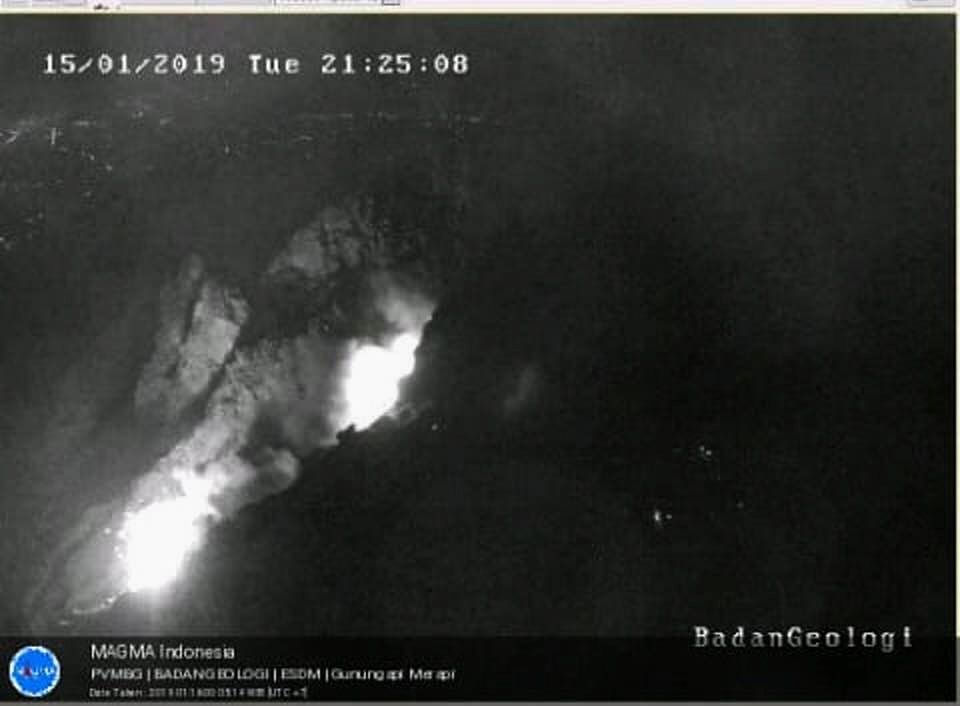 Merapi - collapse of blocks and incandescence of the dome on 15.01.2017 / 21h25 - Doc. Magma Indonesia
Insivumeh / Guatemala is conducting a geothermal study of the newly formed mud volcano on the shore of Laguna de Ixpaco, municipality of Pueblo Nuevo Viñas / Santa Rosa, with the aim of obtaining more scientific details on this structure. It is for the moment anticipated to speak about the formation of a new volcano, although precautions are necessary during an approach by the inhabitants or the tourists.
Ixpaco lagoon forms a round-shaped lagoon at the base of the dormant Tecuamburro volcano, a volcanic depression connected to an underground river, which is greenish-yellow in color and can turn white due to the high sulfur content.
Sources: Insivumeh & Conred