Publié le par Bernard Duyck
An explosion partially destroyed the dome of the Nicanor crater at Nevados de Chillan this January 11 at 5 am local (8h UTC); it has been associated with an LP earthquake, in connection with fluid dynamics, at a depth of 500 meters and medium seismic energy.
Incandescence, and high temperature gas and pyroclastic material emission was observed in the active crater area.
The explosion remains within the current alert level, orange level.
Source: Sernageomin, ICES
Se produjo una explosión menor ocurrida en el domo de lava en el Complejo #NevadosdeChillán. Este evento está dentro de comportamiento esperado. Se mantiene alerta técnica #Naranja. Via: @Sernageomin
In Papua New Guinea, after an eruption reported on January 8, a new eruption is reported in Manam.
The ash plume rose to 15.2 km, confirmed by VAAC Darwin and observers on the ground, then drifted to the SSO, passing on the Big Island. Mirova reports a very high thermal anomaly on January 11, with 1,414 MW, falling back to a more moderate level then, between 163 and 79 MW. The aviation code has changed to red.
Kadovar also has small intermittent eruptions in recent days. Small thermal anomalies are raised by Mirova on January 10, 8 MW, and January 12, 9-10 MW. The Darwin Vaac issued a volcanic ash advisory to the ESS on January 12 and an orange aviation code.
Source: VAAC Darwin; The Watchers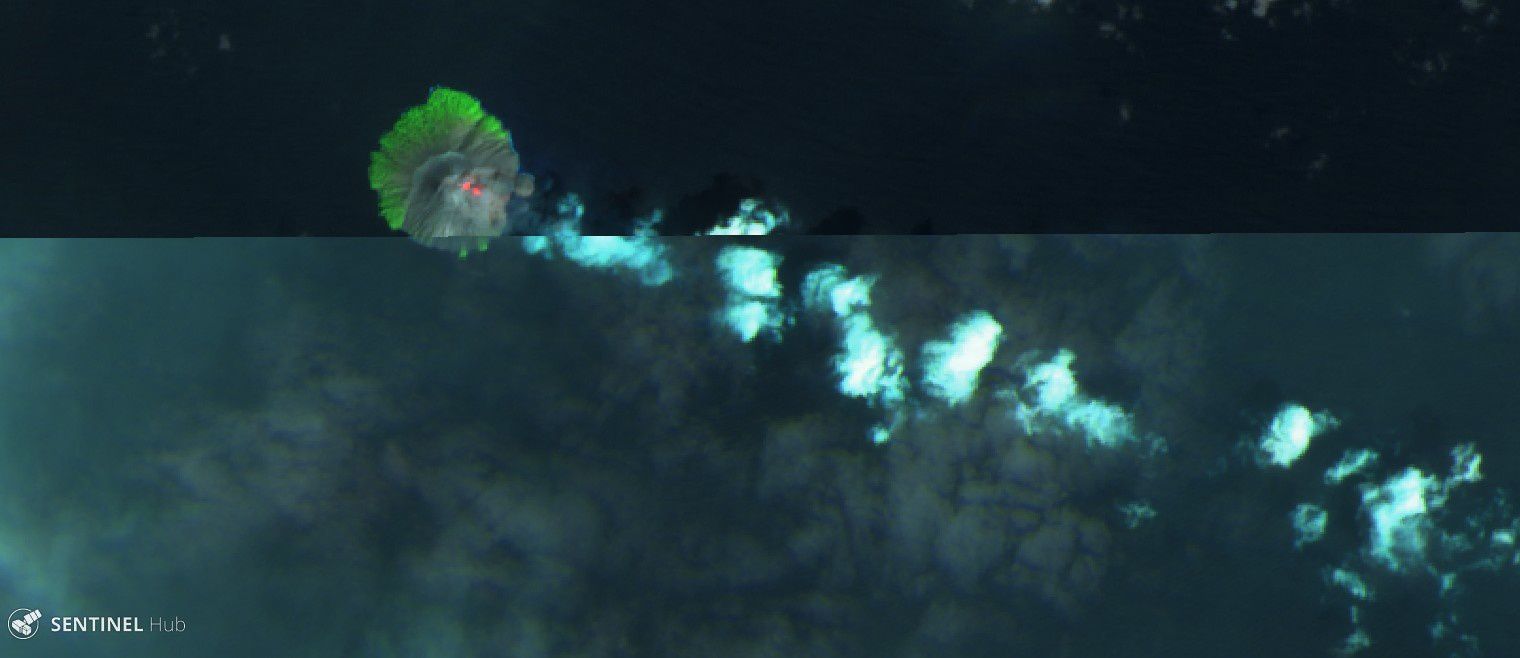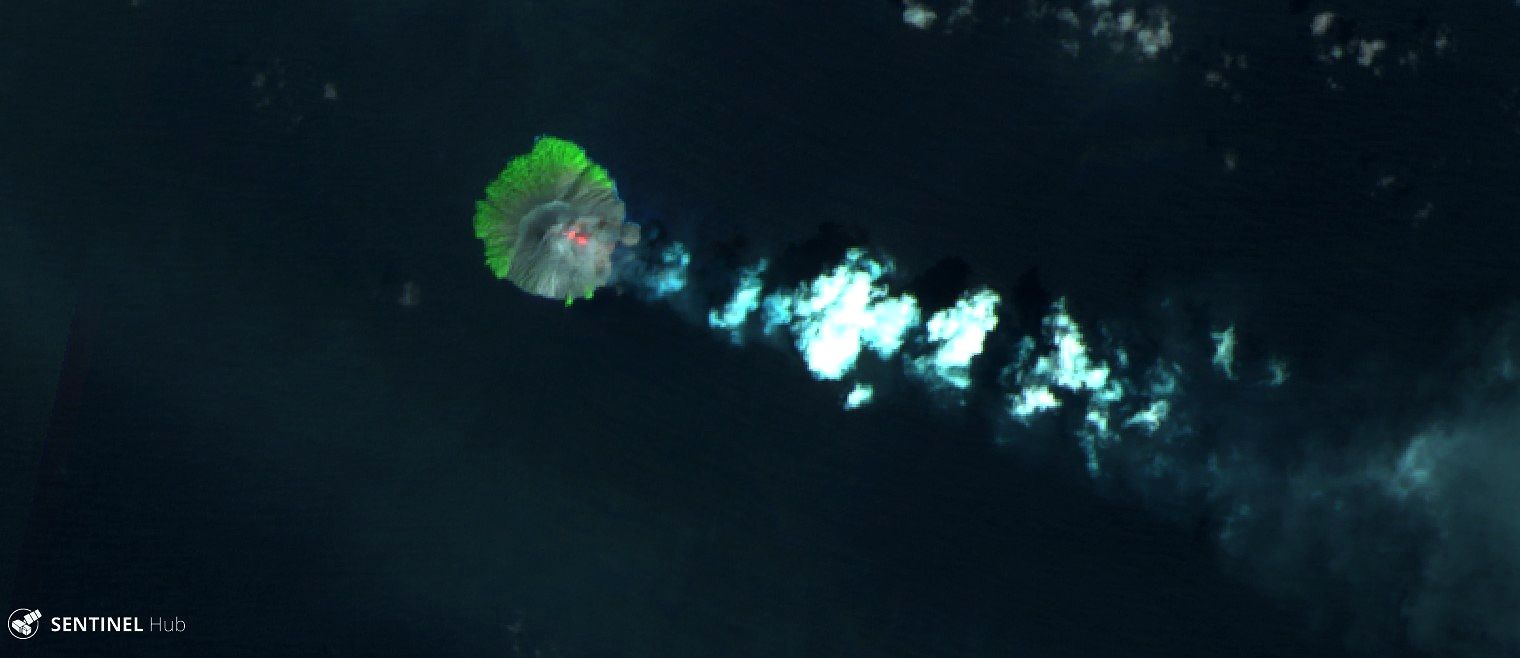 Kadovar - images Sentinel 2 SWIR, respectively on the 5th (image cut off) and 11.01.2019 - there are two hotspots at the top of the island - one click to enlarge
Falls of incandescent blocks follow one another at Merapi: the BPPTKG informs for January 11 at 21:17 an episode lasting 88 seconds, over a length of 800 meters direction of the Gendol river.
On January 12, two falls of blocks are observed: the first at 1:45 local, lasting 122 sec. and a trajectory over 1,700 meters; the second at 2:31, with a duration of 52.6 seconds and a length of 900 meters.
The alert level of Merapi remains at 2 / waspada.
Source: BPPTKG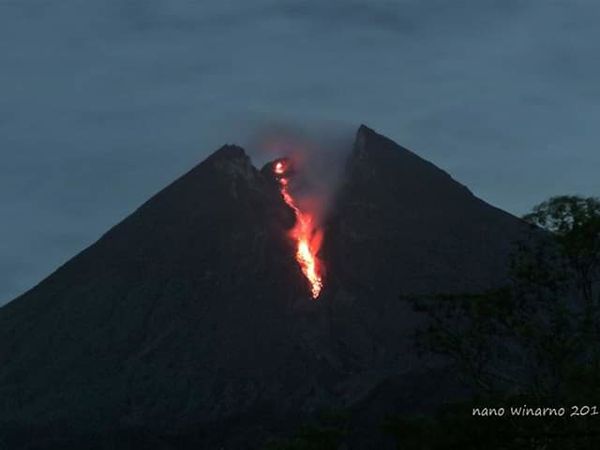 Merapi - avalanches of blocks on 12.01.2019 - photo above Kang Narno Winarno - images from below on 12.01.2019 at 1:45 and 2:31 - one click to enlarge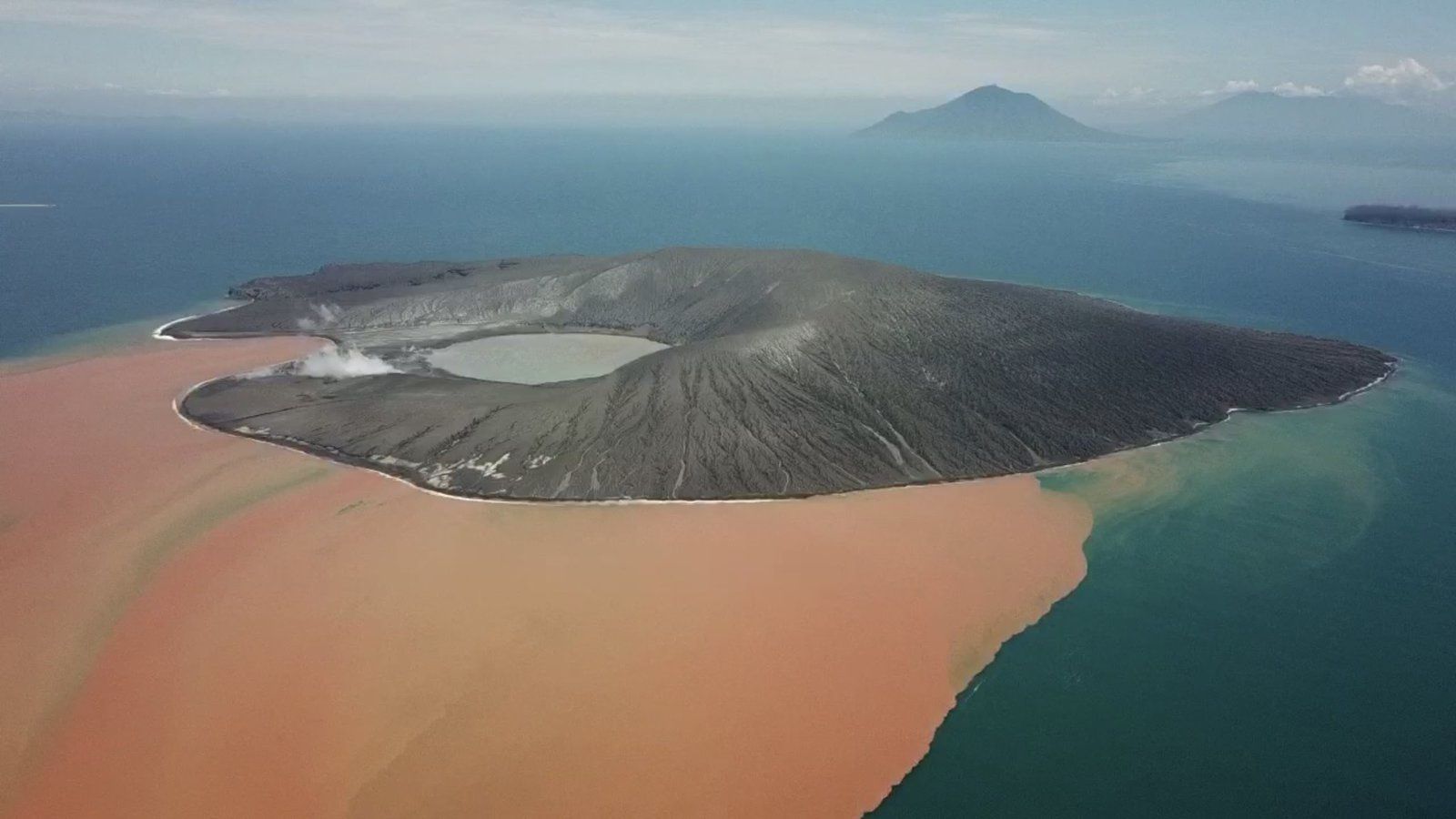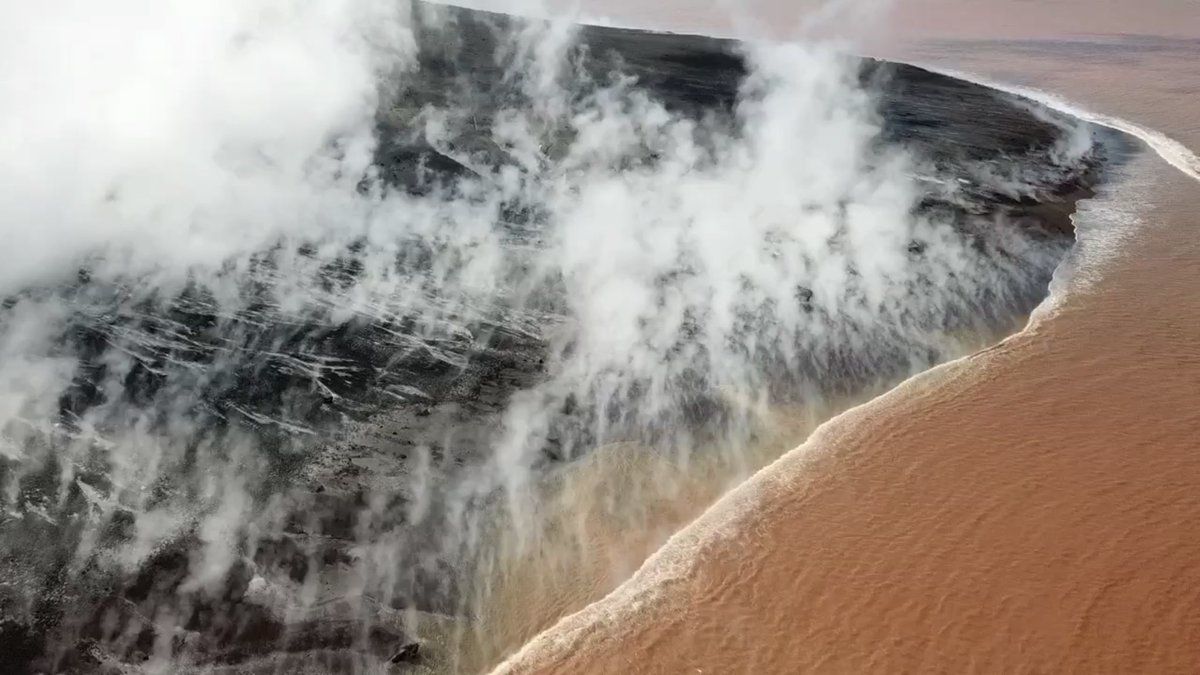 Anak Krakatau - 11.01.2019 - manifestations of hydrothermal activity ... the sea is "very hot" - photos James Reynolds / EarthUncut Tv
In Krakatau, the Sutseyan eruptions seem to calm down; the hydrothermal activity is manifested by intense outgassing around the volcano, and a brown water color towards Sertung Island, due to iron hydroxide particles, and greenish to the east, following differences in density .
Sources : James Reynolds, Simon Carn, images satellite Copernicue EU et DigitalGlobe WorldView-2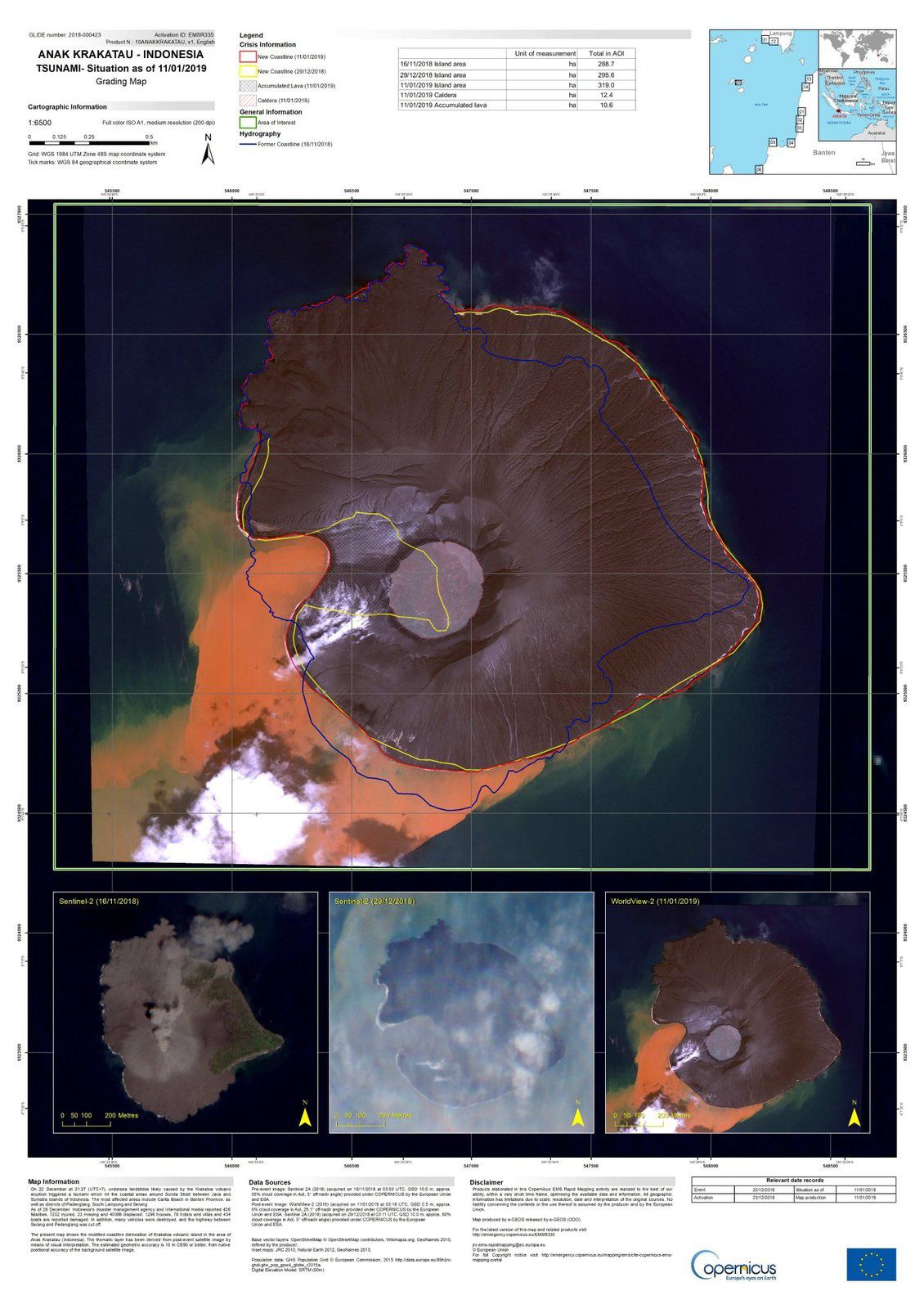 Anak Krakatau - morphological evolution between December / before the tsunami and the collapse and 11.01.2019 - Doc. Copernicus EU
On January 11, and last night, Etna experienced different explosions on Voragine and / or the northeast crater, accompanied by beautiful ash plumes.
Sources: Salvatore Lo Giudice and Maria Liotta.