Publié le par Bernard Duyck
Since December 24, 2018, Stromboli has recorded seismic signals of frequency and waveform compatible with a phenomenon of fracturing in the summit zone. Spattering has been on the rise since December 26, at the crater terrace, where seven vents are active.
The Civil Protection issued an advise of "early warning" on January 4, defining a "high level of activity", motivating the ban on access to the volcano above 400 meters above sea level, except in the context of operations monitoring.
Stromboli - activity pictures on January 2nd and 5th - webcams Vulcano a Piedi / via Volcanodiscovery - one click to enlarge 
Stromboli - 05.01.2019 - increase in activity with continuous explosions.
The level of activity increased further in the evening of January 5, 2019, especially in the northeastern vents, where a new cinder cone grew and produced explosions and spattering.
The magmatic column is high in the pipe, and could overflow in the short term.
Sources: LGS, INGV, Civil Protection, Sentinel 2, local press
At Merapi / Java, an incandescent debris flow was observed on 5 January at 20:45 BST for a distance of 500 meters; the episode lasted 54 seconds.
In the course of the night of January 4, in connection with the activity reported yesterday, slight ash falls were reported on the villages of Tegalmulyo and Tlogowoatu, around 21:30 of a duration of about 20 minutes.
Five thousand masks were distributed to the residents.
Sources: BPPTKG and Jakarta Post
At Anak Krakatau, new cracks were discovered on the remains of the volcano, according to the BMKG; they are deep and a collapse could mobilize a mass estimated at 67 million cubic meters (which is a volume lower than that of December 22, estimated at 90 million cubic meters) and generate a new dangerous tsunami.
The tsunami warning zone is still in effect for an altitude of less than 5 meters and applied within a distance of 500 meters from the coast.
The volcanic alert level has not been changed. The last orange VONA was on January 5th at 11:20 am WIB, linked to a plume of ash emitted at a height of 1,610 meters, moving towards the WSW.
Source: BMKG, PVMBG, Magma Indonesia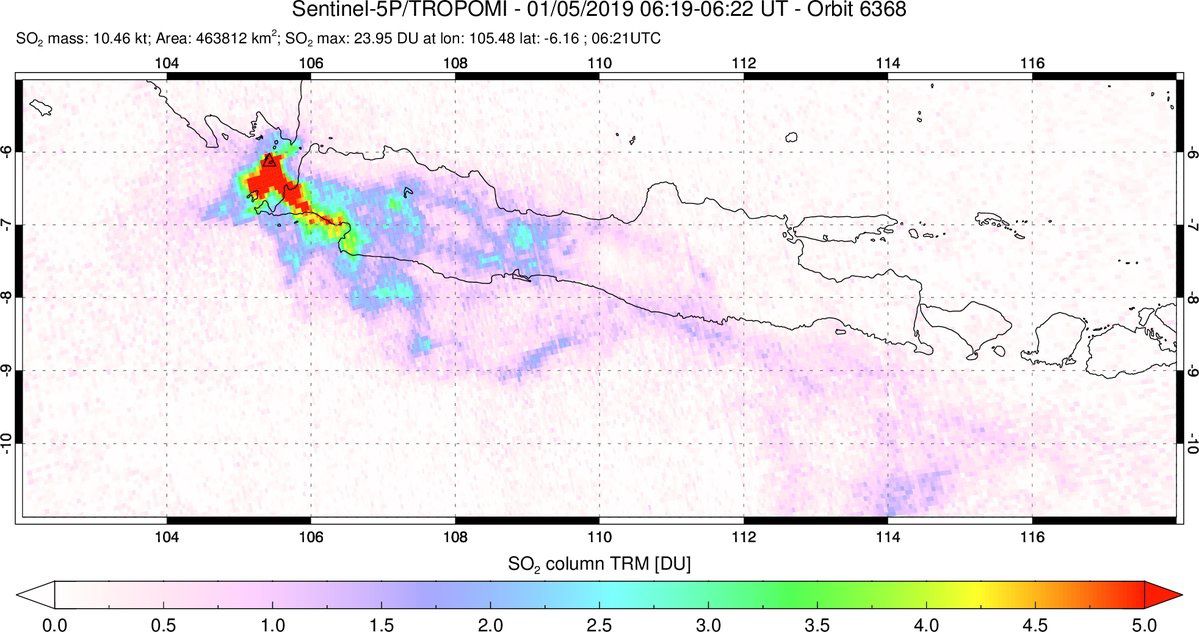 Anak Krakatau - SO2 emissions to the west of Java due to a change of wind direction - image Sentinel 5P / Tropomi 05.01.2019 via S.Carn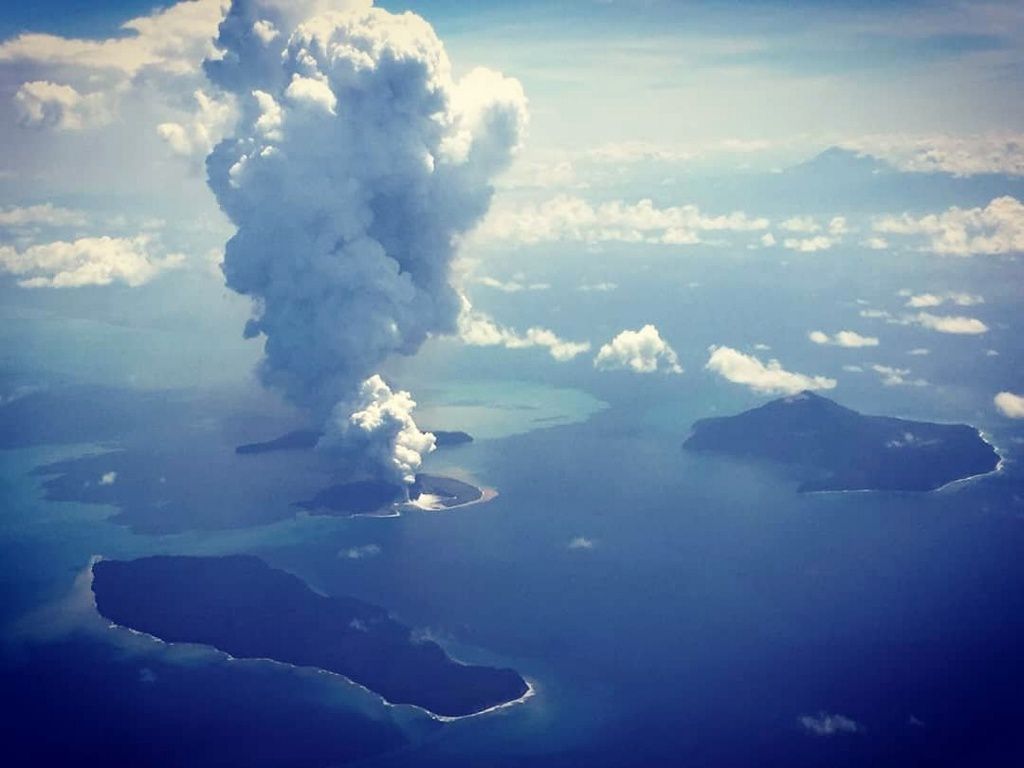 Anak Krakatau - important plume of the surtseyenne activity - photo kusukabumiku_official Instagram / via Shérine France / on line 05.01.2019
A table shows the volcanic activity in Indonesia during the year 2018: 53,819 eruptions were generated by the ten active volcanoes in 2018, Anak Krakatau, Agung, Sinabung, Merapi, Dukono, Soputan, Ibu, Kerinci, Karangetang and Gamalama.
This activity concerns the 179 million people living within 100 km of these volcanoes
Source: BMKG