Publié le par Bernard Duyck
The activity seems to have resumed, on Tinakula (also called Tamani, or Tinakoro) according to aerial photos (16.01.2019) and satellites (Sentinel 2 on 27.01.2019).
This small island, 3.5 km wide, is the emerged summit of a massive stratovolcano, located northwest of the Santa Cruz Islands, in the group of Solomon Islands (Melanesia).
Its topography is similar to that of Stromboli, with a breached summit and a "sciara" from the summit to below sea level.
The current activity is likely strombolian type, and marked by a weak thermal anomaly and a vapor plume.
Its last eruption, VEI 3, dates back to October 2017.
Sources: Sentinel 2 and Zey Yian / FB
Tinakula - Sentinel2 images from 27.01.2019, left in natural colors, right bands 12,11,4, in which we notice a thermal anomaly - a click to agarndir
The Gunungapi Ibu, on Halmahera in the Moluccas, has a level 2 / waspada activity, with a 2 km forbidden zone, extended to 3.5 km on the north side.
Many gray-white plumes are reported up to 800 meters above the summit.
The seismicity of January 28 is characterized by 84 earthquakes of eruption, 81 earthquakes of blast, 25 earthquakes of avalanches, 13 episode of harmonic tremor, one of type tornilo.
Source: PVMBG and Magma Indonesia
JMA and VAAC Tokyo report an eruption in Kuchinoerabujoma on January 29, 2019 around 5pm local time. The Shindake plume rose to 2,800 meters asl at 5:14 pm to 5:16 pm, accompanied by a pyroclastic flow to the southwest for 600 meters.
Sources: JMA & VAAC Tokyo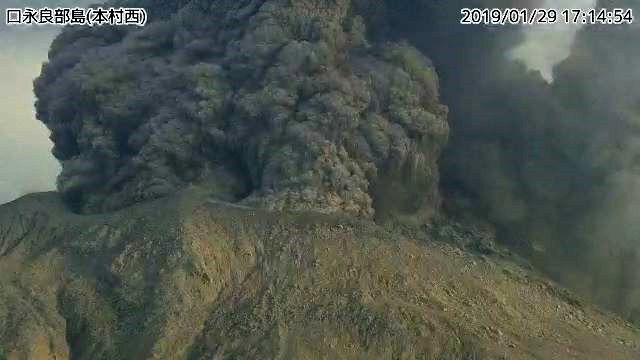 Kuchinoerabujima on 29.01.2019, respectively at 17:14 and 17:16, where we can see a pyroclastic flow developping - JMA webcam
At Karangetang, at activity level 3 / Siaga on Siau Island, north of Sulawesi, emissions continue, white or gray, depending on the emitting craters.
For January 29, the PVMBG reports 70 avalanche earthquakes, 25 earthquakes of blast, 4 superficial and 4 deep volcanic earthquakes, and a continuous tremor of dominant amplitude at 0.25 mm.
The forbidden zone remains 2.5 km radius around the craters, extended 3 km to the northwest.
Source: PVMBG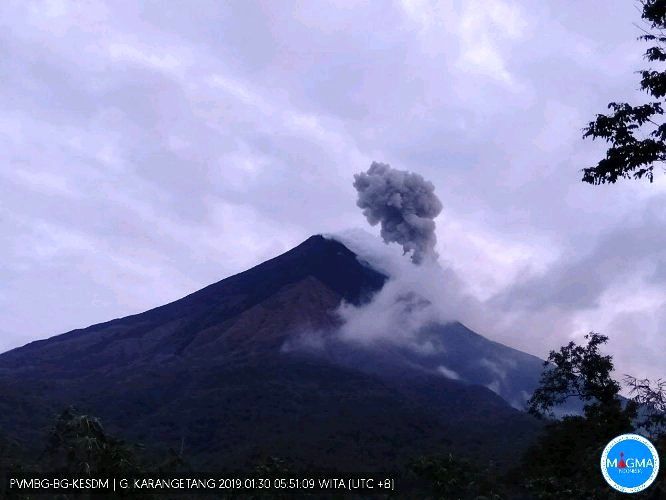 Karangetang - white and gray plumes according to crater transmitter on 30.01.2019 / 05:51 WITA - webcam PVMBG / Magma Indonesia
At Merapi / Java, activity at the summit dome does not change. On January 29, 40 avalanche earthquakes, 3 low-frequency earthquake earthquakes and 2 hybrids were reported. The avalanches of incandescent blocks spread out over 50 to 1,400 meters.
The activity level remains at 2 / waspada.
Source: BPPTKG
Merapi - some avalanches of blocks on 29.01.2019 at 5:02, local time 20:17 and 21:39 - BPPTKG webcam - one click to enlarge