Publié le par Bernard Duyck
Intermittent explosive activity continues on Barren Island, in the Andaman Islands.
VAAC Darwin reports intermittent ash emissions with a plume rising over 900 meters (Flight Level 030) traveling westward.
Low to moderate thermal anomalies are identified by Mirova on January 24 and 25, 2019.
This activity is part of a new eruptive phase started around September 25, 2018.
Sources: VAAC Darwin and Mirova

During the past week, little news from Cleveland, in the Aleutians.
The latest satellite observations of high surface temperatures date from January 19-20, before the views of the volcano are obscured by clouds. No explosion was recorded by the seismic station and the infrasonic system.
The aviation code remains orange, the possible explosions of the dome may present a danger for aviation.
Source: AVO
Incendie dans le Grand Brûlé- Imazpress 25.01.2019
The fire, whose cause remains undetermined, which began January 20 in the "Grand Brûlé", on the east flank of Piton de La Fournaise continues to progress this January 25.
More than 2,000 hectares of vegetation have gone up in smoke, and the flames are 200 meters from the RN2 linking St. Rose to St. Philippe; it was closed in both directions. This Saturday, January 26th, the fire has passed the other side of the road in two places, but remains under control.
Fanned by the winds, the fire is likely to spread further and reach homes and forest in Tremblet, with human and ecological consequences.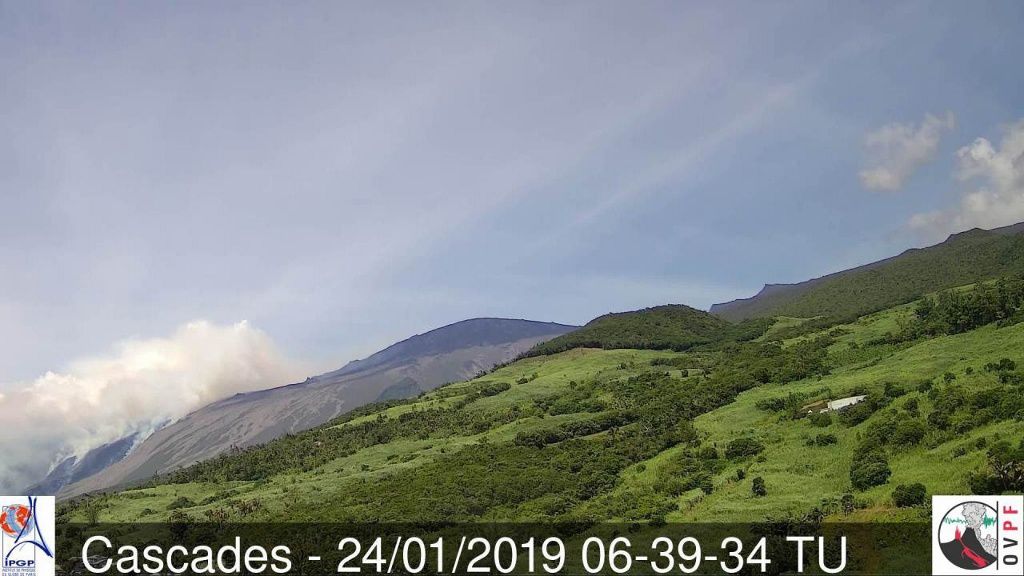 Piton de La Fournaise - fire in the "Grand Brûlé" seen on the webcam Cascades on 24.01.2019 / 6h39 UT - OVPF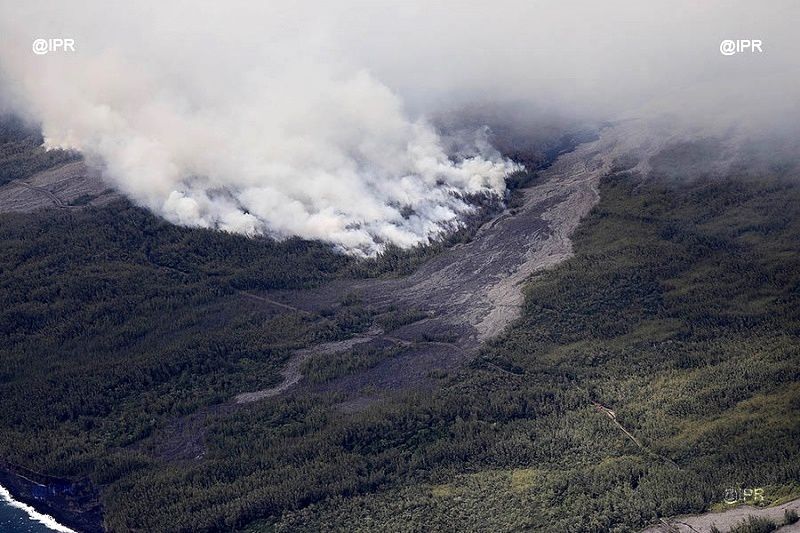 Piton de La Fournaise - the fire in the "Grand Brûlé" is nearing the RN2 on 25.01.2019 - photo Imazpress
The fire also threatens GPS and seismological stations of the Piton de la Fournaise, equipment of between 20 and 25,000 euros. . Two of them are potentially under the threat of this disaster. The first is located 400 meters south of the fire. The second is further north and is more exposed to the threat of flames.
"We are still receiving data, which means that they are still out of danger," says Aline Peltier, director of the Volcanological Observatory of Piton de la Fournaise.
Sources: Imazpress, zinfos974 and Clicanoo - OVPF webcams