Publié le par Bernard Duyck
A major eruption occurred at 2348 UTC on 23 January 2019 on Manam volcano in Papua New Guinea.
VAAC Darwin spotted the ash plume at a height of 12.2 km at 4:49 UTC, and changed the aviation code to red.
At 7:32, the height of the eruptive column was revised, based on the movement of plumes: at an altitude of 15.2 km, moving west, and 6 km, moving north and east .
According to Nasa Aqua / AIRS satellite data, a volume of 13 kt of sulfur dioxide was emitted, similar to other recent eruptions.
Update : The Chairman of the Manam Disaster Task Force and the Ward Member for Baliau have just called. Water sources and food gardens are completely destroyed.
There is an urgent need for temporary shelter on the continent. Need transportation for evacuation. (Elizah Palme / Twitter via Shérine France)
Sources: VAAC Darwin & AIRS, via Simon Carn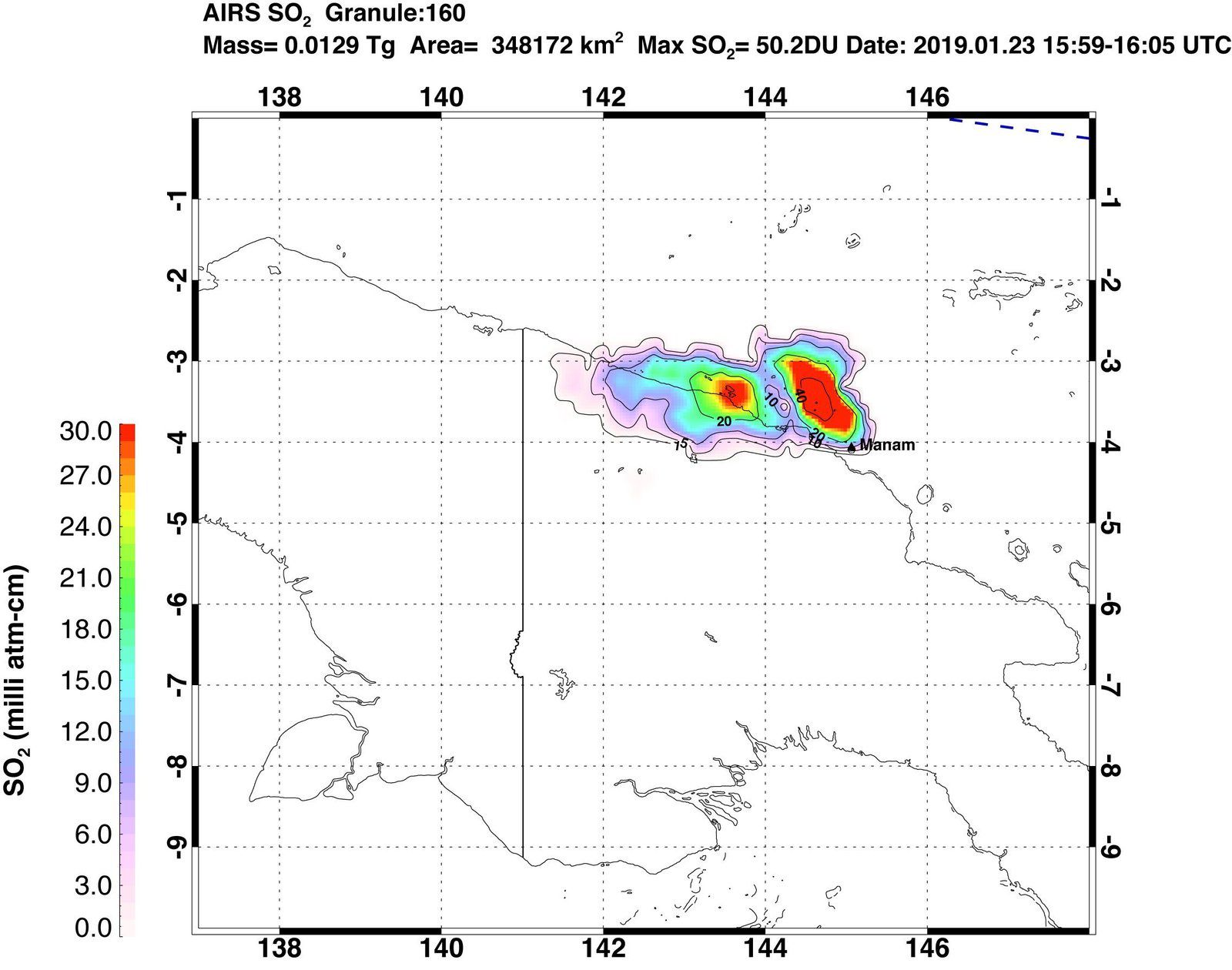 Manam - 23.01.2019 / 15h59 - 16h05 UTC - detection of sulfur dioxide by sat Nasa Aqua / AIRS - Doc. via Simon Carn
The University of Colima reports a slight increase in the passive degassing of the Colima volcano since 18 January.
Monitoring continues, and two scenarios are proposed for the coming days or weeks:
- Continuation of passive degassing, and possible low intensity explosions
- or, new growth of a summit lava dome, with collapse of incandescent materials and lava flows
To be continued ...
Source: RESCO-CUEV - Faculty of Ciencias University of Colima
At Etna, ash emissions from the northeast crater and Bocca Nuova continue; a few falls of ashes are reported on Pisano and Zafferana Etnea. The fallout of ash on the top of the volcano reveals a two-color landscape well sliced, black and white !
Boris Behncke points out that such activity, confined entirely to the summit craters, has nothing to do with seismic activity marking the flanks of Mount Etna.
Sources: Boris Behncke and Salvatore Lo Giudice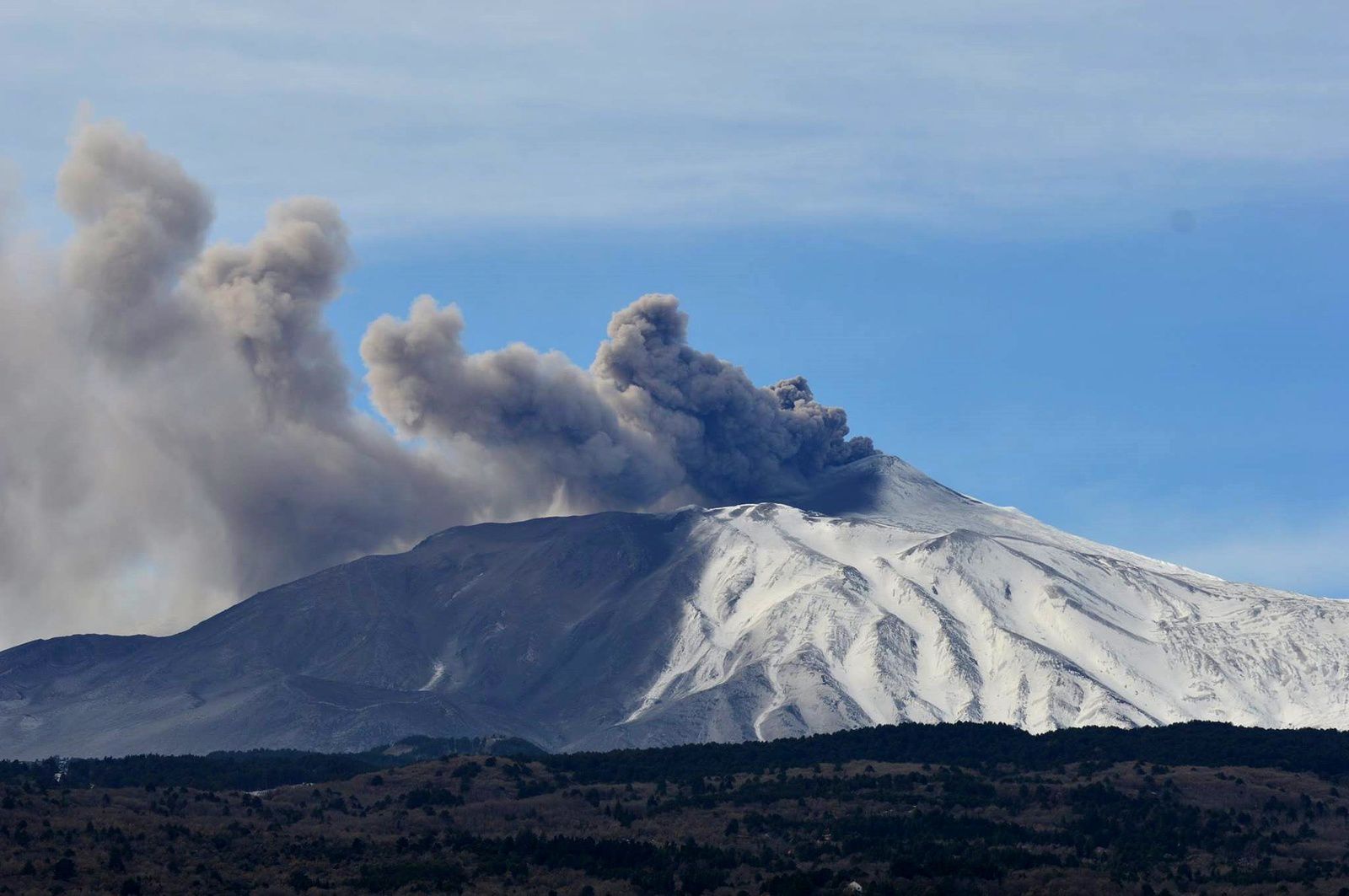 The summit of Etna in black and white, following the proximal fall of ashes  - photo 23.01.2019 / Salvatore Lo Giudice
On Bali, an earthquake of eruption is reported by the PVMBG for January 23 at Agung, as well as two blast events.
The lack of visibility of the summit does not allow the observation of a possible plume.
Sources: PVMBG & Magma Indonesia
In the East Rift Zone of Kilauea / Hawaii, in the "absence of magma", some residents had to leave their Ala Ili road house, above Leilani Estates, as a result of overheated steam emissions.
The cracks have forced the residents of the neighborhood to leave at least three houses so far, and several others are threatened.
Beverly Vance left on January 13th after the temperature below her house reached 62 degrees Celsius and the steam began to spout out of the sump vent pipe.
On January 5th, she noticed that steam was rising around a mandarin tree in her garden. She measured the temperature around her base at 119.3 degrees. A week later, the temperature under the tree was 148 degrees. As of Thursday, it was 160.
Christina Neal, the HVO scientist in charge, said after monitoring the area despite the shutdown, there was "certainly no sign of magma approaching the surface there."
"The fracture zone is still adjusting," she said. "Crack is not too surprising."
Source: Honolulu Civil Beat
Kilauea East rift zone - crevasses in a swamp on Ali Ili road - photo Alan McNarie - Honolulu Civil Beat / 23.01.2019