Publié le par Bernard Duyck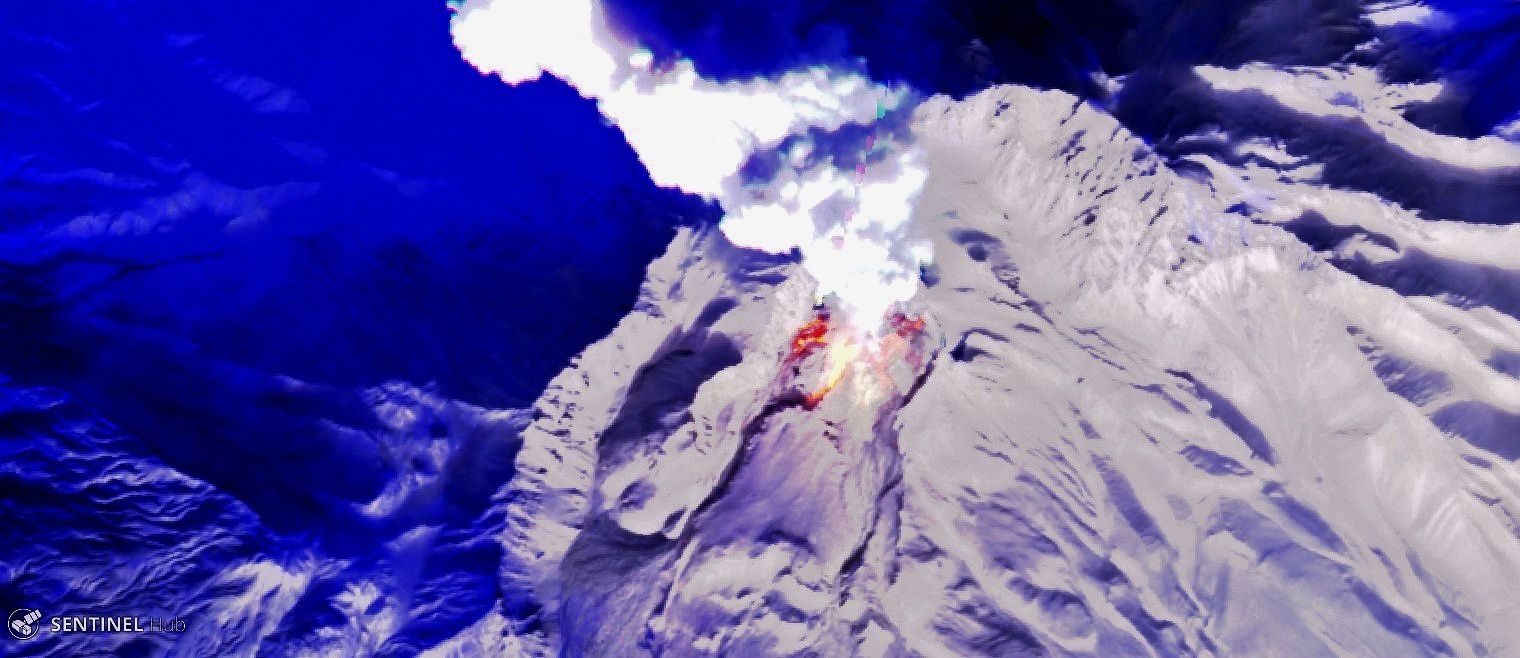 Sheveluch - image Sentinel 2 bands 12,11,8A from 05.01.2019- the snowy areas are colored blue, the area covered by the ashes appears in gray - one click to enlarge
In Sheveluch / Kamchatka, extrusive activity continues.
After a pyroclastic flow observed on 0401.2019, avalanches of blocks are distributed in trident from the active vent, surmounted by a plume of gas and steam, more or less loaded with ashes.
The ash covers part of the summit and disperses this january 7 to a southwestern sector.
The aviation code remains orange.
Sources: KVERT, VAAC Tokyo, Sentinel 2
In Ecuador, the level of activity of the Reventador remains high.
During the night and the morning of january 6, various episodes of incandescent emissions are observed, accompanied by falls of blocks on all the flanks of the volcano, descending to 1,000 meters under the crater.
Emissions of steam, gas and ash are reported, sometimes reaching more than 1,000 meters above the summit, in a northwesterly direction.
Seismicity, between 5 and 6 january at 11am, is characterized by LP earthquakes (61) and explosions (54); transmission tremors and harmonic are recorded.
The alert level remains orange.
Source: IGEPN
At Anak Krakatau, PVMBG reports plume-gray plumes at a height of about 1,000 meters.
As of January 6th, 46 earthquakes, 37 earthquakes and a continuous tremor of dominant amplitude at 5 mm are recorded.
Activity level and Vona remain unchanged.
Source: PVMBG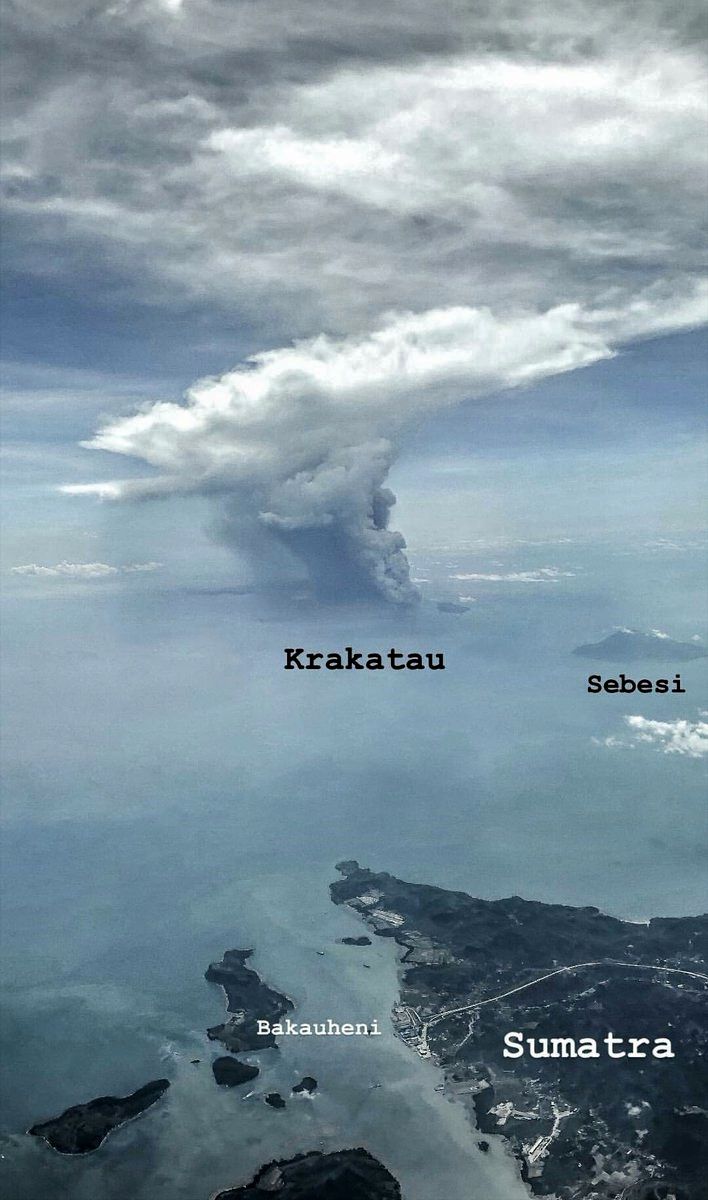 Anak Krakatau - the eruptive plume seen from Sumatra on 05.01.2019 / 13:39 WIB of an Airbus A330-300 Lion Air by Eri Wijaya Kusuma
In El Salvador, Chaparrastique / San Miguel continues its gas emissions in a sustained way this January 6th; the column of gas reaches some 300 meters in height, inclined to the west.
The amplitude of the seismic signal, during the last hours, shows a tendency towards stabilization.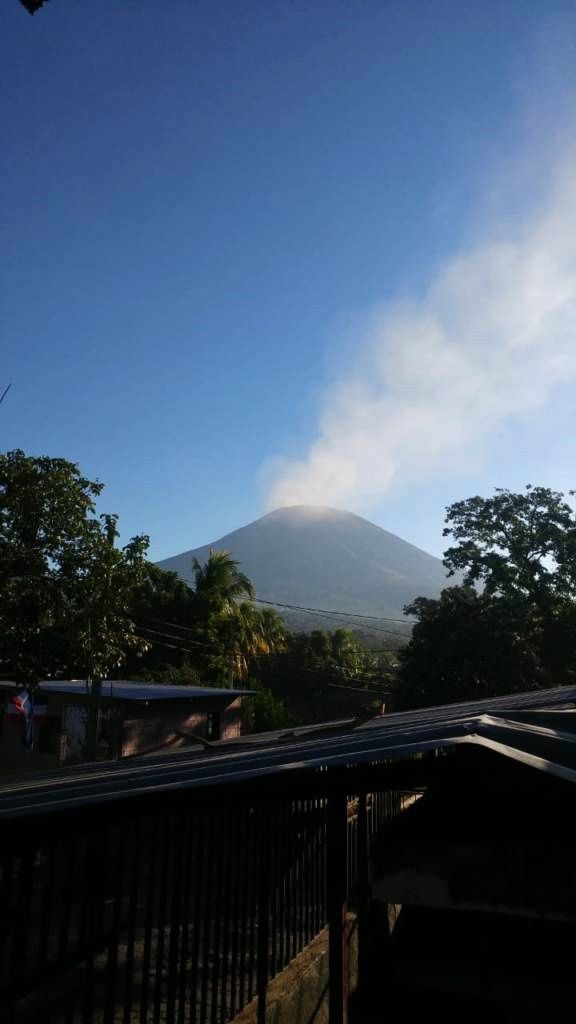 Chaparrastique - 06.01.2019 - photo MARN, fotografía of Jorge Rivas, Red of Local Observers, San Jorge, San Miguel.
Degassing could be accompanied by emissions of fine material, impacting populations living west of the volcano; more intense activity may occur with a higher ash plume and ballistic projections up to 3 km from the crater.
Source: MARN