Publié le par Bernard Duyck
Interesting testimony from an Indonesian fisherman present near Krakatau during the collapse and tsunami of 22 December 2018 was collected by Lampung Tv and translated by Oystein Lund Andersen. - link: https://youtu.be/KtR0x_FfJfE
The fisherman from Sumatra Island, named Roni, said that "the Krakatau eruption reached its peak before the tsunami, and was different from what it had seen before, around 8 pm (22.12.2018) Lightning was produced by the volcano. (*)
He had caught a lot of fish that day, much more than normal. Due to the situation, the fishermen decided to return home earlier.
But suddenly huge waves arrived without warning. Roni said he could see that the island of Sertung [3 km from Anak-Krakatau.] was submerged by the waters. There were maybe 4 waves. One of them was maybe 25 meters tall, because it was bigger than the trees on the island, he says. He could see it clearly, as the moon was rising that night.
Another surviving fisherman told Rony that he had seen part of the mountain collapse. Two of the waves of the tsunami were particularly big. It was thrown into the sea. The water withdrew and another wave followed. He thought he was dying.
He and his friend went to Sertung Island [located 2 km from Anak-Krakatau.]. He climbed into the forest and tied himself to a tree with a rope and stayed there all night until morning. The next morning, he discovered that a few other fishermen had also survived.
They stayed there [on Sertung Island] from Sunday to Thursday [5 days, from 23 to 27 December]. He said they were starving, surviving by feeding on coconuts. Thursday morning, the four men decided to try to swim to the island of Sebesi. [Nearest inhabited island, further north]
They made a raft of debris from trees to hang on. They reached Sebesi the next morning [December 28, about 24 hours later]. Only three of them succeeded, one separated and perished at sea.
According to Rony, there were 15 fishermen in Krakatau on the day of the tsunami. Seven have returned home, one is dead and seven others are missing. "
The damages due to this volcanic episode and the tsunami are known, morphological changes are gradually being observed, although the beginnings of the formation of the tuff ring have been overshadowed by the surtseyan eruption: according to a photo of Planet Labs January 7, a crater lake has now temporarily formed.
... the testimony of Roni, the fisherman, will help to better understand the course of events.
Sources: Lampung Tv; Oystein Lund Andersen; Planet Labs via Simon Carn
A strong explosion rocked Manam in Papua New Guinea on 7 January 2019, the first since 8 December; it was accompanied by a plume of ash reaching 16,500 meters. The eruption continues with a plume reported at 9,000 meters.
The aviation code is red, according to VAAC Darwin, which states that the ashes have dissipated, and that a hot spot remains, confirmation by Mirova.
VA ADVISORY
DTG: 20190108 / 0615Z
VAAC: DARWIN
VOLCANO: MANAM 251020
PSN: S0405 E14502
AREA: PAPUA NEW GUINEA
SUMMIT ELEV: 1807M
ADVISORY NR: 2019/8
SOURCE INFO: HIMAWARI-8
AVIATION COLOR CODE: RED
ERUPTION DETAILS: VA TO FL300
IS VA DTG: 08 / 0615Z
IS VA CLD: VA NOT IDENTIFIABLE FM SATELLITE DATA WIND
SFC / FL300 240 / 15KT
FCST CLD VA +6 HR: 08 / 1215Z NO VA EXP
FCST CLD VA +12 HR: 08 / 1815Z NO VA EXP
FCST CLD VA +18 HR: 09 / 0015Z NO VA EXP
RMK: CURRENT SATELLITE IMAGERY INDICATES THAT VA FROM MANAM
HAS NOW DISSIPATED. A HOTSPOT REMAINS. ADVISORY TERMINATED.
NXT ADVISORY: NO FURTHER ADVISORIES
Sources: VAAC Darwin, Mirova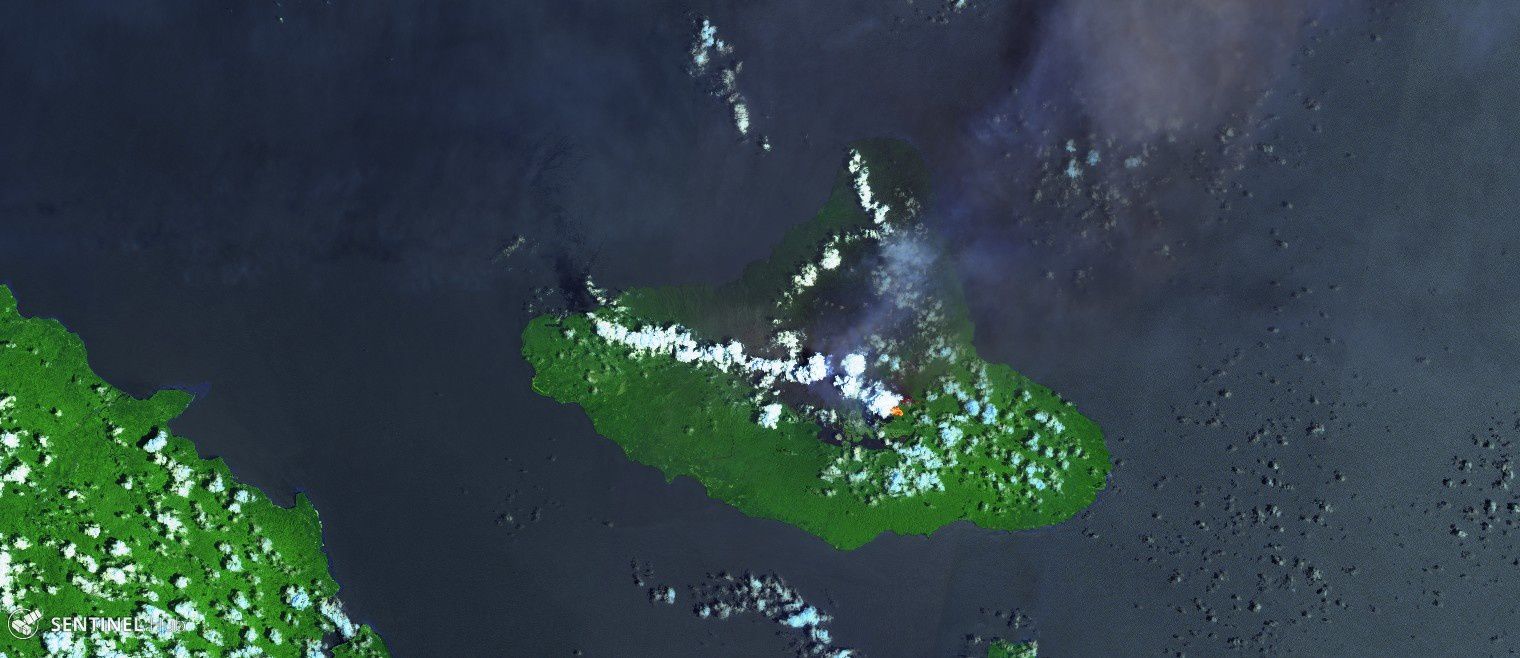 Ambrym - last clear image revealing an off-center activity towards the SE - Sentinel 2 bands 12,11,4 from 15.12.2018
The eruption continues on Ambrym in activity level 3 / minor eruption.
Although not felt, the eruption-related earthquakes continue and affect existing fissures, especially in the south-east of the island; they are associated with deformation confirmed by satellite images.
Evolution to follow!
Source: VGO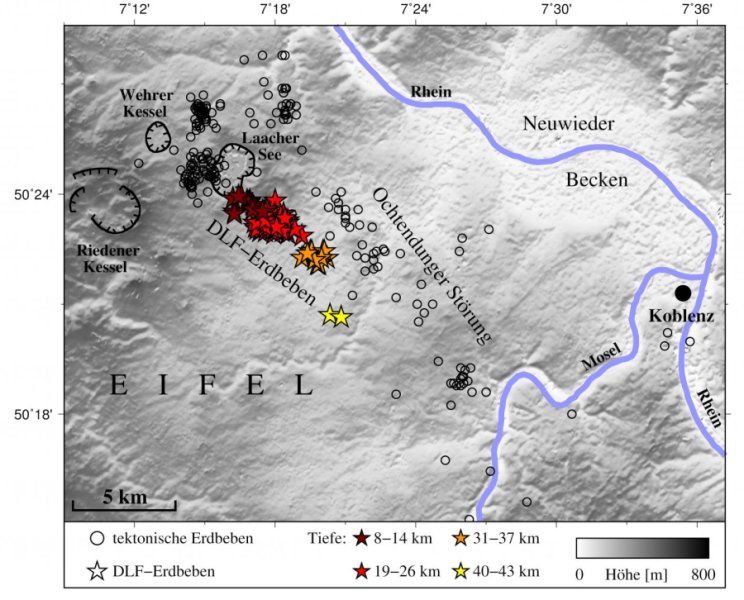 Map of locations and depth of DLF earthquakes under the Laacher See volcano - Hensch & al January 2019 / Science News
Since 2013, various German scientific institutes have followed the earthquakes in the eastern Eifel.
These earthquakes are of the deep low-frequency (DLF) type. They are generated at depths between ten and more than forty kilometers, that is, in the Earth's crust and upper mantle. Their dominant oscillation frequencies are between one and ten Hertz, which is significantly lower than tectonic earthquakes of comparable magnitude.
Studies suggest that magmatic fluids rise from the upper mantle in the Earth's crust beneath Laccher See volcano; these DLF earthquakes are not precursors of an impending future volcanic eruption, especially since there is no surface deformation. Magmatic processes that preceded previous eruptions in the Eifel lasted several tens of thousands of years before eruptive activity.
The researchers recommend intensifying geochemical (emitted gas analysis) and geodesic (detection of any surface deformation) monitoring. Specific geophysical studies should also be conducted to map and characterize the possible magma reservoirs beneath the Laacher See volcano. In addition, scientists recommend a reassessment of the volcanic risk in the East Eifel.
Sources:
- Erdeben news - Erdbeben unter dem Laacher See deuten Magmabewegungen year
- Science News - Deep low-frequency earthquakes indicate migration of magmatic fluids beneath Laacher See Volcano - January 7, 2019GFZ GeoForschungsZentrum Potsdam, Helmholtz Center